We absolutely love these 27″ iMac's, although they are 2009-2013 models they are so powerful that can last for another 5 years with no doubt.
However like any other iMacs and Mac computer they have a weakness – the heat. When they get clogged with dust and fluff, their cooling system becomes ineffective.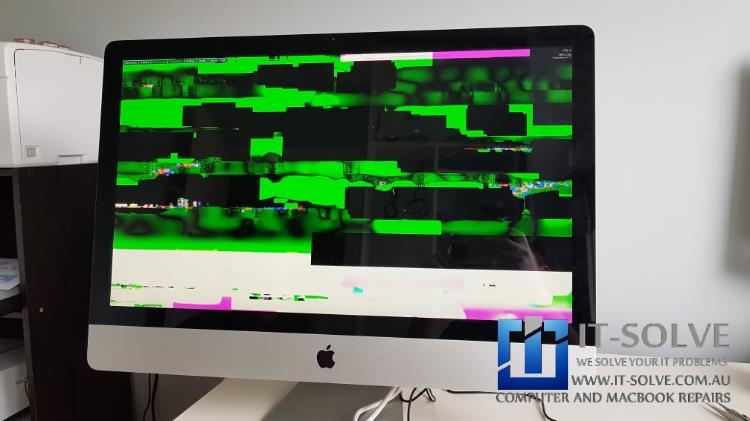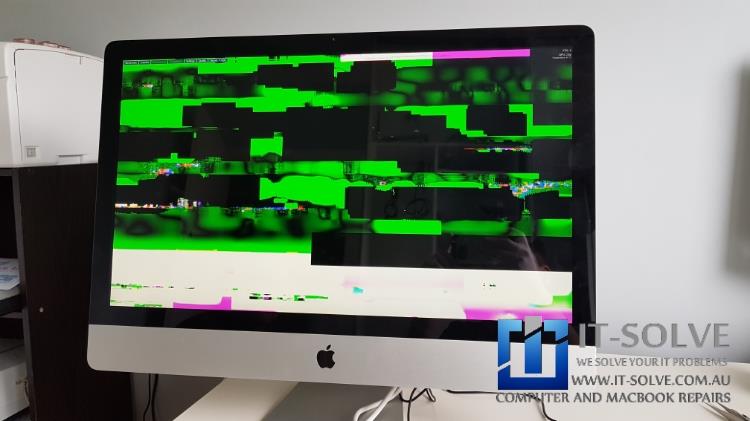 Exactly this happened to our customer. His iMac graphic card failed and he start getting these colorful patches on the screen just before it would turn black and shut down.
He mentioned that his graphic card was replaced recently (couple years ago) by an Apple Authorized Service Center and wanted to understand why it fail in such a short time. He also said that the service center refused to clean his iMac when he saw how it looks inside.
Repair Process
A straight forward option here is to replace the graphic card with a new one. However, due to the popularity of these iMac and seized production of these Graphic Cards they are hard to find on the market.
Hence we try to repair them first by reflowing them with our graphic card repair equipment. This resolves majority of iMac graphic problems by repairing them.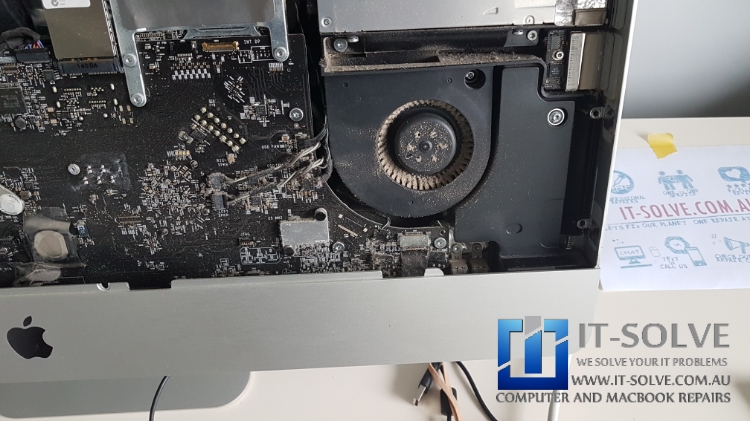 When opened we could see how clogged the fans are, with dust and fluff collected over the years. This is the main reason for the majority of the failures on these iMacs. From hard drive failure to graphic card problems with iMac, heat is the number one enemy of the electronics.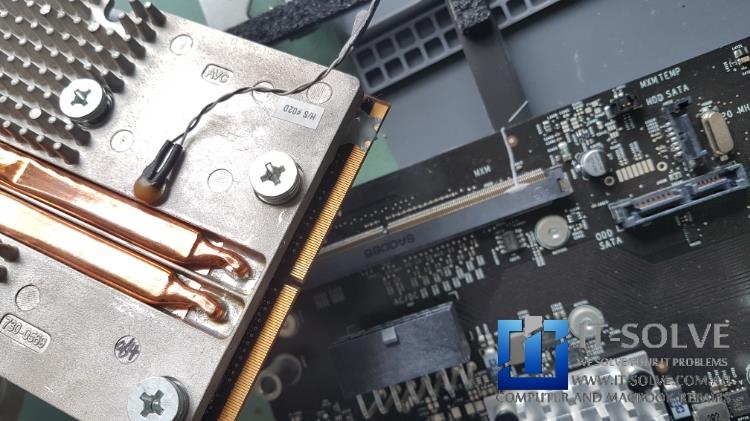 We start taking the logic board out and have noticed something we haven't seen before. There was a leak of thermal paste over the power socket of the graphic card. Although the viscosity of the thermal paste was quite high, this paste managed to leak all the way to the connectors.
We start wondering how much thermal paste was applied to this graphic chip. Ideally it should not be more than a pea size blob, based on the Intel documentation. The procedure and amount is same for all chips regardless manufacturer, generating heat over 80*C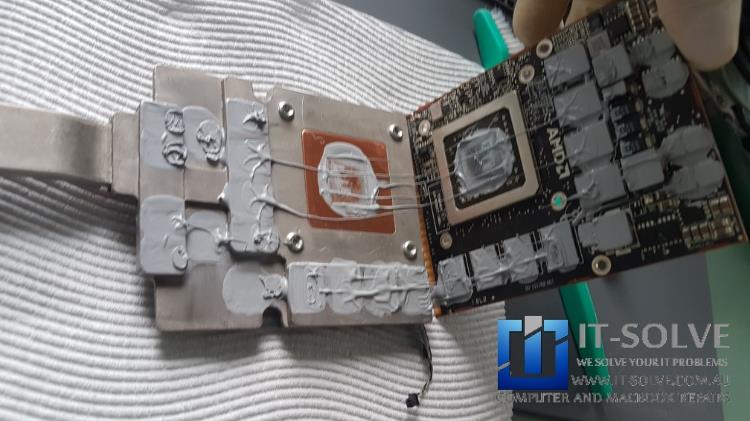 iMac White Screen Repair service we offer here in Adelaide includes a couple of simple steps:
Get a Quote for the repair before any work is done, even over the phone.
Free pick up from the client's location in Adelaide. Or alternatively, drop in for a quick check while you wait.
Confirming final cost and "Go" from the client.
Repairing and ensuring everything works as expected.
Returning repaired system back to the client. Or the client can pick it up from our workshop.
Apparently technicians at this Authorized Repair Center must have ran out of thermal pads and decided best they can do is to cover every chip on the board with a thermal paste to increase heat conductivity.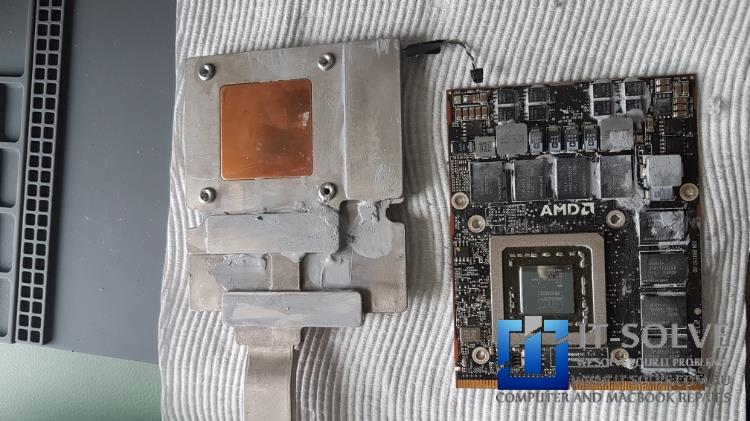 However, the reality is that there is couple millimetres space between the MOSFETS, Memory chips, Coils and the heatsink. And thermal paste is not tick enough to be able to fill the gap. There is only way of filling the gap and it is a thermal pad. These around a millimetre tick and ensure that when heatsink pushes against them, they can shrink and increase thermal conductivity.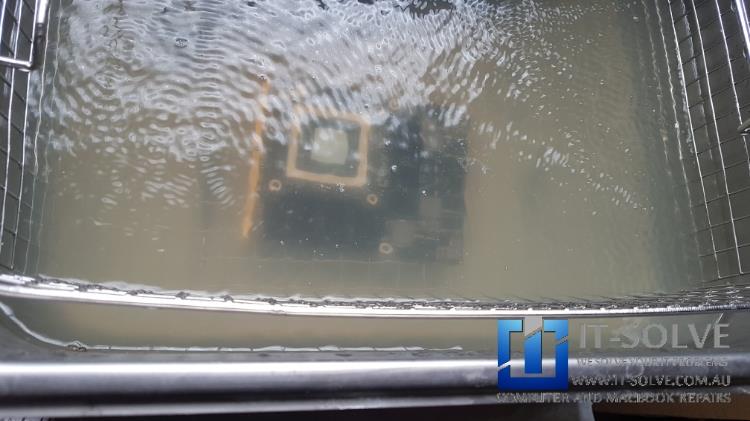 Initially we tried to scrub the silver thermal paste from the chips on the graphic card, but due to the heat its viscosity changed drastically and it slide under memory chips. Although thermal paste has no conductivity properties we would not know how it would respond under heat of above 80*C. We did not wanted to risk it and wanted to clean it.
We had to sacrifice whole batch of PCB cleaner in our ultrasonic bath just to get rid of the thermal paste from underneath the chips.
We have sophisticated equipment in our workshop with high accuracy microscope, ultrasonic cleaning bath, reflow machine and tools for micro soldering to achieve high-quality logic board repairs. With hundreds of components in stock, we can quickly locate and replace faulty chips, resistors, and capacitors in Macbooks.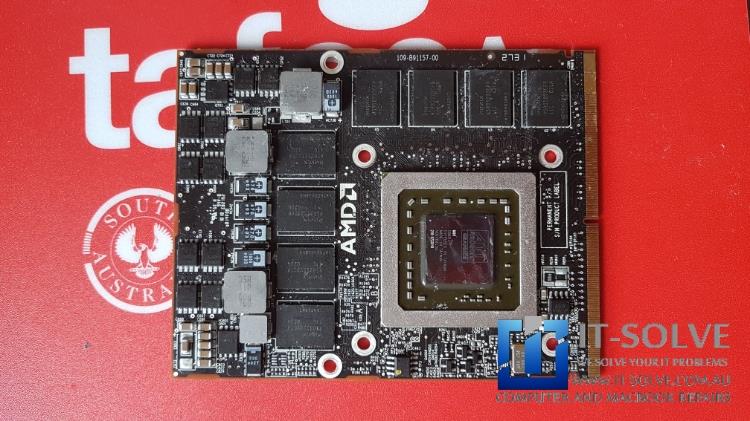 Once Graphic Card was cleaned we were ready for the real deal – iMac Graphic Repair process. We absolutely love this step, as we can play with the heavy machinery. Especially after we recently upgraded our BGA repair and reflow system with more powerful and precise one.
Reflowing the graphic chip requires following a reflow procedure which resolders the chip. It is a complicated procedure and too long to explain here. Feel free to have a chat with our engineers if you would like to understand the process.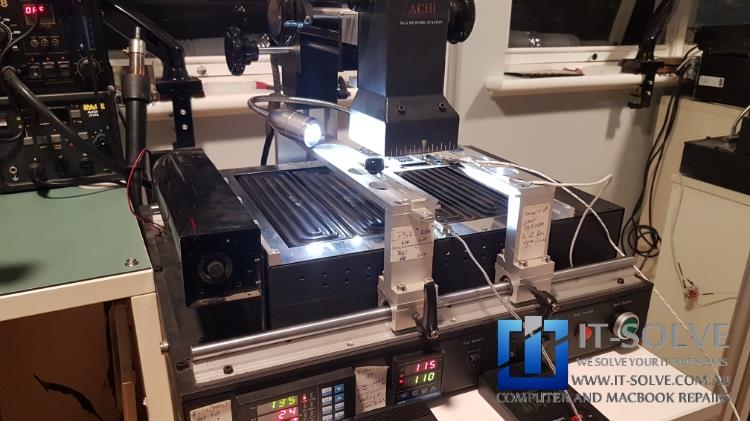 The Result
We wanted to ensure customer is getting best out of this absolutely state of the art iMac. Probably last of its breed.
So we added correct thermal pads and applied just enough amount of thermal paste to spread evenly on top of the graphic chip without overflowing.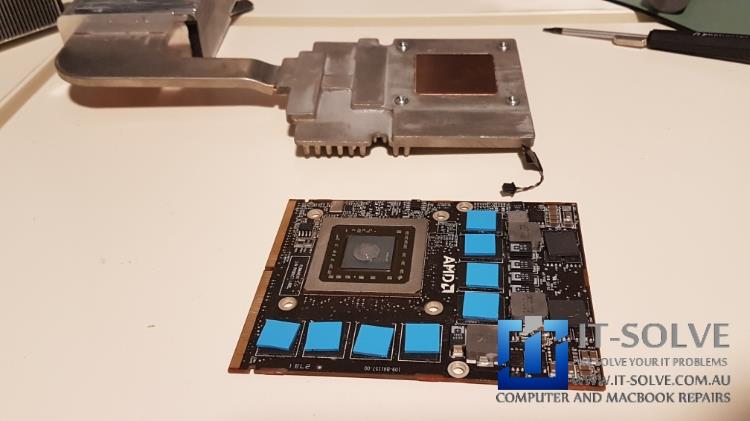 Once the repair was completed, we assembled back the iMac and run overnight heavy graphic tests. Following 12 hour constant video streaming tests. These tests are much heavier than the usual usage of these computers. And if repair is not stable, we would catch issues during these tests.
Interested in similar graphic repairs? Check out some of our published repair cases.
Do you need iMac Graphic Repair service in Adelaide?
If you have Mac or iMac causing troubles and need a Mac repair service in Adelaide, give us a call and we will advise for the best scenario to get your Asus repaired.
We at IT-Solve, specialize in computer and electronics repairs. And we will do our best to repair your Computer quickly without involving high costs and long waiting times in repair shops.
Call us now on 0469317177 or drop us an inquiry through our contact form or support @ it-solve.com.au – Our engineers will respond quickly to your inquiry.