Macbook Graphic Repairs in Adelaide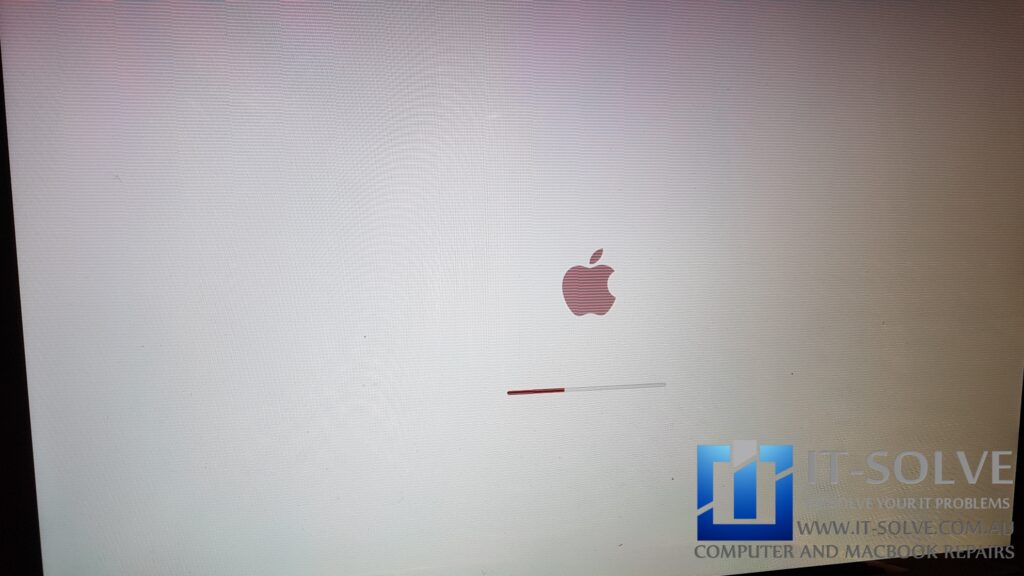 Another Macbook we had recently with Distortion on the screen. It fails to load into the operating system.
Although, it looks like an issue caused by a damaged operating system or hard drive. We could see the horizontal pinkish lines on the screen.
Macbook Graphic card repair service we offer here in Adelaide includes a couple of simple steps:
Quote for the repair before any work is done, even over the phone.
Free pick up from the client's location in Adelaide. Or alternatively, drop in for a quick check while you wait.
Confirming final cost and "Go" from the client.
Repairing and ensuring everything works as expected.
Returning repaired system back to the client. Or the client can pick it up from our workshop.
These lines are caused due to a bad connection between the graphic chip and the logic board.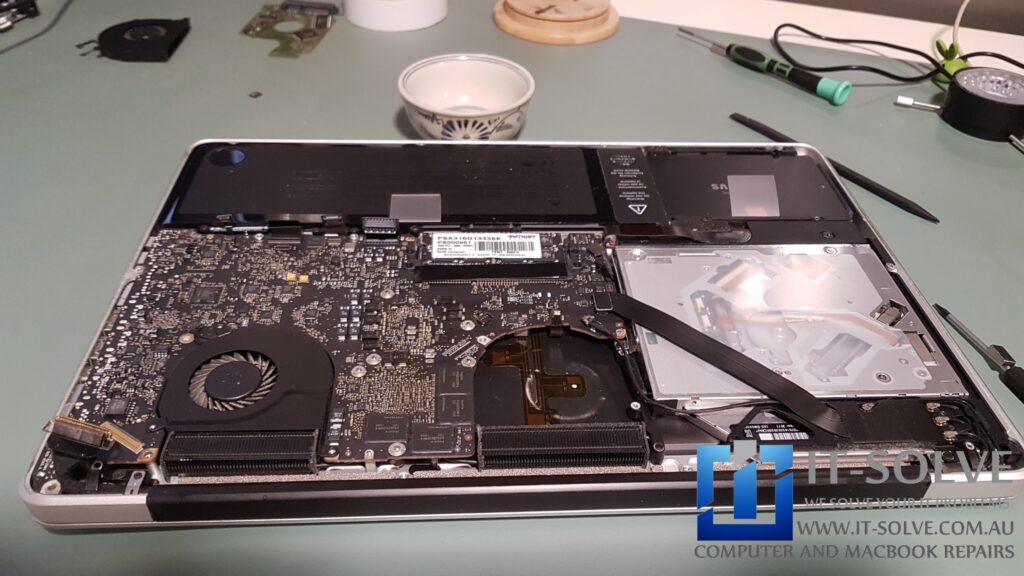 When we opened the Macbook we could see how the system is clogged and probably was overheating heavily. This led to the graphic chip slightly unsoldering itself from the logic board and resulting in communication signal loss.
We discussed it with the customer and he gave us the "go ahead" signal for this Macbook Graphic Repair here in Adelaide.
How we repair Macbook Graphic problems?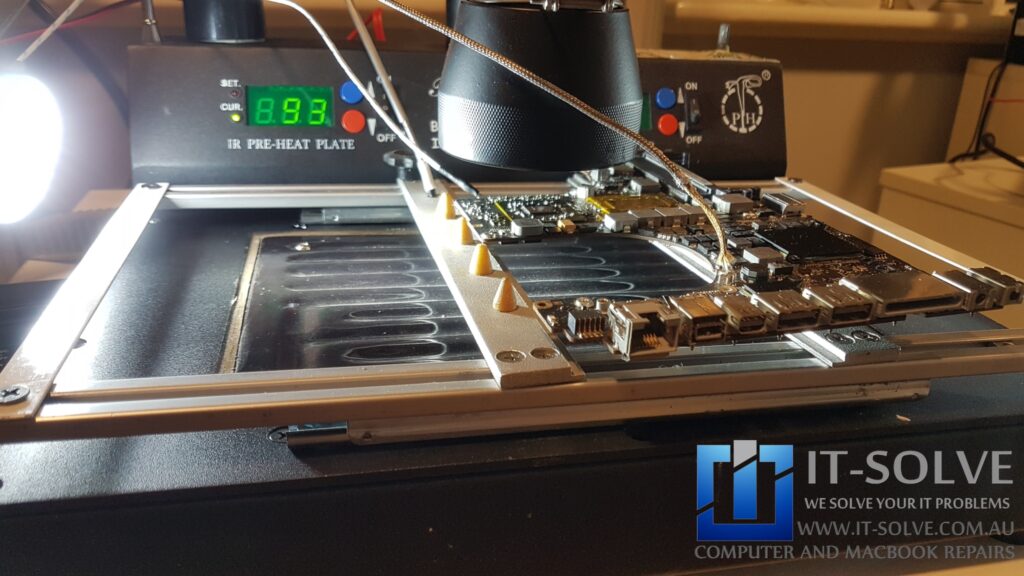 We reheat the graphic chip under an infrared heat to as high as 300*C to allow the chip to resolder itself to its place.
While doing that we monitor the process under our microscope camera too. To ensure we managed to resolder it correctly.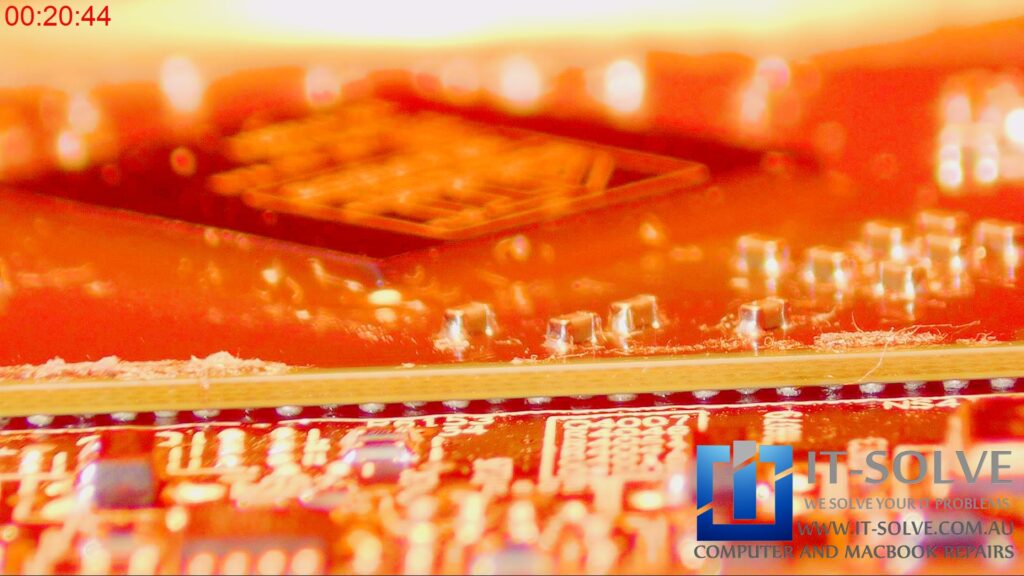 In case you have an iMac and needs a repair always rely on professionals, iMac's are expensive computers and small mistake may cost you a fortune.
Once assembled we have our Macbook producing pictures as expected and loads into the user's account.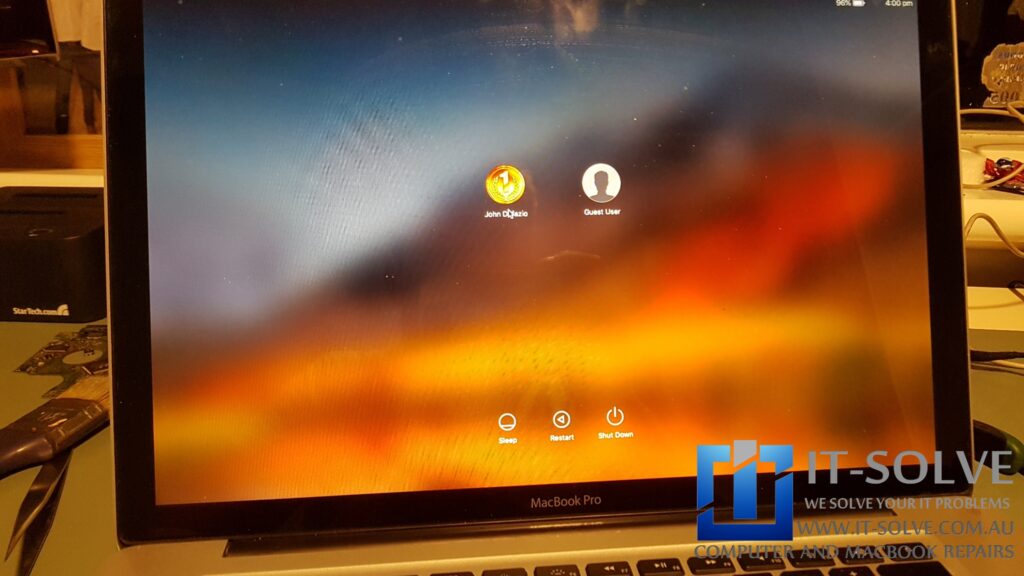 One last thing left is to run overnight graphic tests to ensure the stability of the repair.
Please note: This is a showcase of our services, not a tutorial in any sense. 
We wouldn't recommend following any of the steps of the video to repair your Macbook yourself! 
These are sensitive electronics and can get damaged unavoidably! 
You wouldn't wanna be in a situation of Macbook worth a lot being bricked.
Do you need a Macbook Graphic Repair service in Adelaide?
If you have iMac or MacBook causing troubles and need a Mac repair service in Adelaide, give us a call and we will advise for the best scenario to get your Mac repaired.
We at IT-Solve, specialize in computer and electronics repairs. And we will do our best to repair your Mac quickly without involving high costs and long queues in repair shops.
Call us now on 0469317177 or drop us an inquiry through our contact form or support @ it-solve.com.au – Our engineers will respond quickly to your inquiry.