Touch Bar brings great functionality to the new Macbook Pro's. With its sleek design, it is a second OLED display located over the keyboard. However, like every display, it is prone to cracks and damage if not handled with care.
This is exactly what happened to our customer's Macbook Pro. A little hairpin got stuck between the screen and keyboard while closing the screen, which caused the touchbar to get damaged.
Different ways of Macbook Pro Cracked Touchbar Repair
There are two ways to repair a faulty Macbook touchbar, and both of them involve replacing the touchbar module but differ in process and, cost of course.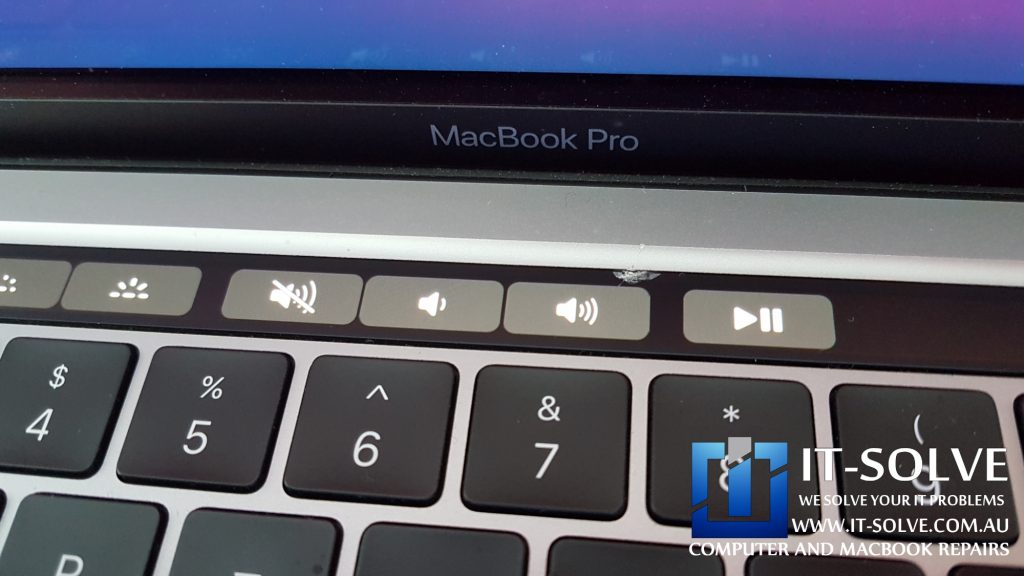 Straightforward and less labour intensive process is to replace the whole keyboard palmrest part. This includes the aluminium palmrest assembly, keyboard, and touchbar module, as they come as one piece. However, due to the multiple parts involved, such repair costs, depending on the model, is close to a thousand dollars.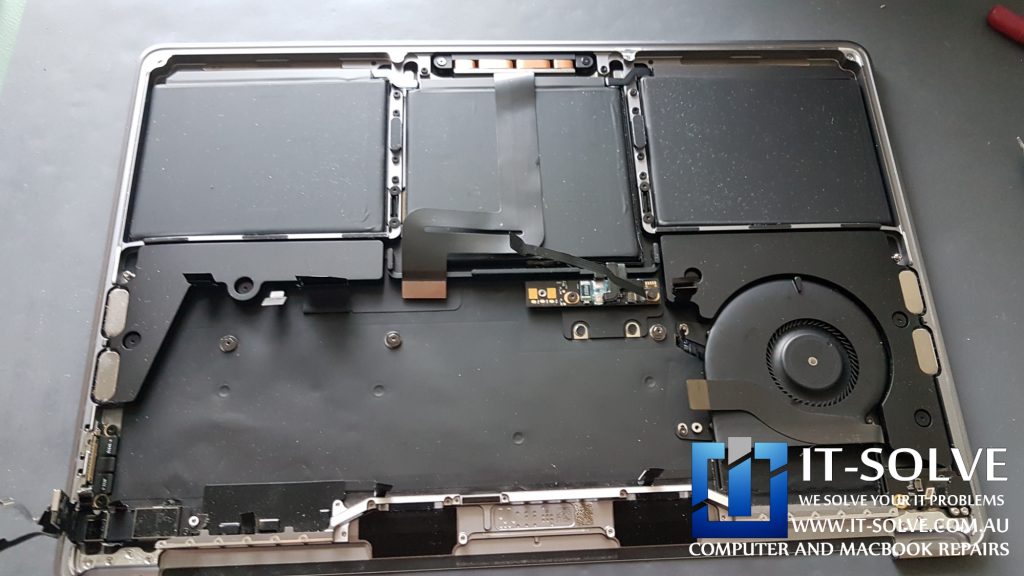 The second option is to replace the touchbar only. This is more labour intensive, of course; however, the cost is drastically lower. Unfortunately, Apple does not make repairs easy on new Macbooks. Intentionally or not, that's another topic of discussion.
It indeed is a preferred option for us regardless of the intensive labour, due to its eco-friendly nature as we do not replace unnecessary parts. This is our way of fighting with e-waste and reducing our carbon footprint by consuming less and only necessary parts in our repairs.
Macbook Pro Cracked Touchbar Repair Process
These touchbars essentially consists of two layers, force touch sensor layer and coplanar display layer.
Unfortunately touchbar is not separating easily, due to heavy duty adhesive tape used to secure it in place.
This requires a careful approach in separating the touchbar from the palmrest assembly without damaging the keyboard itself. Especially considering its proximity.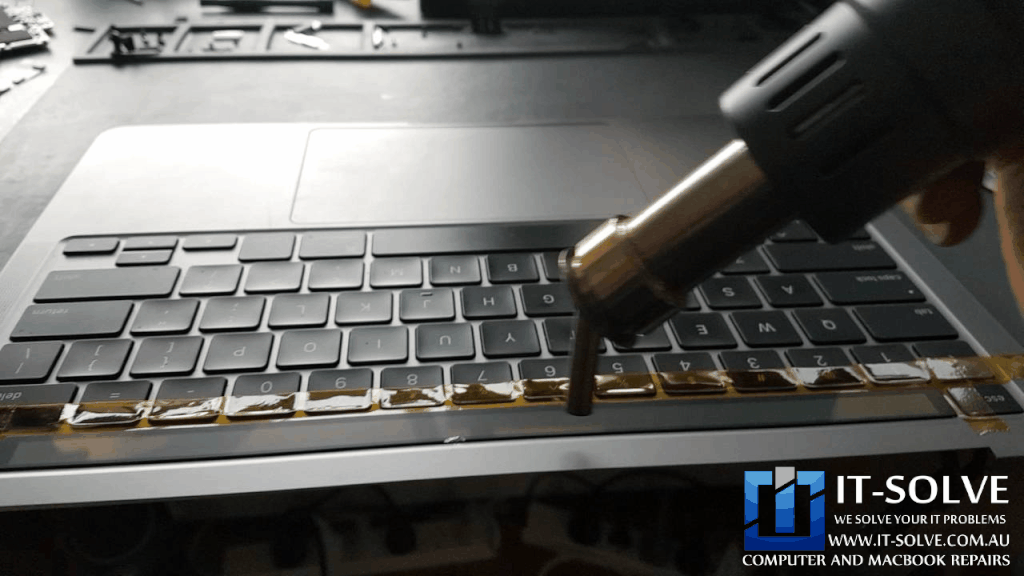 When the glue starts releasing the force touch sensor layer, we can start separating the glass slowly. This is very fragile part and will inevitably start shuttering.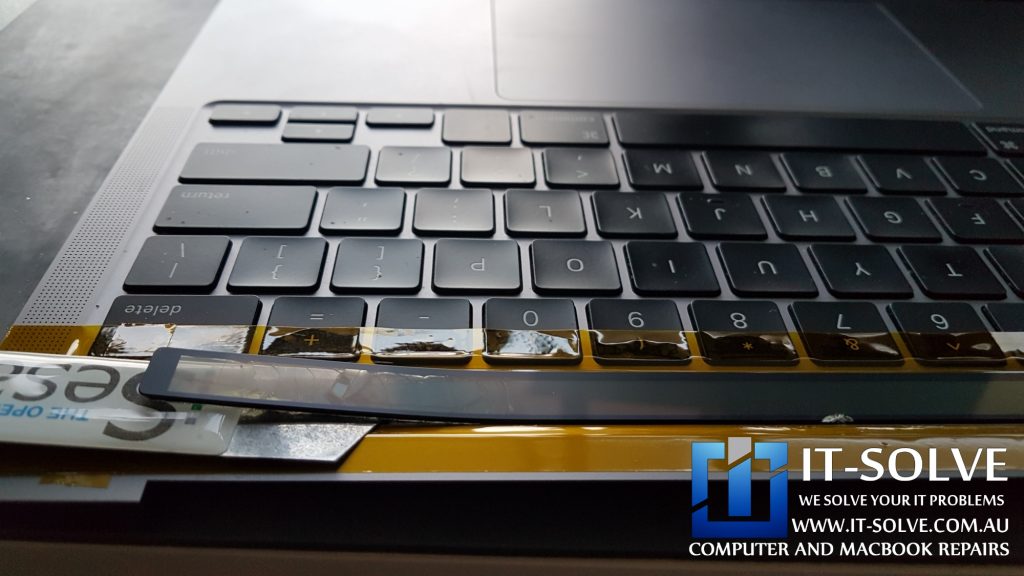 Installing new touchbar on Macbook Pro with a cracked touchbar repair
Separating the touchbar is not a joke. The current touchbar design is not engineered to be repaired for sure. After it's glued in in the factory, they expect the next place to end up after being used is the bin, a giant waste and unhealthy for the environment. Apple has a plan to go carbon-neutral. However, this plan does not include prolonging the lifespan of these Macbooks. Particularly when an accident like this happens, and if it is more than 2 years old, Apple will ramp up the repair quote to a level where you will be nudged to buy a new one as repair is not "economical" for their business model. Let's stop getting frustrated and finish this job, shall we?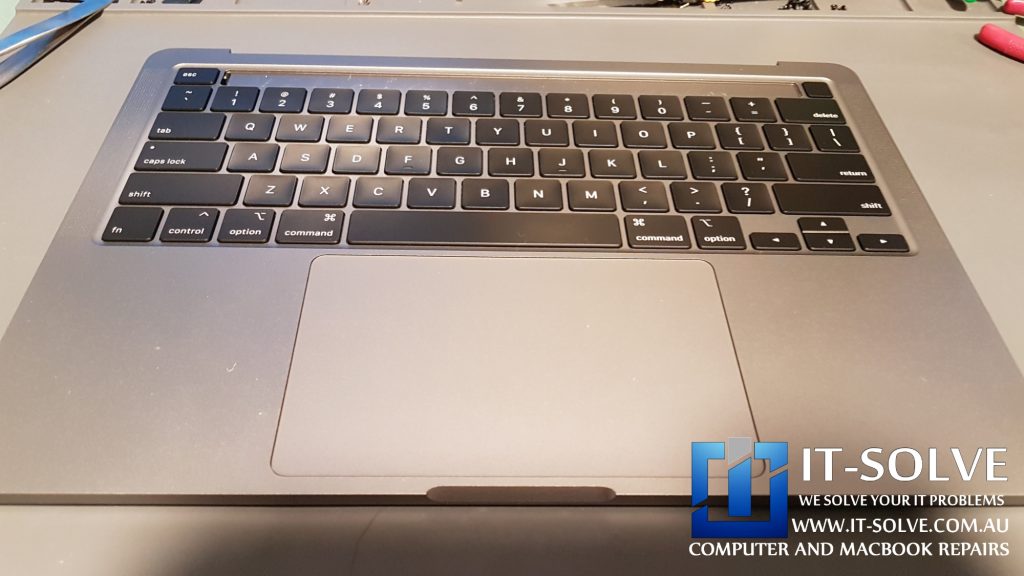 With removed touchbar, now we can continue our task of repairing this Macbook Pro with chipped touchbar directly in our workshop in Adelaide.
After removed glue residue and cracked glass pieces we were ready to place and test the new touchbar functionality.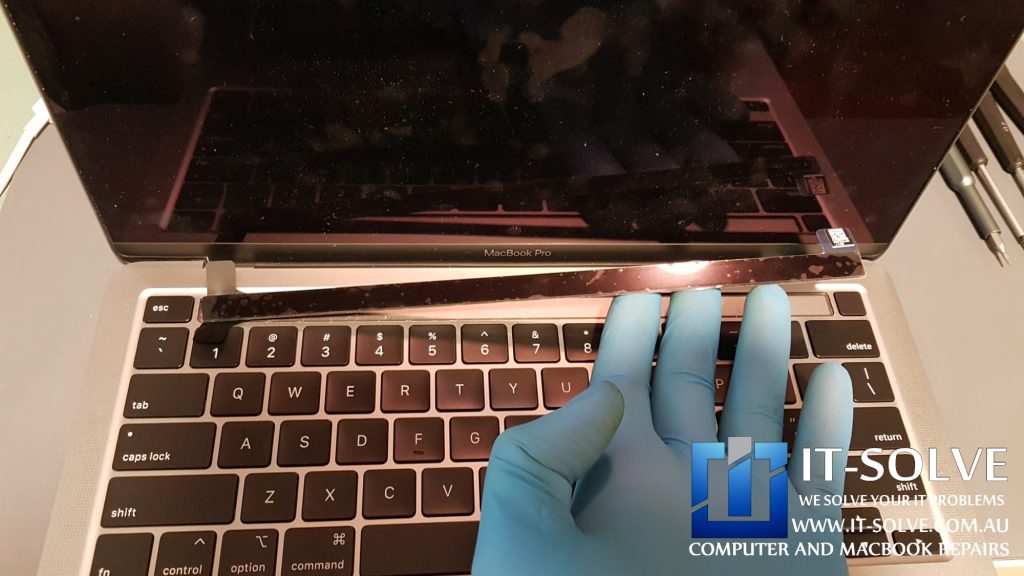 With the area cleared, installing the new touchbar is straightforward and does make us wonder why Apple did not make it easier for a broken touchbar to be removed. No need for such strong adhesive there. It is a thin 30cm wide glass strip that does not get any pull force. We have wasted 3 hrs removing leftover shattered glass pieces from the broken touchbar.
In comparison, Apple's procedure of repairing Macbook's with a cracked or faulty touchbar is to replace the whole palmrest, which includes keyboard, touchbar and battery, by charging a cost for all parts as they cannot separate them themselves and not interested in reducing the repair cost to the customer either.
Successful Macbook Pro cracked touchbar repair
Replacing this touchbar was not easy, although the cost we saved to the customer compared to job done by Apple is ample.