REPAIR PROCEDURE AND STEPS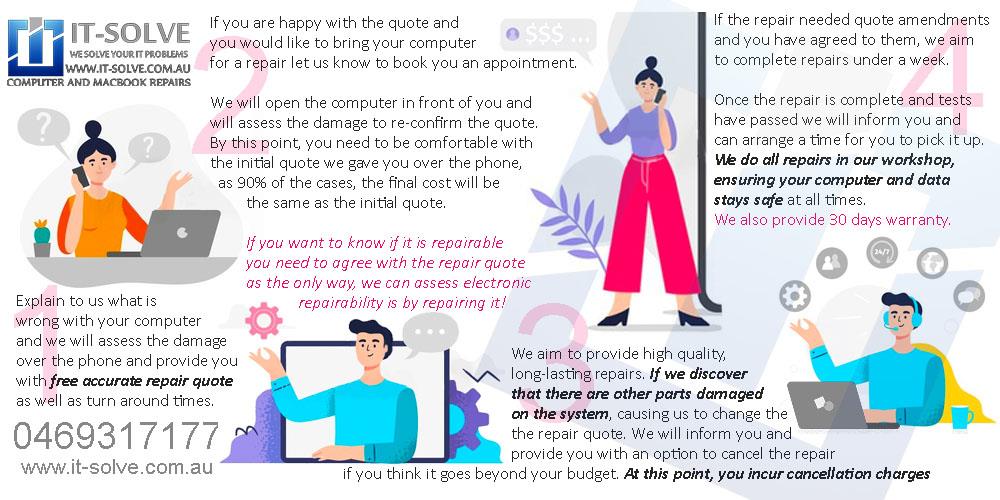 TERMS AND CONDITIONS OF YOUR DIAGNOSTIC AND REPAIR.
FEEL FREE TO CONTACT US IF YOU NEED CLARITY OR HAVE QUESTIONS.
FREE ASSESSMENT IN OUR WORKSHOP
Quotation and diagnostic offered are based on the limited time we had to assess your equipment while you wait.
Therefore, if there are other underlying issues, we will confirm with you and correct the repair quote before or during work.
CANCELLATION OF THE REPAIR
After the diagnostic and work to be done agreed, you cannot cancel the repair. Due to the parts being ordered and time invested in the repair process.
Once the repair has started, and you decide to cancel the repair due, to a price change, there will be a cancellation fee of 100$.
BENCH FEE FOR UNSUCCESSFUL REPAIRS
In case of an unsuccessful repair, the charge of 100$ (for all laptops & MacBooks build before 2017) will apply.
For 2017 and newer Macbooks's (2013 and newer iMac's) bench fee charge is 200$ due to the more expensive chips and complex built.
This charge is required to cover the cost of components used and our time in trying to repair the equipment. The bench fee charge supersedes the cancellation fee.
ALTERNATIVELY, YOU CAN DONATE THE FAULTY EQUIPMENT FOR RECYCLING TO WAIVE THE FEE.
ABANDONED EQUIPMENT
Abandoned equipment for over 60 days of a completed repair (successful or unsuccessful) will be disposed of if no arrangement in place is made.
UNREPAIRED EQUIPMENT CONDITION
We cannot guarantee that equipment after a cancelled/unsuccessful repair, will be in the same condition as it arrived.
Specifically, valid for liquid damaged or laptops which are about to fail.
They may not work entirely or may work partially after the repair attempt if they were about to fail before the repair attempt.
We may not be able to bring the device to the pre-repair/semi-faulty state after an unsuccessful repair attempt.
DATA STORED ON A FAILING OR ABOUT TO FAIL DRIVE
We will do our best to preserve your data. However, we cannot guarantee that your data will be intact if your storage drive is about to fail at the time equipment arrived or during a repair.
If the equipment stores critical data which was not backed up, please discuss with us to get it backed up on an external drive for you before any work is done – 200$ fee applies.