iMacs are an amazing piece of technology, but when they fail all become so cumbersome. Waiting for the application window to resume and spinning wheel to disappear is a pain. We all been there and is very annoying. But there is a solution available for iMac upgrades in Adelaide. And it does not include buying a new iMac, as we usually are being advised by Apple.

Although we all want the newest shiniest model, we do not necessarily get all the benefits from new iMac. Most of the time we utilise 20-30% of their capabilities and for general web browsing, streaming and word processing tasks even 10-year-old iMac handles with ease. Why we would want to spend over 3000$ on a new one when iMac Repair cost in Adelaide can be under 1000$
---
Call us now on 0469317177 or drop us an inquiry via


WhatsApp or

Messenger
Our engineers will respond quickly to your question.
Symptoms suggesting a need for iMac Upgrades Adelaide:
Slow iMac Upgrades in Adelaide
Ram and Memory upgrade Adelaide
iMac stuck on loading bar Repair
iMac cannot log in to Repair
from $600




Recommended by our customers
There are many causes for a slow iMac, seen in our repair cases. But one standing out at most is a failing hard drive. Above photo shows failing hard drive on 27″ iMac causing slow performance.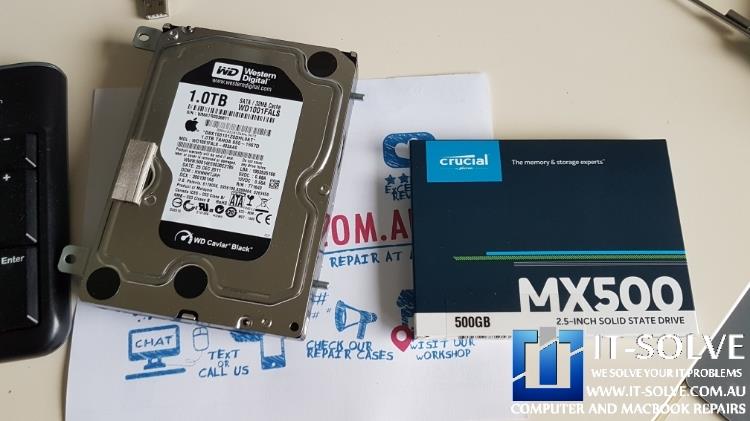 When the hard drive fails, we have an option to replace it with the same size mechanical drive or much more performant SSD.
SSD is a disk drive which does not have a moving mechanism. Hence it is at noticeably faster than ordinary hard drives. We genuinely recommend them as a solution for the Slow iMac.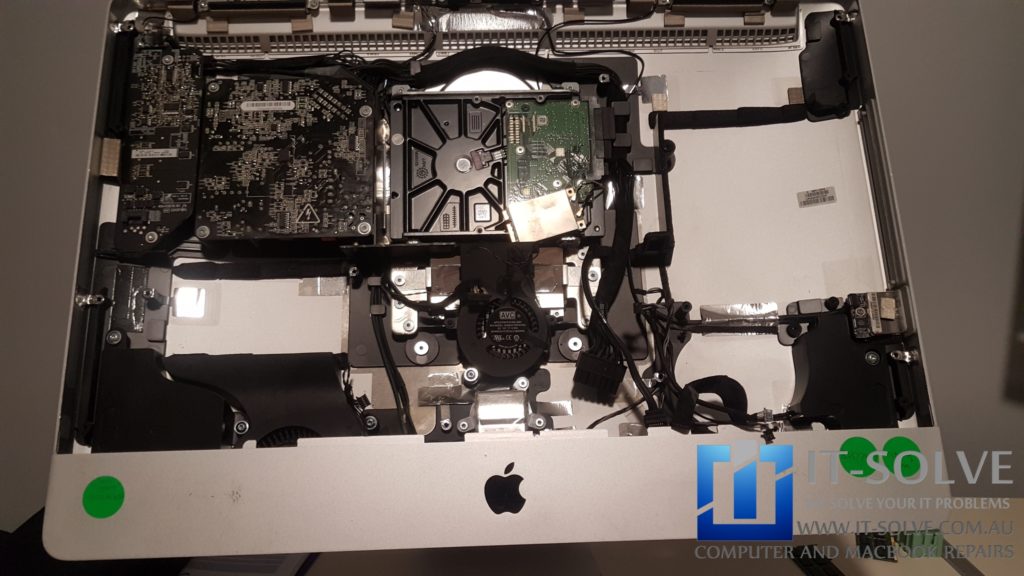 Once we upgrade the mechanical hard drive with an SSD the systems become much snappier and responsive. Additionally system service makes the iMac run cooler too.
Furthermore, Slow iMac can be caused by a corrupted or damaged operating system. This could have been caused by a virus or a problematic application. In this case, we offer to reinstall the operating system considering the other parts of the iMac are in a fully functional state.
---
Do you need this Repair in Adelaide?
If your Mac or iMac is causing trouble and need an iMac Repair Service in Adelaide, give us a call, and we will advise for the best scenario to get your device repaired.
We at IT-Solve, specialise in computer and electronics repairs. We will do our best to repair your iMac quickly without involving high costs and long waiting times in repair shops.
Call us now on 0469317177 or drop us an inquiry via


WhatsApp or

Messenger
Our engineers will respond quickly to your question.
Repair before Replacement
We are committed to reducing e-waste in Australia. And the way how we do it is by educating our customers and providing affordable iMac Repairs.
Although our best intentions and hard work, this is not an easy task. Customers must accept that cost of high-quality electronic repairs, is a third to half of the price of a new device. While we do the repair we target common planned obsolescence design mistakes to ensure the longevity of the iMacs usability.
That said, if we buy a new one or write it off via insurance, it does not guarantee that the new one will not meet the same fate as the older one pretty soon.
Quite often, we see accidents reoccurring within less than 2-year gaps. If we can save 2000$ or even 1000$ today by repairing our faulty iMac is great. That's an extra half iMac cost ready to be spent on another one when the time comes and our needs increases.
When that time comes is up to us to buy a new one or keep pushing the one we have, but delaying it by a year or three is always a good starting point and saves another iMac polluting our planet.
Check some of our Repair Cases