Macbook Pro with a Liquid spillage is a common repair we get. This 13″ Macbook Pro was one of those cases.
Liquid spilled over the keyboard has damaged the Macbook to a state where it was not turning on anymore.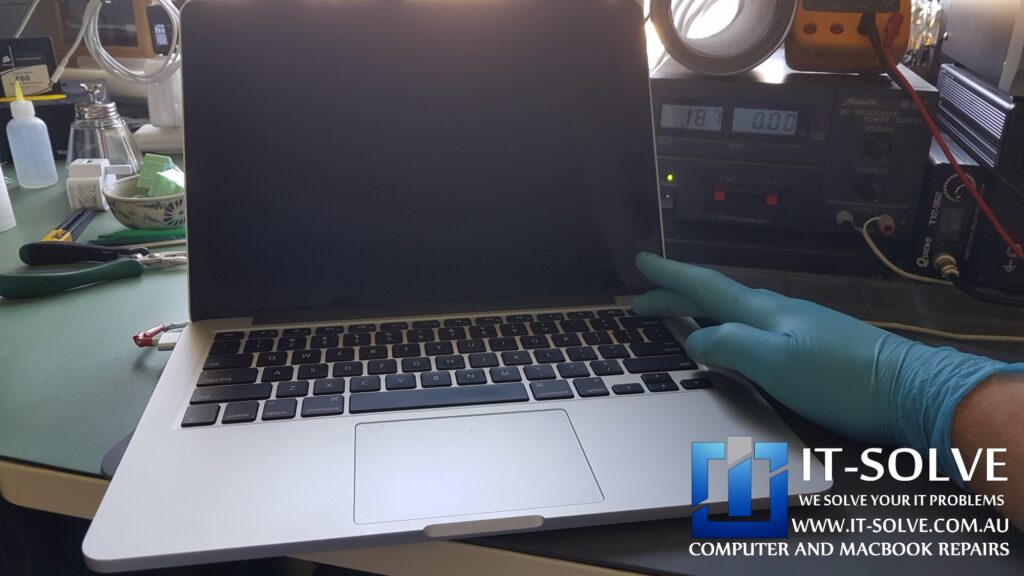 Firstly we checked if there was a current consumption by the system. As seen on the picture, we provide 18.7V but the mAcbook is not pulling any current, hence not charging the battery nor letting system to turn on
Macbook Pro liquid spillage Repair Process
Next step was to take it apart and investigate the damage inside. As seen of the picture, Macbooks with a liquid spillage if left untreated start creating oxidation. Which then Shorts through the components and corrodes traces.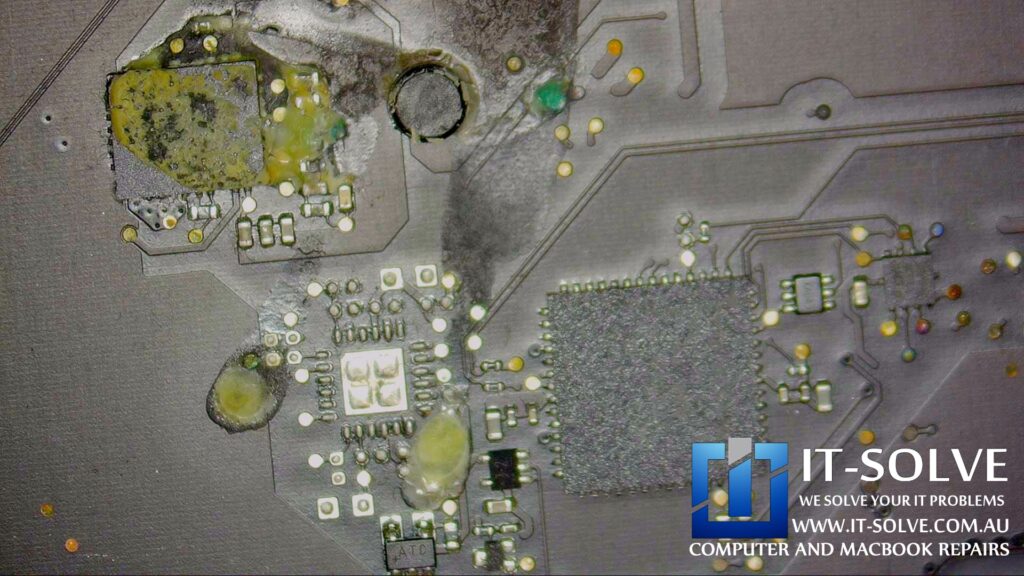 We start measuring and detected a faulty MOSFET of this Macbook Pro which needed a repair of a liquid spillage accident.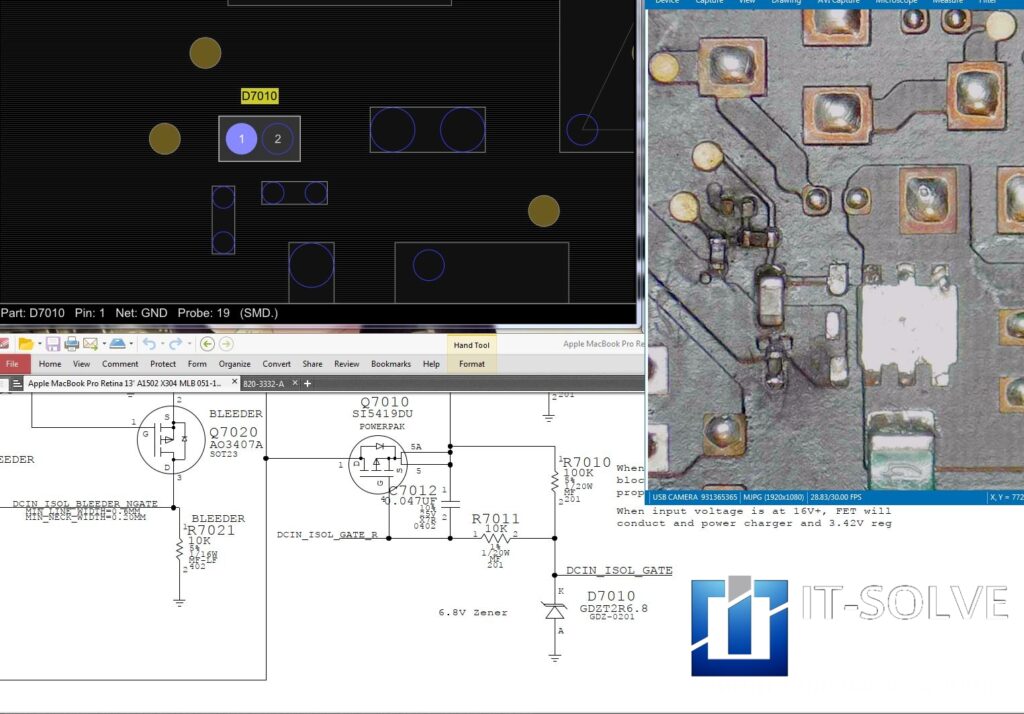 Located faulty MOSFET is responsible for controlling current flow into the MacBook. Due to liquid shorting the chip, it could not operate properly. We had to clean the area where the corrosion had damaged the contact points as well as replace faulty chips.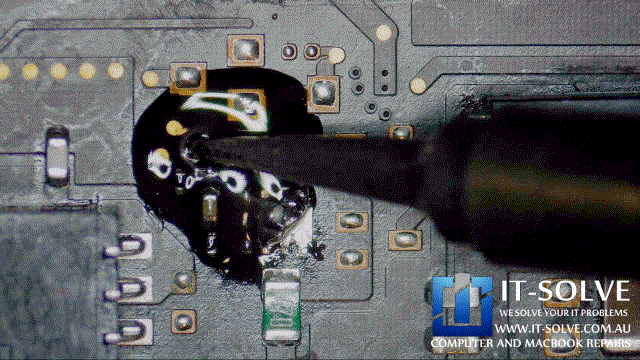 Additionally, we noticed that battery was not providing correct voltages, due to the liquid damage to the electronics of the battery charging circuit.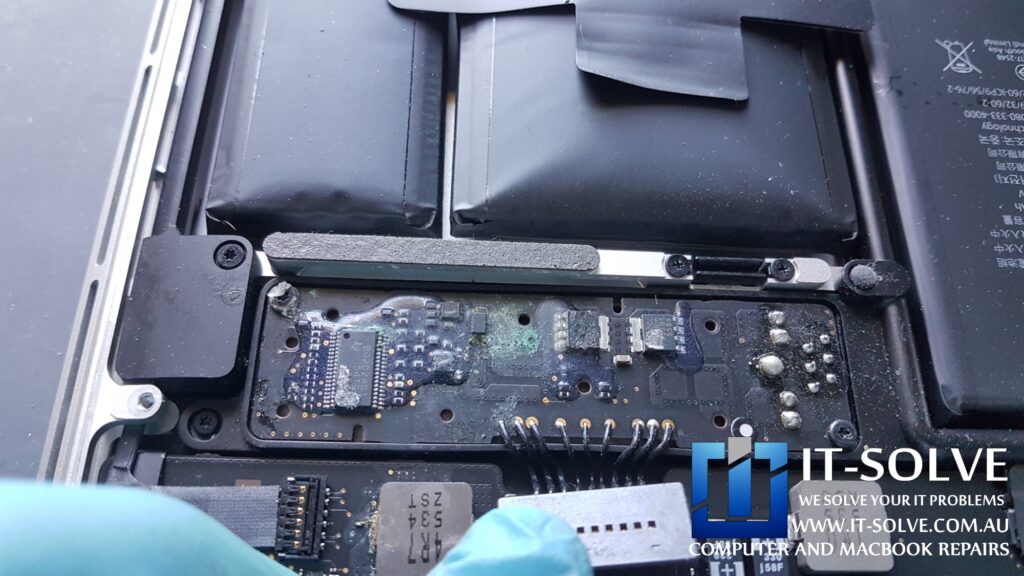 Macbook wont turn on Repairs we offer here in Adelaide includes a couple of simple steps:
Get a Quote for the repair before any work is done, even over the phone.
Free pick up from the client's location in Adelaide. Or alternatively, drop in for a quick check while you wait.
Confirming final cost and "Go" from the client.
Repairing and ensuring everything works as expected.
Returning repaired system back to the client. Or the client can pick it up from our workshop.
We have sophisticated equipment in our workshop with a high accuracy microscope, ultrasonic cleaning bath, reflow machine, and micro-soldering tools to achieve high-quality logic board repairs. With hundreds of components in stock, we can quickly locate and replace faulty chips, resistors, and capacitors in Macbooks.
The Result of the Macbook Repair
After a successful repair of its logic board, replaced faulty SSD drive and faulty battery, this Macbook is turning on now and working as expected. It is unbelievable how this overlooked liquid spillage has corroded the system so badly and damaged so many components.
If the liquid was treated as soon as it happened, instead of being left for that long. We would not have that many damaged components. Although we replaced so many parts of the system, the repair cost was still under a third of the cost of a new Macbook Pro with the same specs as this great machine.
Would you like to read more about our Macbook not turning on Repairs? Check out some of our published repair cases.
If your Macbook or iMac is causing trouble and need a Macbook Repair Service in Adelaide, give us a call, and we will advise for the best scenario to get your device repaired.
We at IT-Solve, specialise in computer and electronics repairs. And we will do our best to quickly repair your computer without involving high costs and long waiting times in repair shops.
Call us now on 0469317177 or drop us an inquiry via

WhatsApp or
Messenger – Our engineers will respond quickly to your question.