This Macbook Air flickering screen repair was no ordinary case either. The customer was experiencing flickering screens occasionally.
Macbooks are a type of device which gets most of the bizarre problems out there, especially when the issue comes and goes as it please. Very rarely do we have a straightforward Macbook repair unless it is a screen replacement.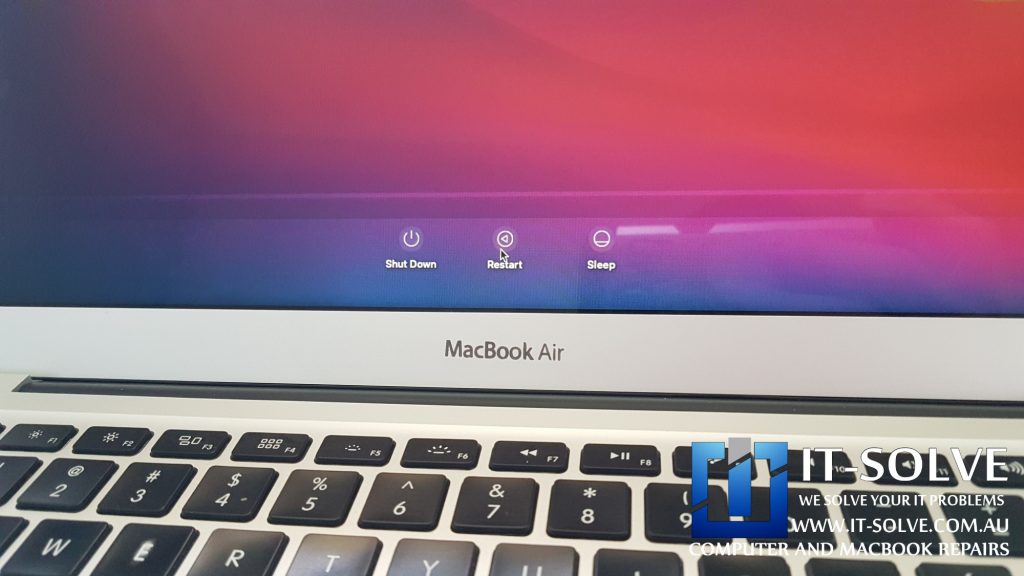 After testing it for a day, we have noticed that after some work, it stops flickering and returns to normal. We were pretty sure initially that it likely is a faulty screen. Especially considering the little scuff marks on the edge of the screen and extensive travel history of this Macbook :)
Identifying cause of Macbook Air flickering screen – Attempt 1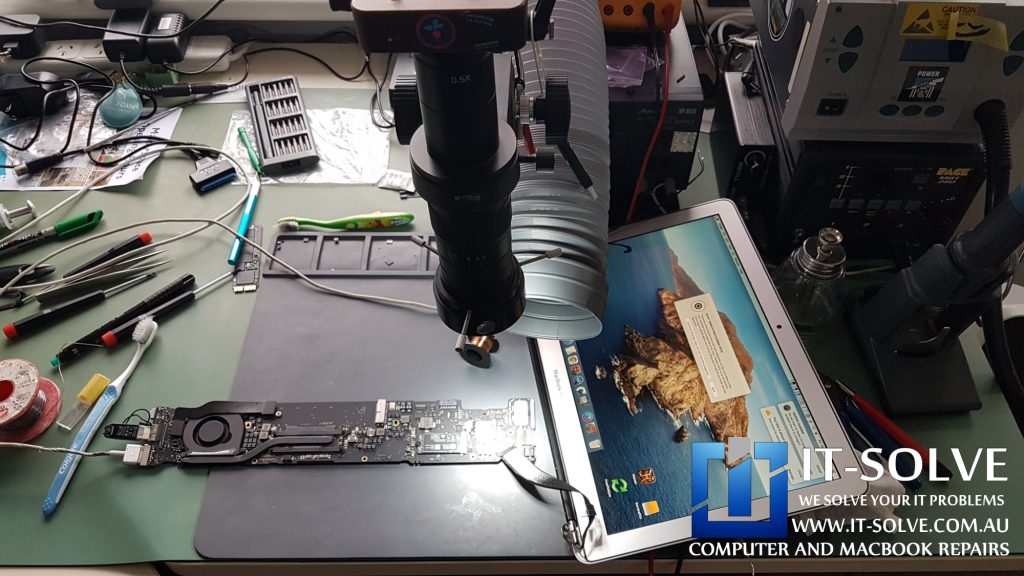 We tested a new screen on the Macbook to eliminate the screen problem, but after a couple of hours of testing, it starts flickering again. This shows again how resilient screens on older Macbooks are compared to the number of screens we are replacing on the new retina models, which turns breaks even with a tiny knock.
Identifying cause of Macbook Air flickering screen – Attempt 2
Knowing that screen is not the reason we are having flickering screen issues on this Macbook, we start looking at electronic issues. There were no visible liquid signs at our first inspection. Hence we ruled out electronic failure. We were wrong!
We start crawling the logic board under a microscope inch by inch. Finally, after probably an hour of staring at the components, we located a darker spot that didn't look right.
Usually, with liquid damaged Macbooks, we have clearer signs of a trace which liquid followed. That is our indication of where to look on the chips, as there are probably more than 50,000 components on this logic board. Having a black component on a black solder mask covered board also is not making our job easy.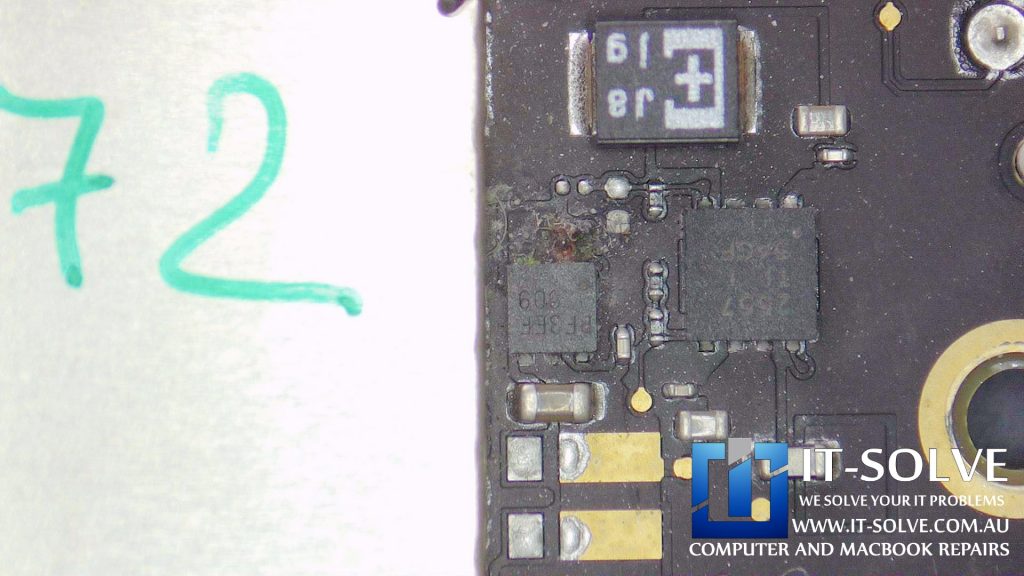 Identified components that seem to have some organic material corrosion. It seems like either rice or other oily food particles sneak inside the Macbook and get stuck on top of this component. Causing long term decomposition and oxidation of the MOSFET responsible for carrying backlight circuitry of the screen.
Macbook Air flickering screen repair process
After we identified the area of damage and potentially problematic component, we could now fire up our rework stations soldering irons and dig into the schematics.
The great thing about this model is that it has been on the market for almost 7 years, with minor modifications on how it's engineered. This allows us to have wider access to chips, schematics and replacement parts, together with knowledge and know-how of how every chip of the system works.
Due to the extensive corrosion, traces have completely decomposed under the MOSFET. As a result, we had to resort to some unusual soldering skills. Including soldering the chip under an angle and creating traces between the chip and the board on the air. True 3D soldering masterpiece.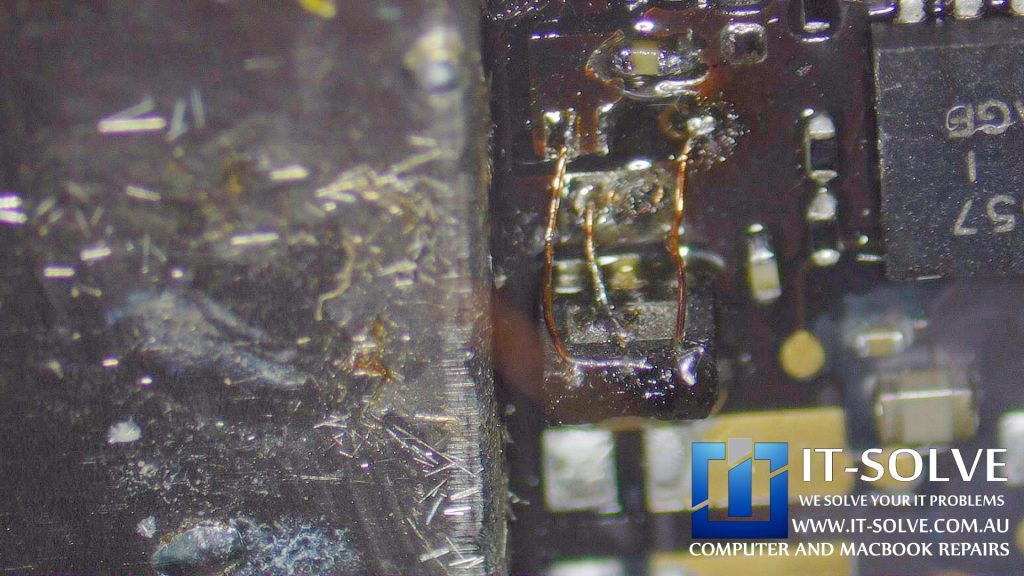 Please note: This is not educational material. It is rather a showcase of the services we offer.
Therefore, it should be used as general guidance on what to expect of such repairs.
In case you have a similar device and need the repair, always rely on professionals. These are sensitive electronic devices, and small mistakes may cause irreversible electronic damage. Which may require whole part replacement for 2 or 3 times the cost.
Successful Macbook Air flickering screen repair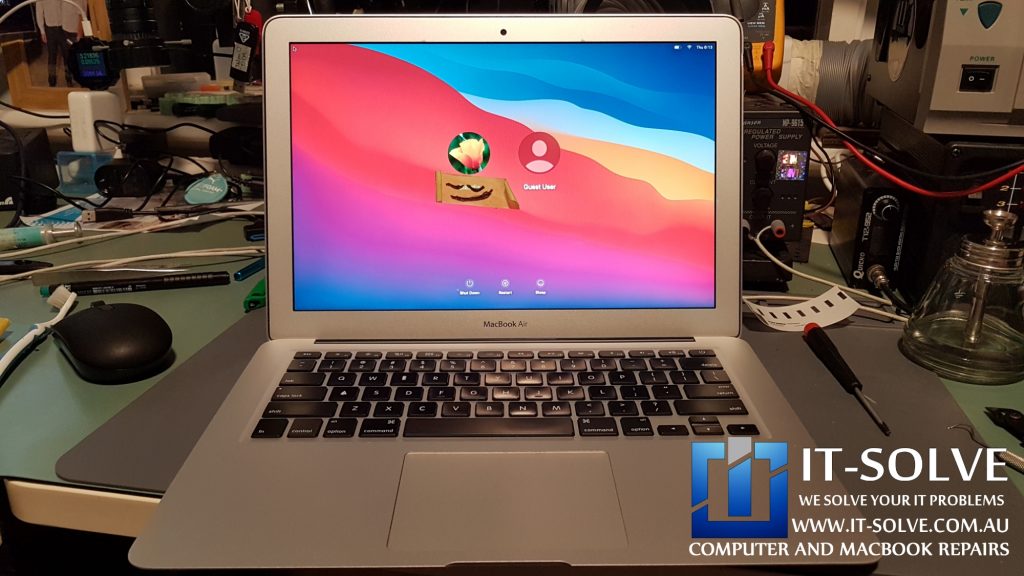 That explained, we can close this case and show you the successfully repaired Macbook Air, which we tested overnight and no more Flickering Macbook Air screen was present.
If your Apple Mac or Macbook is causing trouble and need a Macbook Repair Service in Adelaide, give us a call, and we will advise on the best scenario to get your device repaired.
Interstate? Why not Send IT for a Repair. Repairs take under three weeks, including forward and backward postage. Contact us to get an idea of cost and turnarounds.
We at IT-Solve, specialise in Apple Mac and electronics repairs. We will do our best to repair your Mac quickly without involving high costs and long waiting times in repair shops. Our average repair takes under a week!
Call us now on 0469317177 or drop us an inquiry via 

WhatsApp or 
Messenger
Our engineers will respond quickly to your query.
Repaired

, not Replaced!
We are committed to reducing e-waste in Australia. How we do it is by educating our customers on the reparability and longevity of their devices, as well as providing affordable Macbook Repairs here in Adelaide.
Although our best intentions and hard work, this is not an easy task. Customers must accept that cost of high-quality electronic repairs, is between a third and half of the price of a new device. However, with the current trend of planned obsolescence in electronic design, we see more and more Macbooks having shorter lifespans. To tackle that, while we do our repairs we target common planned obsolescence engineering design mistakes to ensure we extend the life expectancy of the Macbooks we repair. Check some of our Macbook Repair Cases to get an idea of the process.
That said, if we buy a new one or write it off via insurance, it does not guarantee that the new one will not meet the same fate as the older one pretty soon.
As matter of fact, quite often we see accidents reoccurring within less than 2-year gaps. If we can save 2000$ or even 1000$ today by repairing our faulty Macbook is brilliant. That's an extra half Macbook cost ready to be spent on another one when the time comes or our need for performance increases.
When that time comes is up to us to buy a new one or keep pushing the one we have, but delaying it by a year or three is always a good starting point and saves another abandoned Macbook from polluting our one and only Planet.