Most Laptops and Desktop PCs these days rely on powerful graphic cards to handle visual intensive jobs.
However, most graphic card cooling systems are not well optimised these days. As a result, they are subject to constant heat stress. This heat stress in most cases keeps the Graphic Cards at a constant 80*-100*C range mainly in unserviced laptops and computers.
Such heat disruption leads to multiple levels of Graphic failures. Regardless of whether it is a Laptop, Macbook, iMac or a Desktop Graphic Card – they all fail due to excessive heat and end up requiring a Graphics Card Repair.
Symptoms indicating a need for Graphics Card Repairs
Some of the symptoms which may indicate the need for a Graphic Card Repair Adelaide
Desktop won't post with GPU connected Repair in Adelaide
Graphic card not Recognised Repairs in Adelaide
Knocked off component Repair on Graphic Card in Adelaide
Desktop Graphic Card Repairs in Adelaide
Glitching Graphic Card Repairs in Adelaide
Graphic Card Repairs in Adelaide
Black Screen Grapard Repairs in Adelaide
Pixels Graphic Card Repairs in Adelaide
Distorted Graphics Card Repairs in Adelaide
Repair Blue Screen and Crashing Graphic Card while Gaming
Desktop GPU Repairs
Glitching Graphic Card Repairs
from $500



Recommended by our customers
---
Call us now on 0469317177 or drop us an inquiry via 

WhatsApp or 
Messenger
Our engineers will respond quickly to your query.
Electronic Graphic Card Repair
This type of repair is usually required when there is electronic damage on the graphic card.
A recent example we had was a leaked CPU cooler onto the graphic card, which needed a graphic card repair in our Adelaide Workshop. In other cases, it could be a knocked-off GPU component repair. This often happens when DIY replace heatsinks or reassemble their devices and by accident knock off a component.
Another reason for needing this type of repair is when Graphic Card is not Recognised and needs a Repair. It's often a case we see in our Adelaide Graphic Card Repair Centre. Heat disturbs the integrity of MOSFETs or capacitors, which fail and short circuit the GPU. As a result, the Motherboard or Laptop disables the Graphic card and either produces a black picture or switches to less powerful CPU graphics.
Reflow Graphic Card Repair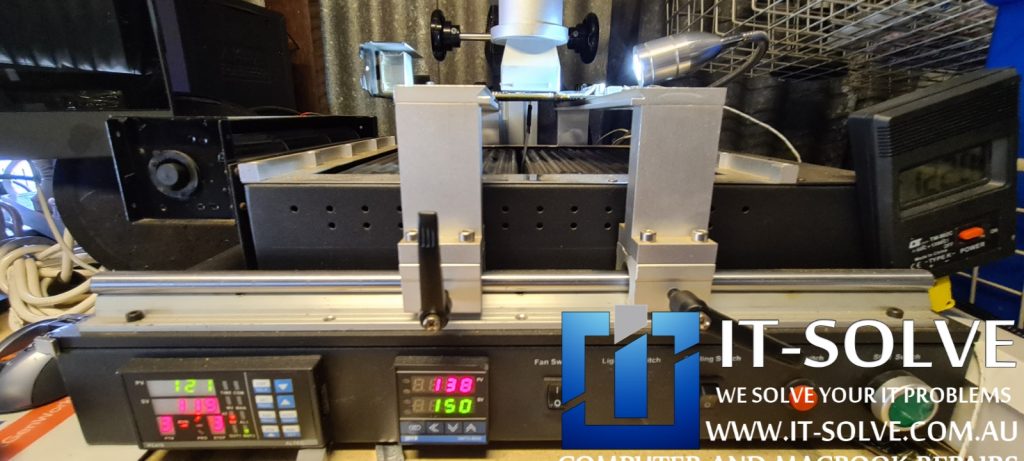 This type of repair is also caused by excessive heat. Which usually partially desolders some of the connections under the graphic chip. As a result, it may start showing artefacts when under pressure (Quite common in older generation iMacs as well as in powerful Desktop GPUs) or cause a game or system to crash.
Cost of Graphic Card Repair in Adelaide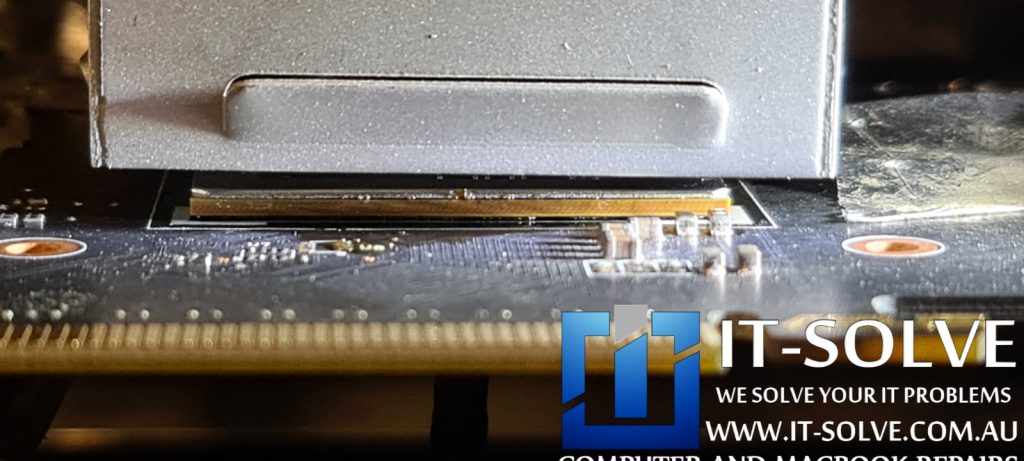 The cost of Graphic Card Repair in Adelaide is proportional to the cost of the GPU or Device itself and starts from 500$. Regardless of the type of repair, we need to ensure that the root cause of the issue has been identified; Graphic Card has been repaired professionally; burn/stress tested; a warranty is provided, as well as adequate cooling is applied to the desktop case or card to prevent future issues.
Keep in mind that not all Graphic Cards are worth the repair, if your Graphic Card costs less than 1000$ to replace, it may not be cost-effective to get it repaired. We cannot offer any lower repair cost than 500$, due to multiple costs involved.

IT-Solve
Quite often we see that people DIY build and assemble their desktop PCs. Unfortunately not always those cases are well ventilated or designed for modern GPUs and CPUs.
Not to mention that these days we see more planned obsolescence in the design of consumer electronics. From Desktop Graphics to Gaming Laptops they all have weak points which are planned or unplanned does not let them surpass a 2-year lifespan. When more than 80% of these cases are related to poor cooling design.
Do you need this Repair in Adelaide?
If your Computer or Laptop is causing trouble and need Laptop Repair Service in Adelaide, give us a call, and we will advise on the best scenario to get your device repaired.
Interstate? Why not Send IT for a Repair. Repairs take under three weeks, including forward and backward postage. Contact us to get an idea of cost and turnarounds.
We at IT-Solve, specialise in Laptop and electronics repairs. We will do our best to repair your Computer quickly without involving high costs and long waiting times in repair shops. Our average repair takes under a week!
Call us now on 0469317177 or drop us an inquiry via 

WhatsApp or 
Messenger
Our engineers will respond quickly to your query.
Repaired

, not Replaced!
We are committed to reducing e-waste in Australia. How we do it is by educating our customers on the repairability and longevity of their devices, as well as providing affordable Laptop Repairs here in Adelaide.
Although our best intentions and hard work, this is not an easy task. Customers must accept that cost of high-quality electronic repairs, is between a third and half of the price of a new device. However, with the current trend of planned obsolescence in electronic design, we see more and more Laptops having shorter lifespans. To tackle that, while we do our repairs we target common planned obsolescence engineering design mistakes to ensure we extend the life expectancy of the Laptops we repair. Check some of our Laptop Repair Cases to get an idea of the process.
That said, if we buy a new one or write it off via insurance, it does not guarantee that the new one will not meet the same fate as the older one pretty soon.
As matter of fact, quite often we see accidents reoccurring within less than 2-year gaps. If we can save 1000$ or even 500$ today by repairing our faulty Laptop is great. That's an extra half Laptop cost ready to be spent on another one when the time comes or our need for performance increases.
When that time comes is up to us to buy a new one or keep pushing the one we have, but delaying it by a year or three is always a good starting point and saves another abandoned Laptop from polluting our one and only Planet.
---