Another budget laptop came to us this week – Asus F540 for a broken hinge repair. Nothing is wrong with having a budget laptop of course. However, we need to explain why they are cheap and how manufacturers are able to achieve under 1000$ consumer electronics these days. Most importantly, what to expect durability wise from such laptops.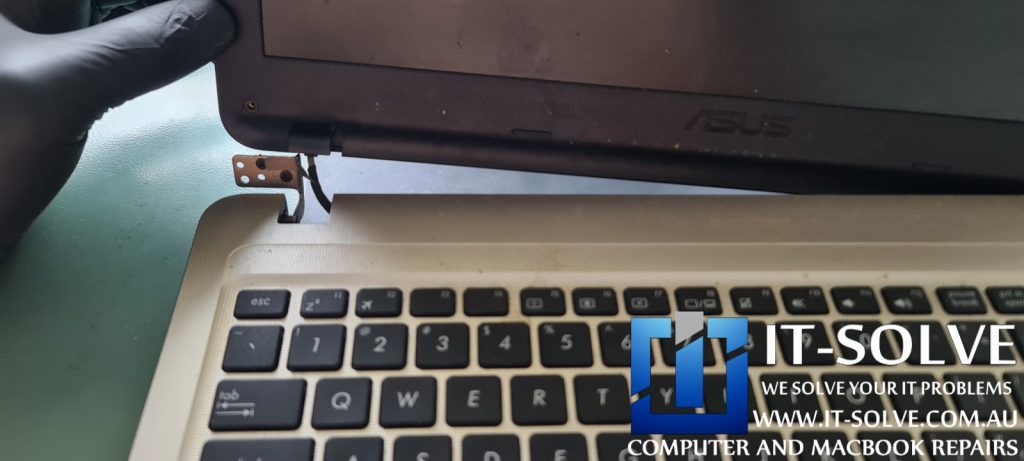 An important point of view is the built quality of these laptops. Affiliated by the planned obsolescence in the engineering design.
With such design "mistakes", we don't see these laptops lasting over 2 years without something breaking. Resulting in an annual cost of owning a laptop being a whopping 400-500$ if we keep replacing them every time they break.
The issue mainly is caused by a lack of awareness of the need for regular service for all laptops. Thus causing them to overheat heavily. Resulting in stiff hinges, which breaks weakened by heat plastics.
Lack of regular service causes fans inside of the laptops to clog up. This on another side, increases heat trapped within the laptop. Trapped heat affects the flexibility of plastics, overheats electronic components, reduces hard drive lifespan, etc.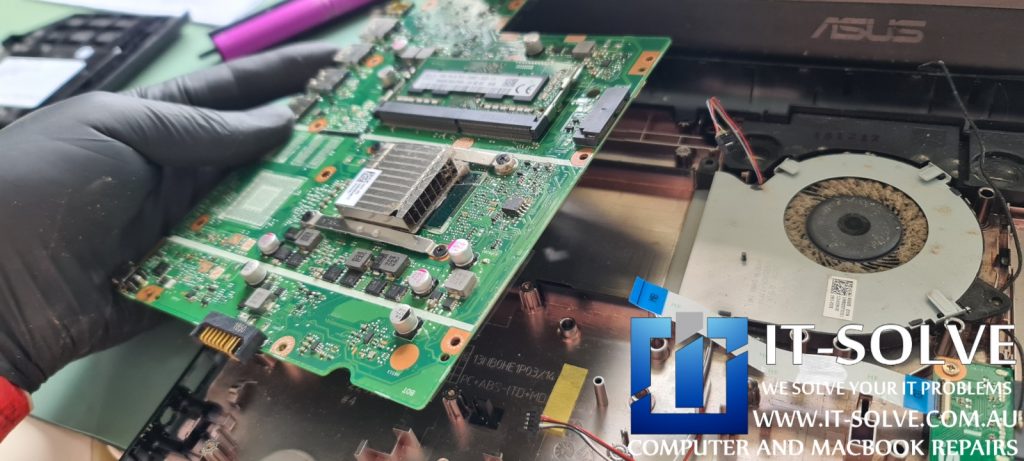 In addition, a weak cooling system could cause additional heat strain to these CPUs.
So does it worth buying a budget laptop? The answer is YES and NO. We see broken hinges even on expensive laptops, remember the broken hinge repair of this Lenovo Yoga? Less than a year old and 3 times the cost of this model.
ASUS F540 Hinge Repair process
Let us come back to the main issue. Broken Hinge Repair on Asus F540.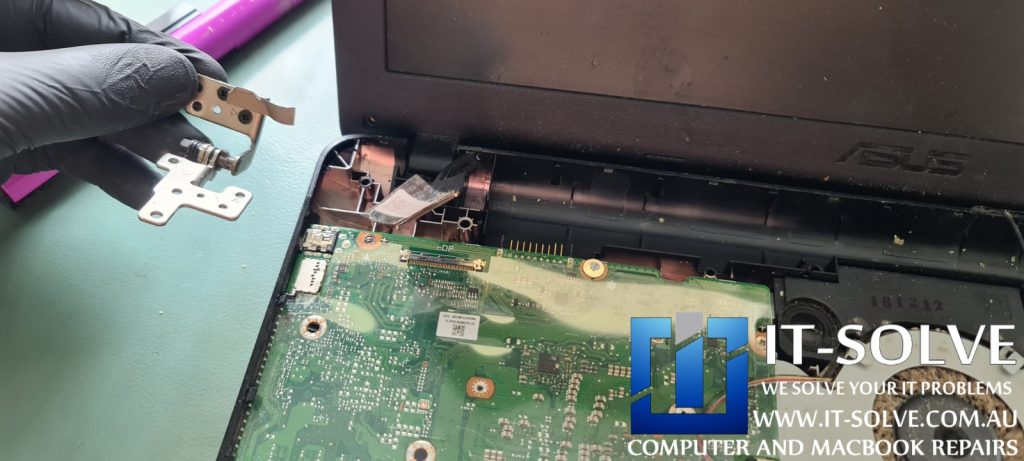 Asus Hinge Repair Service we offer here in Adelaide includes a couple of simple steps:
Get a Quote for the repair before any work is done, even over the phone.
Free pick up from the client's location in Adelaide. Or alternatively, drop in for a quick check while you wait.
Confirming final cost and "Go" from the client.
Repairing and ensuring everything works as expected.
Returning repaired system back to the client. Or the client can pick it up from our workshop.
We took apart the top case assembly and start figuring out how to ensure the longevity of the repair.
One definite way of ensuring it is to solidify the structure by running rivets through the hinges. This will ensure that hinges are sandwiched between the covers. Even seized up hinges will not erode and break the plastics easily.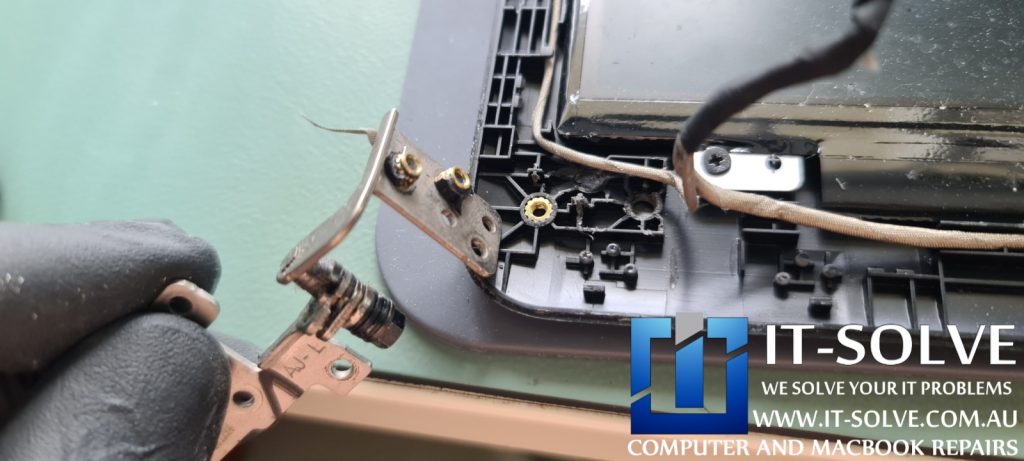 With the removed screen bezel, we could see the extent of the damage. Stiff hinges snapped the nuts which are fused into the back cover. We can clearly see how there are air gaps between the nuts. Instead of filling them with plastic to ensure stronger support when hinges seize up.
Manufacturers decide to leave them as a weak point, if this is not planned obsolescence – what is it?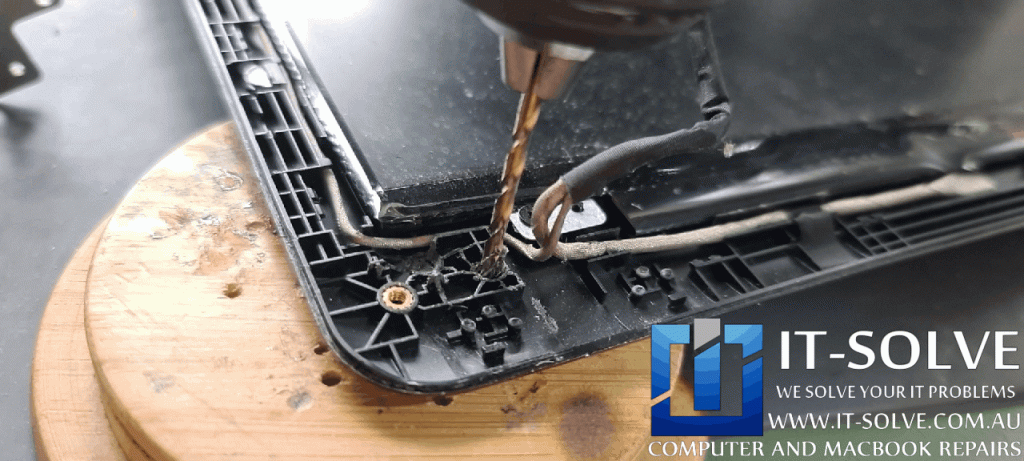 Ensuring reliability of the ASUS F540 Hinge Repair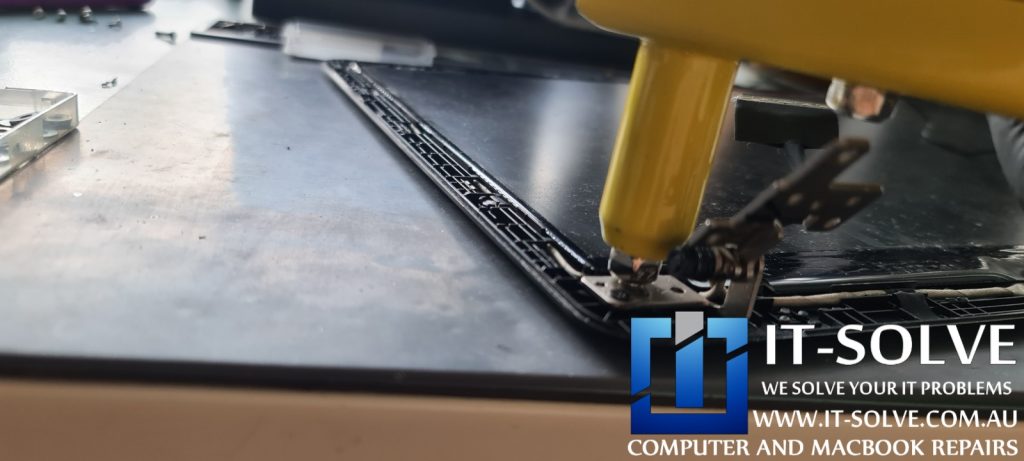 To ensure the long life ad reliability of the repair we run aluminium rivets through the hinge and back cover. This ensures that even when hinges seize up in a year or two the structure will hold up solid to the constant tension of the hinges.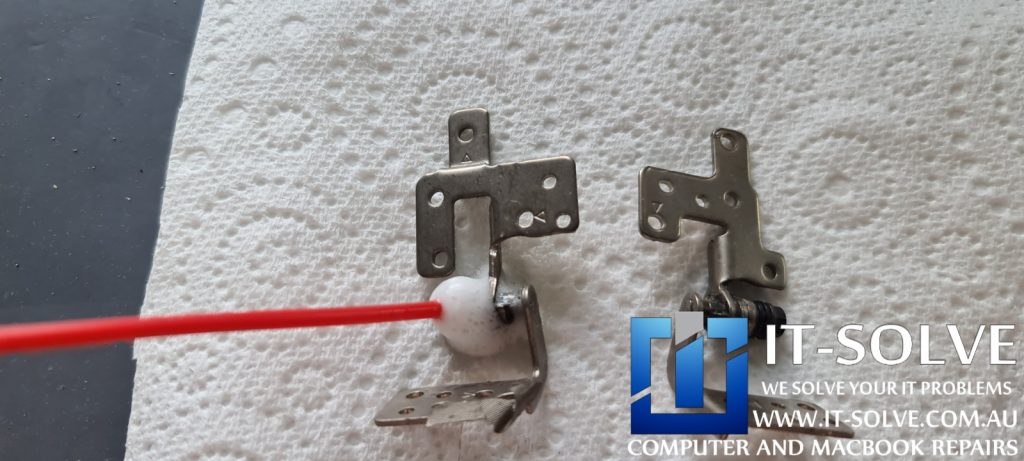 Of course, we could not leave hinges at this state, we have released the tension on them as well as treated them with a good clean and oiling.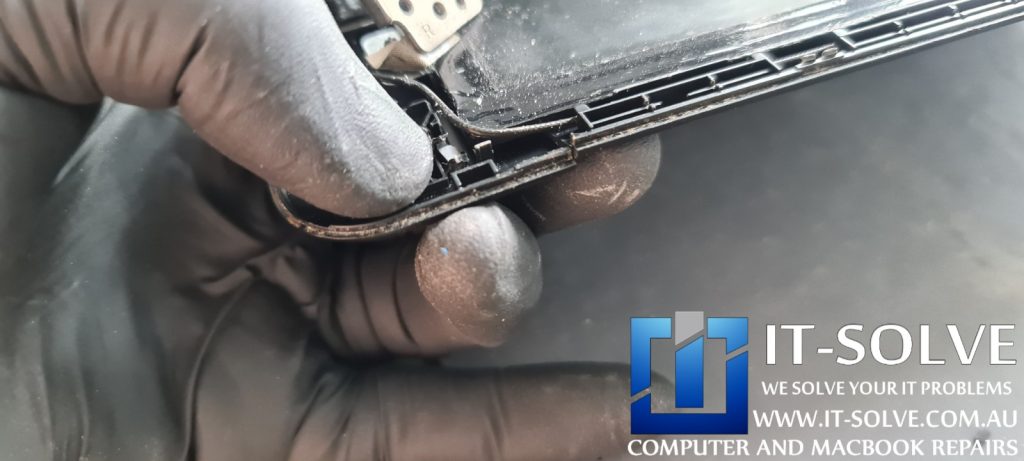 There was also a crack on the back plastic cover, which must have been caused by the seized right hinge. Which miraculously survived breaking anything – especially the screen. It was wrapping the whole back cover while it was closing.
The last step was to assemble everything together and ensure that we do not have any gaps between the screen and back cover.
Successful ASUS F540 Hinge Repair
Finally, we reach the point where we were satisfied with the repair and we could assemble this great laptop.
We fixed both left and right hinges on this Asus laptop. As well as we have serviced the fan, hinges and added extra support to the back cover. The cost of this repair reached half of the cost of a replacement laptop. However, replacement laptops would have the same issues in under 2 years time, as seen over and over again. These design "mistakes" are bound to happen. By enforcing the structure we can ensure that the s will be the last bit that will fail on this laptop!
Although budget model, with this repair and annual servicing we are confident that this snappy laptop will outlast any other off-shelf same price range laptops.
Would you like to read more about our Laptop Hinge Repairs? Check out some of our published repair cases.
Do you need this Repair in Adelaide?
If your Computer or Laptop is causing trouble and need Laptop Repair Service in Adelaide, give us a call, and we will advise on the best scenario to get your device repaired.
Interstate? Why not Send IT for a Repair. Repairs take under three weeks, including forward and backward postage. Contact us to get an idea of cost and turnarounds.
We at IT-Solve, specialise in Laptop and electronics repairs. We will do our best to repair your Computer quickly without involving high costs and long waiting times in repair shops. Our average repair takes under a week!
Call us now on 0469317177 or drop us an inquiry via

WhatsApp or

Messenger
Our engineers will respond quickly to your query.
Repaired

, not Replaced!
We are committed to reducing e-waste in Australia. How we do it is by educating our customers on the repairability and longevity of their devices, as well as providing affordable Laptop Repairs here in Adelaide.
Although our best intentions and hard work, this is not an easy task. Customers must accept that cost of high-quality electronic repairs, is between a third and half of the price of a new device. However, with the current trend of planned obsolescence in electronic design, we see more and more Laptops having shorter lifespans. To tackle that, while we do our repairs we target common planned obsolescence engineering design mistakes to ensure we extend the life expectancy of the Laptops we repair. Check some of our Laptop Repair Cases to get an idea of the process.
That said, if we buy a new one or write it off via insurance, it does not guarantee that the new one will not meet the same fate as the older one pretty soon.
As matter of fact, quite often we see accidents reoccurring within less than 2-year gaps. If we can save 1000$ or even 500$ today by repairing our faulty Laptop is great. That's an extra half Laptop cost ready to be spent on another one when the time comes or our need for performance increases.
When that time comes is up to us to buy a new one or keep pushing the one we have, but delaying it by a year or three is always a good starting point and saves another abandoned Laptop from polluting our one and only Planet.