Macbook Backlight Repair is needed when we have a Macbook which turns on but the screen stays black.
We can quickly and easily diagnose this by ourselves by shining a torch on the screen. For instance, some Macbooks models built before 2017 have a glass apple logo. Shining a torch through the back shows the problem immediately. This way, we can see if the whole screen is not functioning or only the backlight is missing.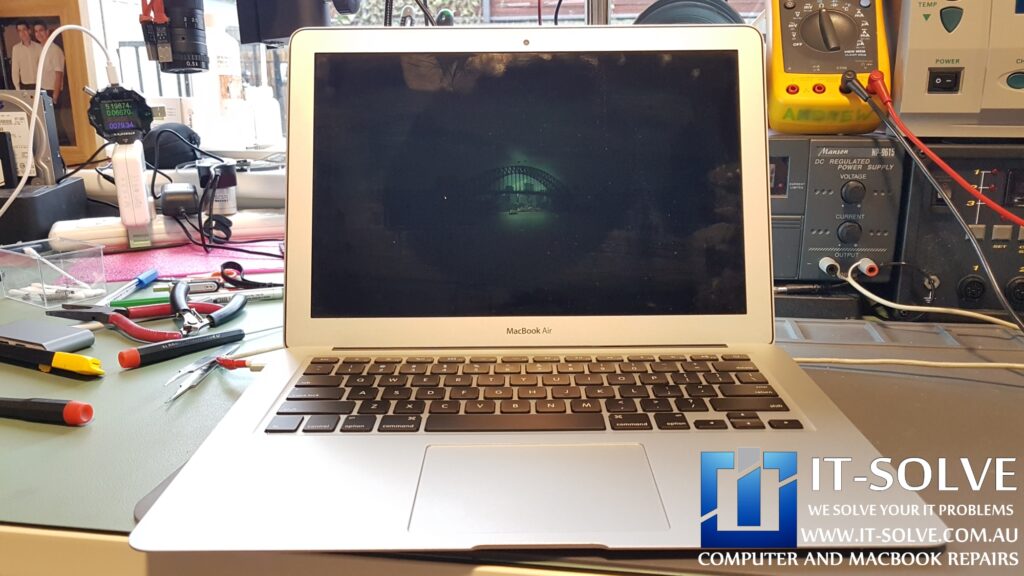 As seen in the picture, when we shine a torchlight with these models, we can actually diagnose if there is indeed a backlight issue.
---
Call us now on 0469317177 or drop us an inquiry via


WhatsApp or

Messenger
Our engineers will respond quickly to your question.
Some of the symptoms which may indicate the need for Macbook Backlight Repair:
Macbook turns on with black screen
Macbook water repair
Macbook black screen repair
Macbook backlight repair
Macbook screen repair
Macbook turns on with a black screen
from $400




Recommended by our customers
The main cause of this damage would be a water spillage on the LCD connector unless there were an intervention from the user. For example, trying to disconnect the screen and have shorted it accidentally.
Additionally, this connector is pretty close to the charging port on these models, and a little water spillover over the Macbook is enough to damage it. This can cause a Macbook Backlight Problem and would require a Macbook Backlight Repair.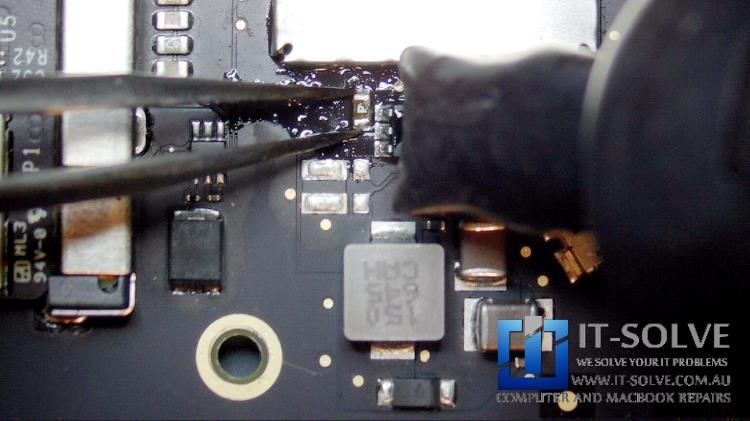 Sometimes we are lucky and can get away with shorted backlight fuse, although it is very rare.
However, most of the cases we have is a shorted Macbook backlight chip causing voltage not to be boosted enough to supply a backlight. In a case like this, we need to replace the Backlight chip.

On some occasions, it also can be caused by the screen connector or screen itself (especially with new generation USB-C type Macbooks).
Most of the time, we will have to replace the screen, although we can sometimes repair the connector, as in the example below.

We specialise in component level repairs and can perform a Macbook Backlight Repair service here in Adelaide. This way, we keep the cost low by repairing the Macbook logic board instead of replacing it. Also, keeping these amazing laptops out of the wasteland. Please have a look at some of our Macbook Backlight Repair cases.
If your Macbook or iMac is causing trouble and need a Macbook Repair Service in Adelaide, give us a call, and we will advise for the best scenario to get your device repaired.
We at IT-Solve, specialise in computer and electronics repairs. And we will do our best to quickly repair your computer without involving high costs and long waiting times in repair shops.
Call us now on 0469317177 or drop us an inquiry via


WhatsApp or

Messenger – Our engineers will respond quickly to your question.
Some of our repair cases