iMacs are equipped with powerful graphic cards, capable of handling from video editing to continuous streaming. Designers and editors worship them over the world for their capabilities and ease of use.
Check our Updated Website
Which Repair Do I Need?
However, as with any graphic cards, iMac graphic cards may fail and may need iMac Graphic Repairs in Adelaide.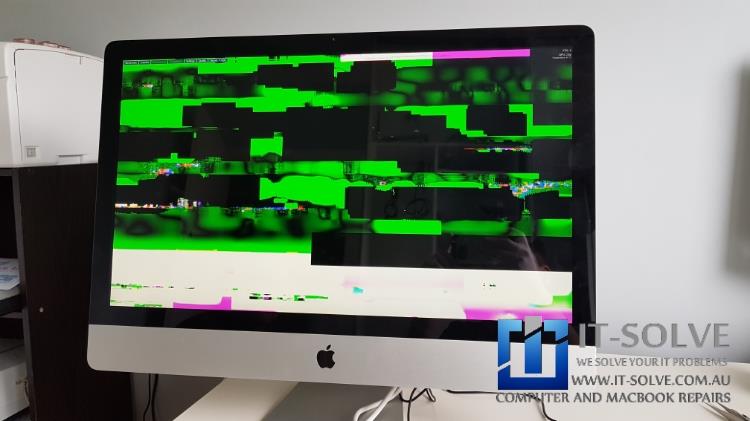 Graphic cards are separate dedicated chip that is solely responsible for running graphic and video-related calculations. Unlike CPUs, they generate much more heat and are prone to overheating and experiencing cold joints.
---
Call us now on 0469317177 or drop us an inquiry via

WhatsApp or

Messenger
Our engineers will respond quickly to your query.
Symptoms suggesting a need for iMac Graphic Repair Adelaide:
iMac not loading completely repair
iMac unstable and crashing repair
While loading iMac kernel panic repair
iMac distortion on the screen repair
iMac Graphic Card Repair Adelaide
iMac Graphic Card Repairs Adelaide
from $600



Recommended by our customers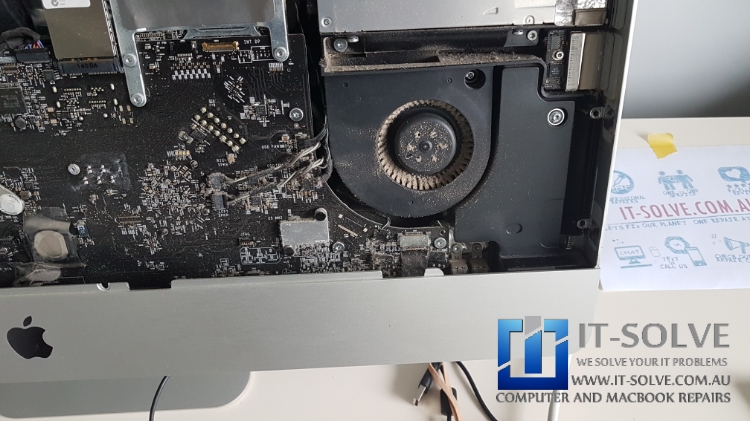 The main reason why Graphics Cards fail on iMacs is overheating. Dust and fluff trapped within the fan and radiator reduce the cooling of the iMac. This also increases the temperature within the iMac itself, pushing it is Graphic Card to overheat.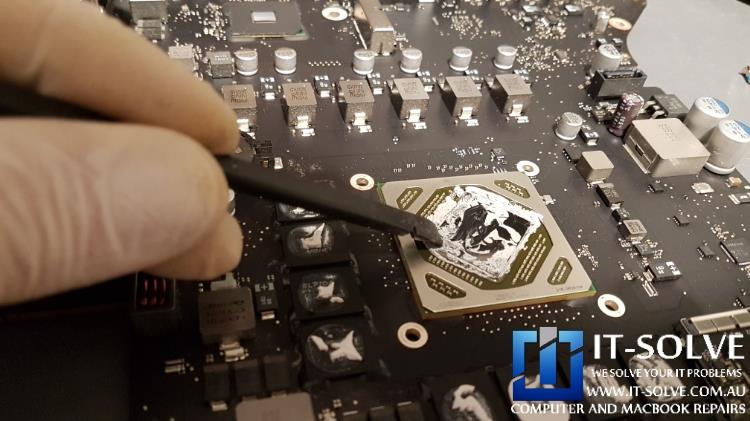 Unlike a CPU, a Graphics card cannot throttle or reduce its performance while overheating. Heat pressure on the solder joints reaches almost a melting point and this is how little cracks occur at the solder pads. These pads are the communication trace between the chip and the board.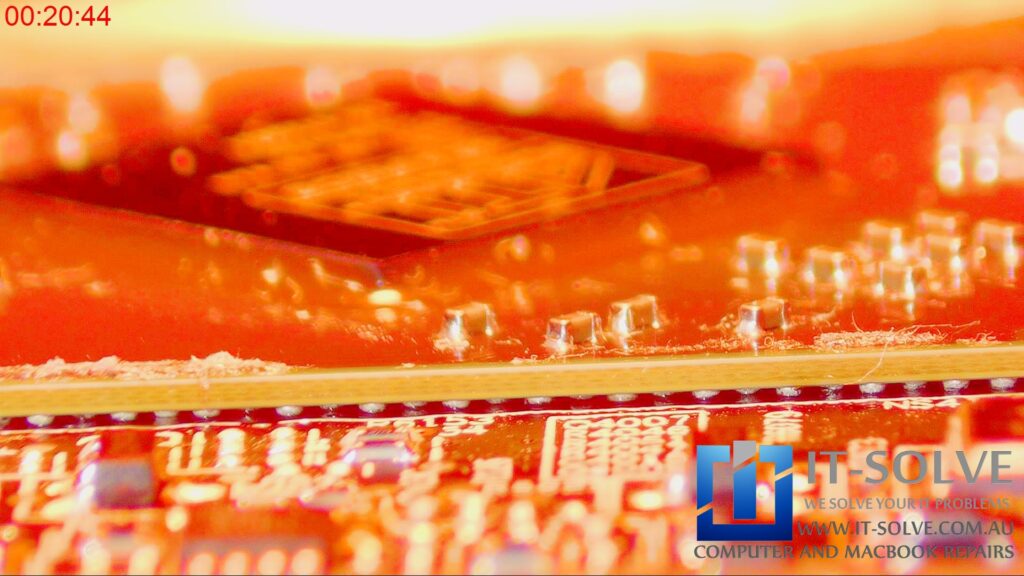 Furthermore, when these communication layers get impacted, signals cannot pass as quickly as they used to. Resulting in the Display receiving colourful patches or applications or even the system crashing randomly.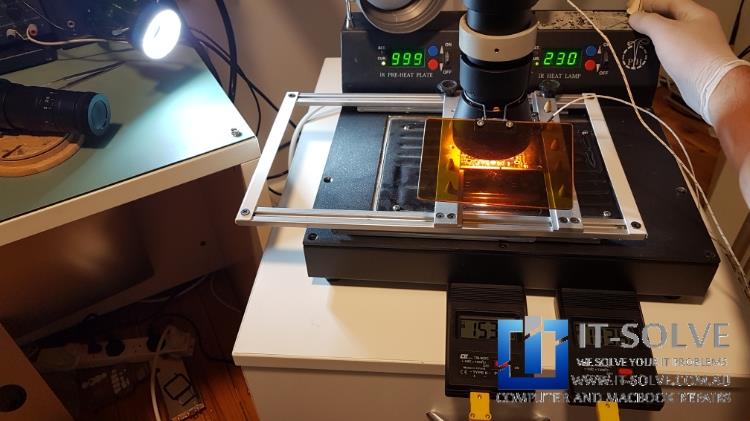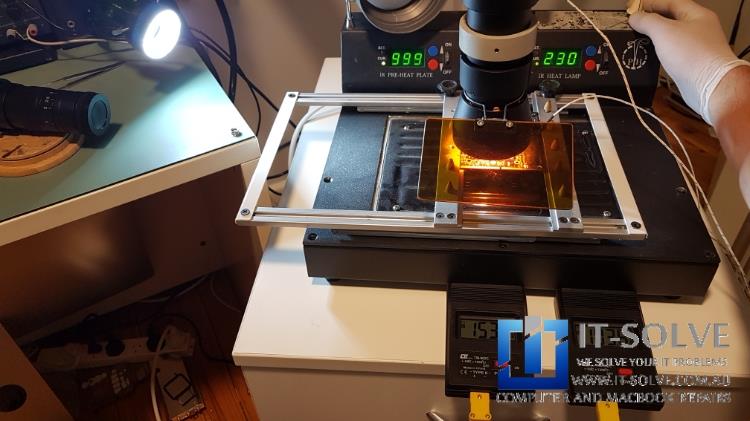 Our workshop here in Adelaide is equipped with the state of the art repair equipment. Also, we have been doing these repairs since iMacs start failing with Graphic Card issues. Experience wise we are the best in the field in providing iMac Graphic Card Repairs in Adelaide.
The repair process involves stripping down the iMac and reflowing it as a graphic chip under concentrated heat.
Do you need this Repair in Adelaide?
If your Mac or iMac is causing trouble and need iMac Repair Service in Adelaide, give us a call, and we will advise on the best scenario to get your device repaired.
We at IT-Solve, specialise in iMac and electronics repairs. We will do our best to repair your Apple Mac quickly without involving high costs and long waiting times in repair shops. Our average repair takes under a week!
Call us now on 0469317177 or drop us an inquiry via

WhatsApp or

Messenger
Our engineers will respond quickly to your query.
Repaired

, not Replaced!
We are committed to reducing e-waste in Australia. How we do it is by educating our customers on the repairability and longevity of their devices, as well as providing affordable iMac Repairs here in Adelaide.
Although our best intentions and hard work, this is not an easy task. Customers must accept that cost of high-quality electronic repairs, is between a third and half of the price of a new device. However, with the current trend of planned obsolescence in electronic design, we see more and more iMacs having shorter lifespans. To tackle that, while we do our repairs we target common planned obsolescence engineering design mistakes to ensure we extend the life expectancy of the iMacs we repair. Check some of our iMac Repair Cases to get an idea of the process.
That said, if we buy a new one or write it off via insurance, it does not guarantee that the new one will not meet the same fate as the older one pretty soon.
As matter of fact, quite often we see accidents reoccurring within less than 2-year gaps. If we can save 3000$ or even 1000$ today by repairing our faulty iMac is great. That's an extra half iMac cost ready to be spent on another one when the time comes or our need for performance increases.
When that time comes is up to us to buy a new one or keep pushing the one we have, but delaying it by a year or three is always a good starting point and saves another abandoned iMac from polluting our one and only Planet.
---
Check some of our cases of iMac Graphic Card Repairs in Adelaide