These days we get a plethora of laptops on the market, competing to be the thinnest model out there.
Thin laptops, of course, come with their own problems, one of them being a broken laptop hinge support requiring a Laptop Hinge Repair in Adelaide.
Unfortunately, the plastic and even aluminium casing designs are not good enough to handle 1-3kg heavy touch screen display assembly. Adding complicated hinge mechanisms to allow 360-degree rotating screens are only introducing extra failure points.
Check our Updated Website
Which Repair Do I Need?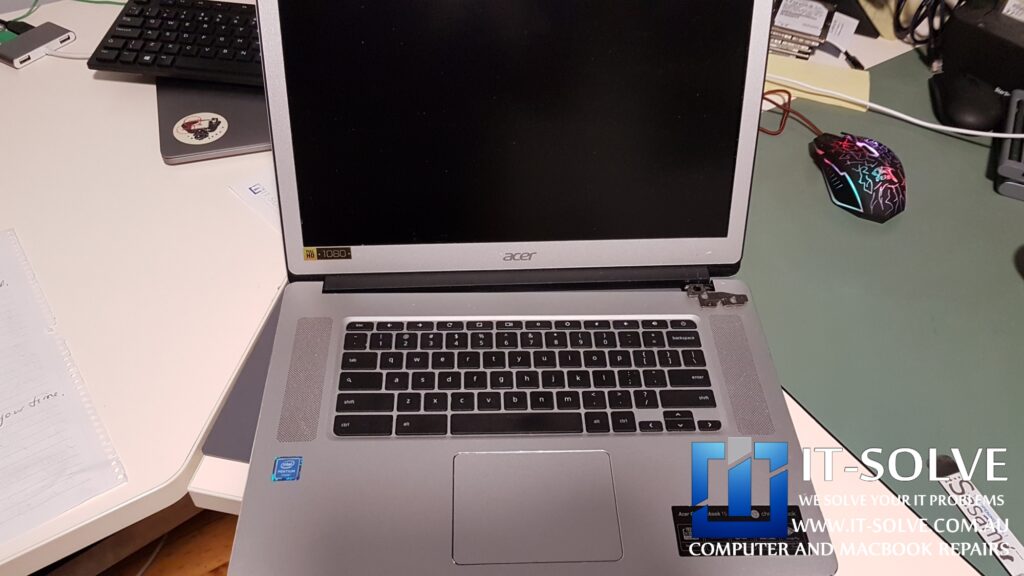 Please Note: We do not provide a FREE DIAGNOSTIC on laptops!
We keep seeing that many customers think that not every laptop is worth the repair cost required to repair the issue they face and prefer to write off the equipment. So, to reduce the influx of such cases, we decided to display an estimate of the repair cost of some of the regular repairs we get for laptops.
Hence if your budget does not meet the lower bracket of the cost specified below, unfortunately, we cannot assist in repairing your laptop, neither we can book you in to have a look.

Diagnostic and Cancelation Fees
Unfortunately, the repair cost for this process can sometimes come quite close to the cost of the whole machine. Like the Acer Chromebook, we did a while ago. However, we must understand the complexity of the process and, most importantly, that once this repair is done properly. Hinges will be the last part that will break on these machines.
If we buy a new laptop within the same price category or with a similar design (as most of them are), we will have the same problem with the hinges in under 2 years. And by Murphy's law, it will happen just when it is outside of the warranty, or we will have a hard time convincing JB-HIFI that it did not break because we dropped it (or whatever other excuse they come with).
Some of the symptoms which may indicate the need for Laptop Hinge Repair Adelaide
Separating screen Repair in Adelaide
Lenovo Hinge Repair in Adelaide
Asus Hinge Repair in Adelaide
Acer Hinge Repair in Adelaide
HP Hinge Repair in Adelaide
Dell Hinge Repair in Adelaide
Acer Hinge Repair in Adelaide
Laptop Broken Hinge Repairs.
Laptop separating screen Repairs.
from $300



Recommended by our customers
Call us now on 0469317177 or drop us an inquiry via

WhatsApp or

Messenger
Our engineers will respond quickly to your query.
Why do we need Laptop Hinge Repair in Adelaide?
Hinges are engineered to work on very tight areas. Add on that a narrow shallow thread to allow a wider screen opening angle. It gets clogged up very easily and quickly.
These hinges are designed to last, but when mixed with dust and humidity, even silicone grease placed on them cannot keep them easily moving.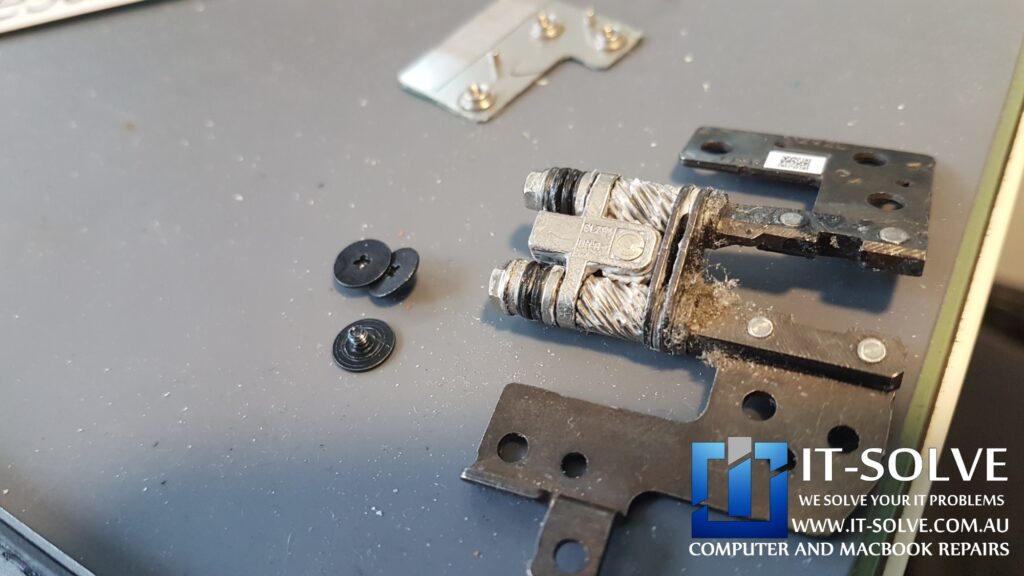 As seen in the photo above, the hinges are all clogged with dust mixed with silicone grease. Causing hinges to be very stiff on opening and closing the screen cover. This is why the hinge support brakes requires laptop hinge repair in Adelaide.
Cost of Laptop Hinge Repair in Adelaide
Depending on if single or both hinge supports are damaged, the cost of laptop hinge repair could be between 300$-600$.
The cost of the repair depends on the damage, as well as if the screen is still intact and functioning fine. Closing the screen with broken hinges causes the laptop assembly to get extra tension and fall apart or separate. If we can repair the hinges before further damage is done, we can spare a replacement screen or wires around it.
Due to the custom metalwork involved, we need to apply different techniques for each repair case. You can see what we deal with on each case in our Laptop Hinge Repair cases section.
Although there is a high complexity behind each step, we want to make sure we provide superior quality repair and craftsmanship without damaging or altering much of the design of the laptop itself.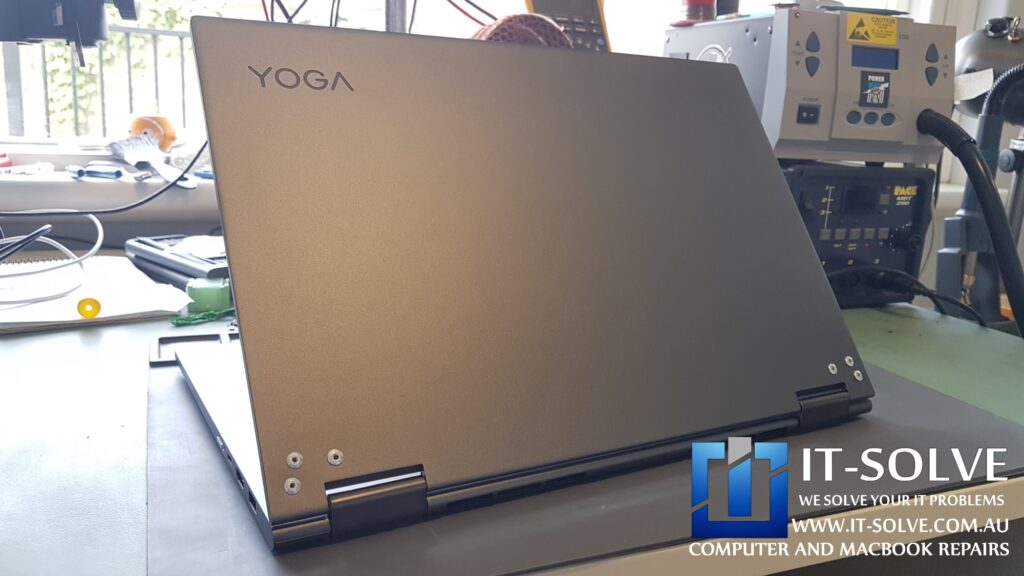 ---
Do you need this Repair in Adelaide?
If your Computer or Laptop is causing trouble and need Laptop Repair Service in Adelaide, give us a call, and we will advise on the best scenario to get your device repaired.
Interstate? Why not Send IT for a Repair. Repairs take under three weeks, including forward and backward postage. Contact us to get an idea of cost and turnarounds.
We at IT-Solve, specialise in Laptop and electronics repairs. We will do our best to repair your Computer quickly without involving high costs and long waiting times in repair shops. Our average repair takes under a week!
Call us now on 0469317177 or drop us an inquiry via

WhatsApp or

Messenger
Our engineers will respond quickly to your query.
Repaired

, not Replaced!
We are committed to reducing e-waste in Australia. How we do it is by educating our customers on the repairability and longevity of their devices, as well as providing affordable Laptop Repairs here in Adelaide.
Although our best intentions and hard work, this is not an easy task. Customers must accept that cost of high-quality electronic repairs, is between a third and half of the price of a new device. However, with the current trend of planned obsolescence in electronic design, we see more and more Laptops having shorter lifespans. To tackle that, while we do our repairs we target common planned obsolescence engineering design mistakes to ensure we extend the life expectancy of the Laptops we repair. Check some of our Laptop Repair Cases to get an idea of the process.
That said, if we buy a new one or write it off via insurance, it does not guarantee that the new one will not meet the same fate as the older one pretty soon.
As matter of fact, quite often we see accidents reoccurring within less than 2-year gaps. If we can save 1000$ or even 500$ today by repairing our faulty Laptop is great. That's an extra half Laptop cost ready to be spent on another one when the time comes or our need for performance increases.
When that time comes is up to us to buy a new one or keep pushing the one we have, but delaying it by a year or three is always a good starting point and saves another abandoned Laptop from polluting our one and only Planet.
What shall I do if I need a Laptop Hinge Repair in Adelaide?
First of all, do not force to close or open the screen assembly if the screen starts separating from the hinge. This may crack the screen or further damage the assembly. A broken screen may add 300-600$ to the repair cost, while snapped or damaged screen cable may add 200$ to the hinge repair cost.
Secondly, ensure your data is backed up. If the displaced hinge assembly moves a part inside the board, it may short the electronics and render the whole laptop unusable. Ensuring you have your data backup reduces the need for a Data Recovery, which starts from 600$ from a failed drives.
Ensure your laptop worth the rough cost we require to repair it, as some laptops, especially under the 600$ range, may not be worth having such repair.
Do not forget that a repaired laptop hinge will last longer than brand new laptop hinges. They all have similar design flaws.
We use quality craftsmanship plus parts, and we can guarantee that the repaired area of the laptop will never break the same way again!
Lastly, when you are happy with the cost, we gave you over the phone, and you would like to bring it to us or use it until you get time to come around. Ensure that it stays on a flat surface and do not close the hinge. If you need to carry it, carry it on the backseat with the screen open and leaning towards the backseat. Closing the screen even to bring it to us may break or damage something internal.
---
Check some of our Laptop Hinge Repair Cases