Macbook not charging repair is a common type of repair we get in our workshop. In some rare cases, this is caused by damaged or burned charging ports on the Macbook. But most commonly this is caused by a shorted or malfunctioning charging chip. New generation Macbooks with USB-C type charging ports are extremely sensitive to any kind of liquid damage or short circuit. Hence most of our cases of Macbook not charging repairs involves electronic repairs.
This was no extraordinary case. Same story, water bottle leaked in a backpack, macbook worked on a battery until the battery drained and now it doesn't turn on. Sounds like a simple repair right? Well not anymore. Due to TI's new innovation of CD3217 USB-C type chр chips, specially tailored for Apple, they are not available for purchase. We end up sourcing them from donor boards in an attempt to repair faulty Macbooks.
That's again another way of Apple forcing a throw-away culture instead of repairability and preservability of their laptops. Long gone are the days when Apple products used to last 10 or even 5 years!
Macbook Pro 2021 not charging repair Diagnostic Process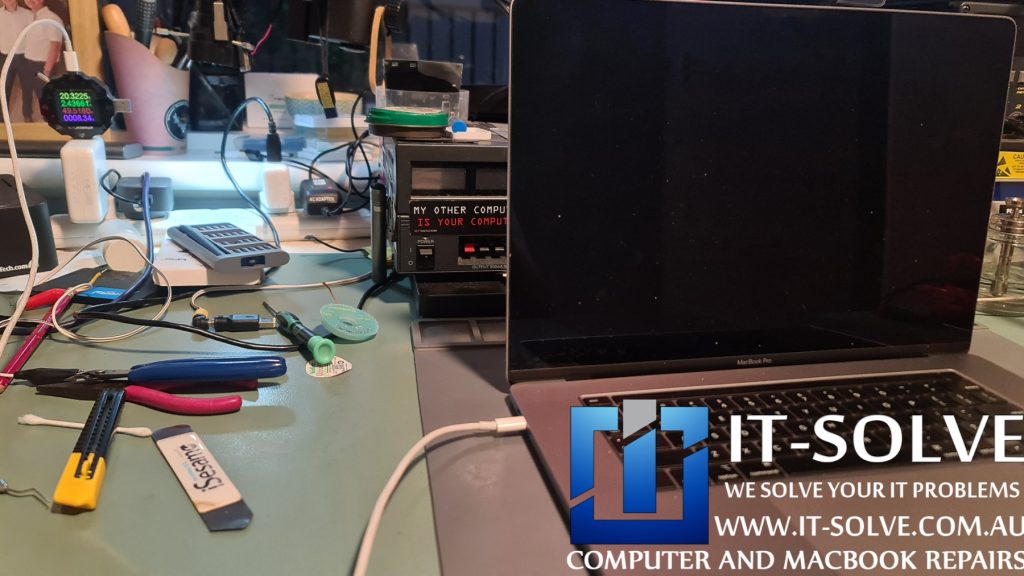 With magnetic charger generation Macbooks, we could see an orange light on the charger when it is charging. Unfortunately new generation USB-C Macbooks don't have that type of indicator embedded. Hence it is difficult to know which charger port and chip connected to it are malfunctioning.
Macbook & Laptop Repair in Adelaide include a couple of simple steps:
Quote for the repair before any work is done, online or over the phone.
Free pick up in Adelaide for eligible repairs. Alternatively, book an appointment to drop in for a quick assessment while you wait if happy with the received cost idea.
Have a look in front of the customer and confirm the repair cost while the assessment is done.
Diagnostic while repairing the equipment. This involves part testing/replacing and component repairing as we progress through the repair.
If the repair cost has to change, we confirm with the client and give an option to cancel the repair if exceeds the customer's budget. Diagnostic fees apply!
Repairing the device within the initially agreed or approved amended cost and ensuring everything works as expected. Plus 30 Days warranty and support.
Returning repaired system back, or pick it up from our workshop at the pre-arranged time.
Thankfully there are meter readers which are compatible with USBc, which we can use to monitor the communication between the charger and the MacBook.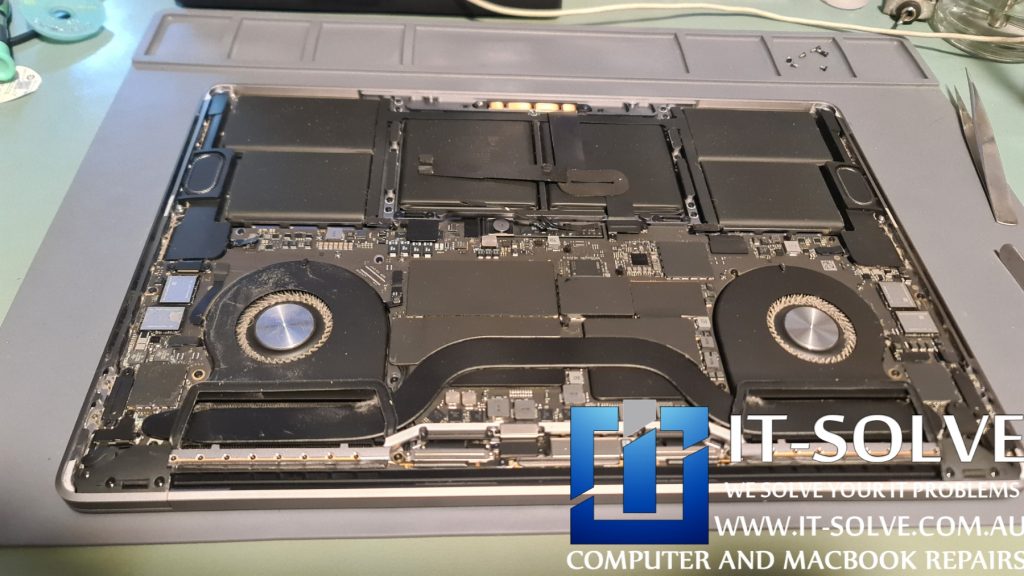 Inside we can clearly see a massive amount of dust collected, which plays the role of a sponge when there is a liquid over the Macbook.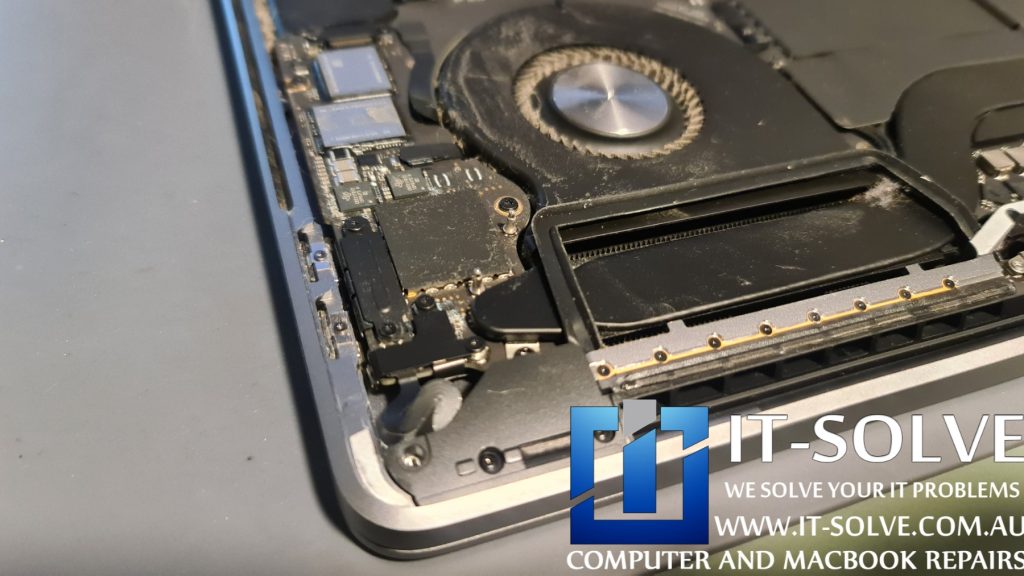 It is visible that a liquid has leaked around the charging ports and has caused some kind of short circuit. As a result, there was a leak into the logic board which must have corroded or shorted components.
16″ Macbook Repair with one port not charging and kernel panics Repair Process
After disassembling the Macbook and taking the board apart, we can inspect the components under a microscope in an attempt to locate and clean any oxidation.
Steps in dealing with such a case are to clean the oxidation and resolder components. Brushing with a toothbrush and isopropyl alcohol is not enough, as discussed in our What to do when you spill liquid on your Macbook section. The oxidation and leftover corrosion of liquid are more damaging than the liquid itself. Hence timely professional repair is required.
We have a sophisticated equipment workshop with high accuracy microscope, ultrasonic cleaning bath, reflow machine, and tools for micro soldering to achieve high-quality logic boards repairs. With thousands of components in stock, we quickly locate and replace failed components!

IT-Solve
To avoid that, we ensure each component that had contact with liquid and oxidation is treated and repaired or replaced.
In this case, luckily we did not have to replace the charging chips as they were functioning and measuring just fine. However, the oxidation and corrosion underneath must have confused them by creating a temporarily short circuit.
Reflowing the charging chips ensures that any loose contact or oxidation accumulated underneath is pushed away and cleaned.
Successful 2021 Macbook Pro Repair with one port not charging and kernel panics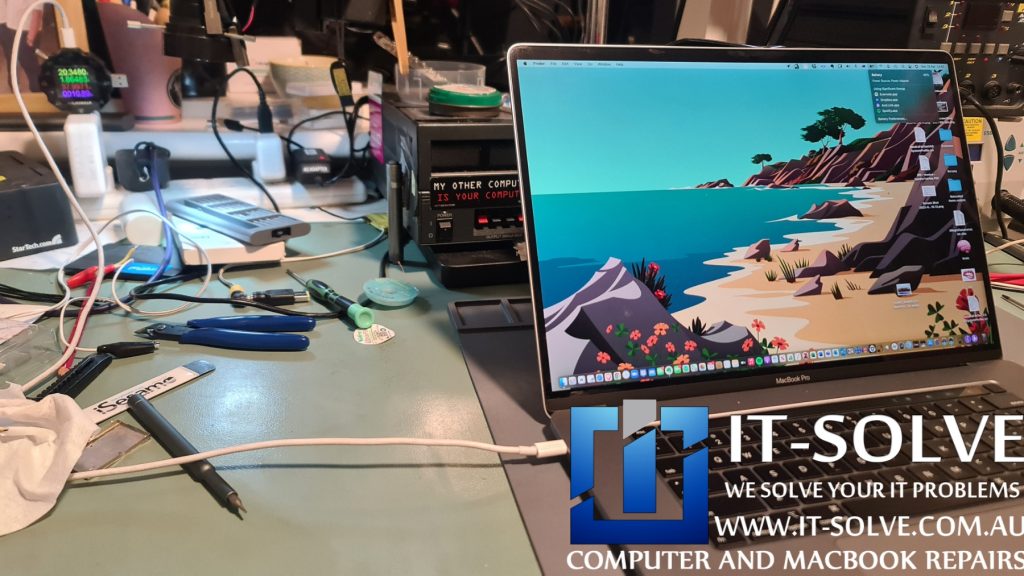 Communication with these charging ports goes on a level below just hardware interaction. It is moved to a level of software interaction these days. Thus communication issues due to bad contact can cause kernel panic and misbehaviour.
Hence the reason why this Macbook was not charging via one port and crashing often. Luckily there were no blown charging chips so we could have a quick turnaround of repairing this Macbook with non-charging problems in our Adelaide workshop.
If your Apple Mac or Macbook is causing trouble and need a Macbook Repair Service in Adelaide, give us a call, and we will advise on the best scenario to get your device repaired.
Interstate? Why not Send IT for a Repair. Repairs take under three weeks, including forward and backward postage. Contact us to get an idea of cost and turnarounds.
We at IT-Solve, specialise in Apple Mac and electronics repairs. We will do our best to repair your Mac quickly without involving high costs and long waiting times in repair shops. Our average repair takes under a week!
Call us now on 0469317177 or drop us an inquiry via

WhatsApp or

Messenger
Our engineers will respond quickly to your query.
Repaired

, not Replaced!
We are committed to reducing e-waste in Australia. How we do it is by educating our customers on the reparability and longevity of their devices, as well as providing affordable Macbook Repairs here in Adelaide.
Although our best intentions and hard work, this is not an easy task. Customers must accept that cost of high-quality electronic repairs, is between a third and half of the price of a new device. However, with the current trend of planned obsolescence in electronic design, we see more and more Macbooks having shorter lifespans. To tackle that, while we do our repairs we target common planned obsolescence engineering design mistakes to ensure we extend the life expectancy of the Macbooks we repair. Check some of our Macbook Repair Cases to get an idea of the process.
That said, if we buy a new one or write it off via insurance, it does not guarantee that the new one will not meet the same fate as the older one pretty soon.
As matter of fact, quite often we see accidents reoccurring within less than 2-year gaps. If we can save 2000$ or even 1000$ today by repairing our faulty Macbook is brilliant. That's an extra half Macbook cost ready to be spent on another one when the time comes or our need for performance increases.
When that time comes is up to us to buy a new one or keep pushing the one we have, but delaying it by a year or three is always a good starting point and saves another abandoned Macbook from polluting our one and only Planet.