This week, we received this Lenovo Yoga 730, which had its screen trying to separate while opening. To illustrate the issue properly, we took a couple of detailed photos of the problem and decided to explain how we repaired it.
Due to the thin touch screen matrix design of these systems, it is very easy for them to break the hinge support, which on the other side, although still partially working if left unrepaired, may break the screen. These screens are around 400-600$ to replace, which will also require a hinge repair on top of that cost.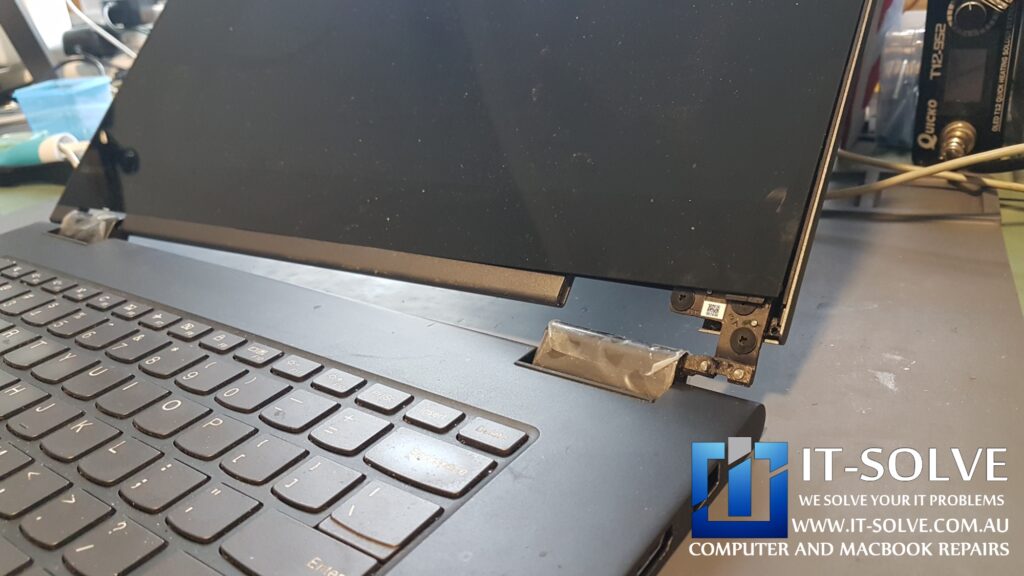 Both Macbook and Laptop engineering and designs these days is all around planned obsolescence. We see this issue over and over, and it never gets resolved. On top of that, as the years' pass, they get more fragile and easy to break.
Lenovo Yoga broken hinge support repair process
To describe the issue clearly and get it repaired we had to take apart the screen assembly first. To do that we needed to take apart the Lenovo, which immediately showed one of the reasons for such damage.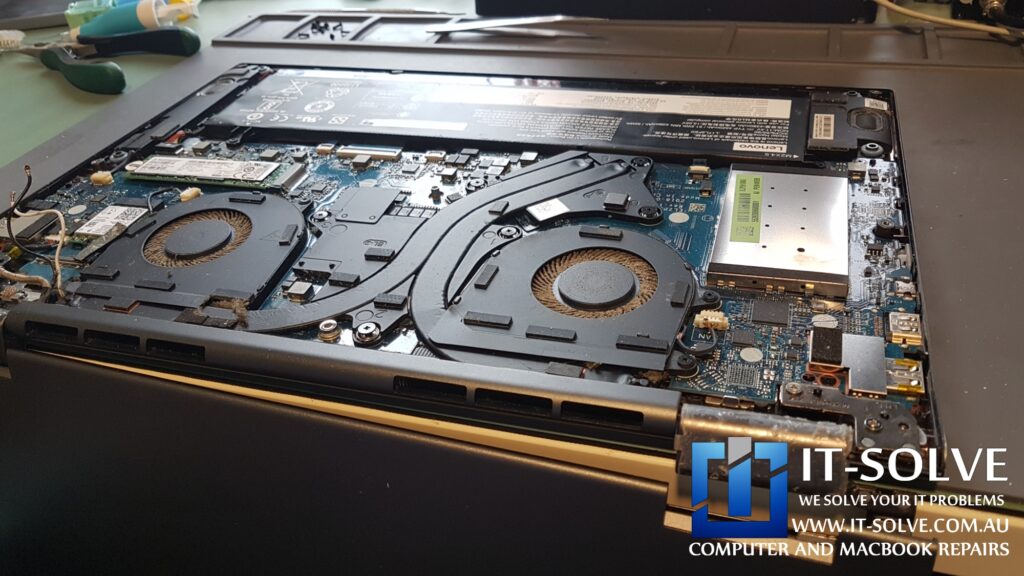 The cooling system was intensely clogged up, which is expected for a 10-year-old laptop, definitely not for a 3-year-old model.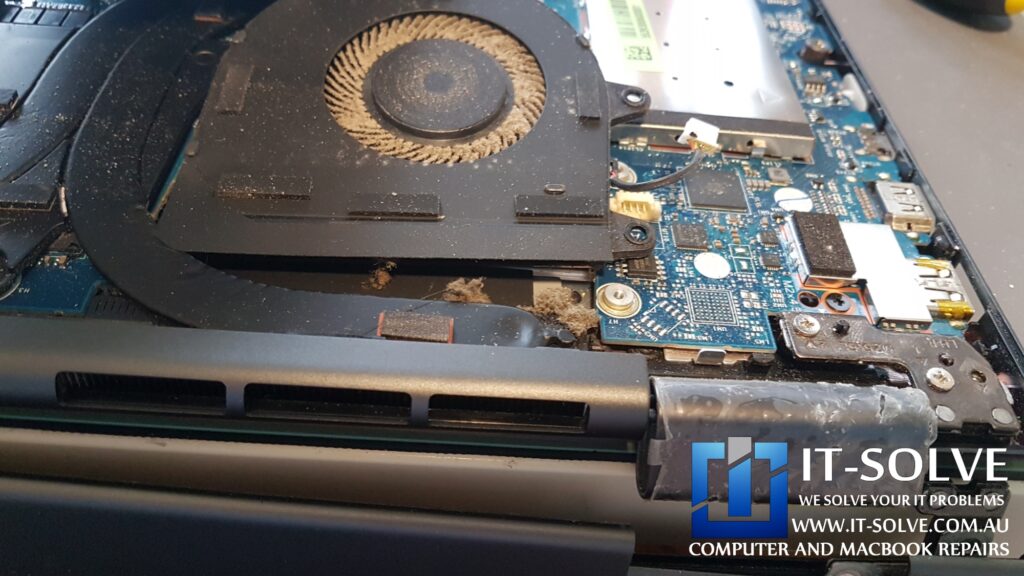 Taking the screen apart was another hurdle. To allow such a thin design, Lenovo prefers to glue the LCD matrix into the laptop's back cover. Making it quite tricky to separate the screen and back cover causing.
We could clearly see that the hinge support bracket was glued into the back cover with some kind of glue with a removed screen.
Although this most likely is an industrial glue, it's no strong enough to keep metal and aluminium fused together for long.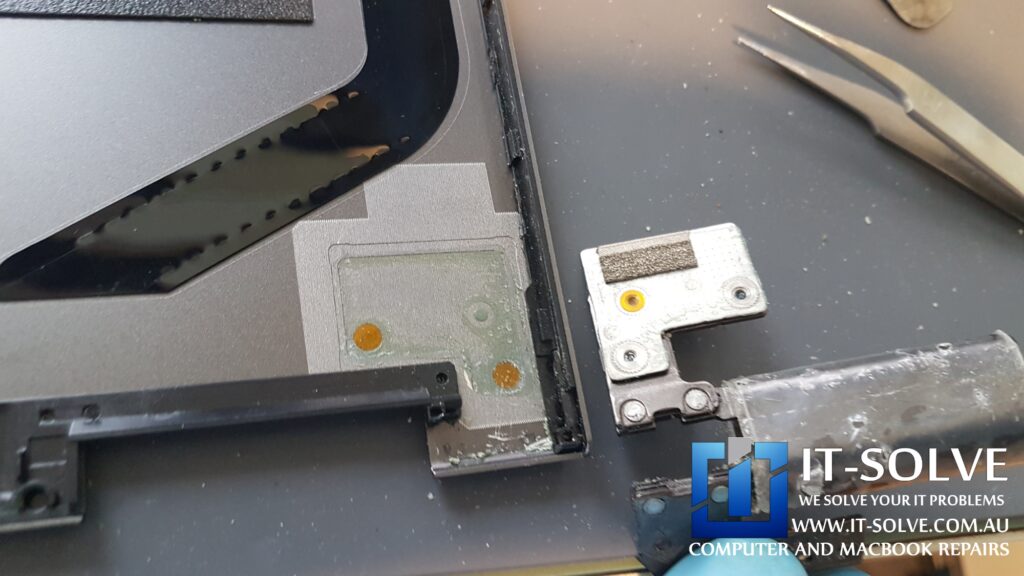 What follows up is a clear indication of a failed design from Lenovo.
Lenovo Laptop Repairs we offer here in Adelaide includes a couple of simple steps:
Get a Quote for the repair before any work is done, even over the phone.
Free pick up from the client's location in Adelaide. Or alternatively, drop in for a quick check while you wait.
Confirming final cost and "Go" from the client.
Repairing and ensuring everything works as expected.
Returning repaired system back to the client. Or the client can pick it up from our workshop.
We have a sophisticated equipment workshop with high accuracy microscope, ultrasonic cleaning bath, reflow machine and tools for micro soldering to achieve high-quality logic boards repairs. With hundreds of components in stock, we quickly located and replaced the faulty resistors and capacitors in the area.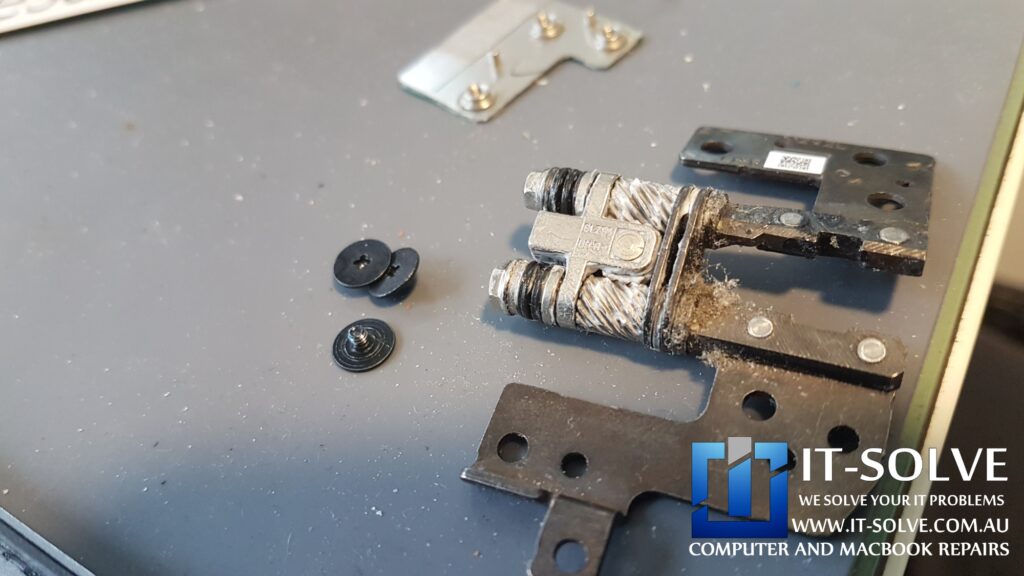 Hinge design for rotating Lonovo Yoga 730 screen all the way to 360 degrees is actually its weak point. As seen, the hinge was greased with silicone grease to allow longevity of the tight angled tread design. However, with so much dust around, it sneaks into the threads of the hinge and makes them extremely stiff.
This, on the other hand, creates friction causing more tension on the hinge support bracket (top of the picture)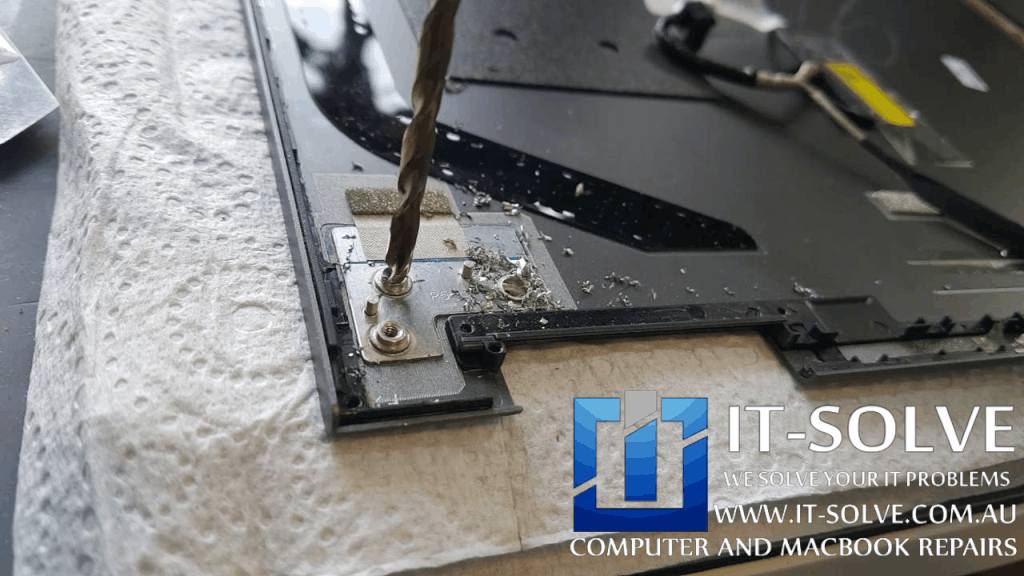 We definitely could not use glue as they did in the original production line. That looked like a patchy job, so we opted to use rivets to repair this Lenovo Yoga broken hinge support.
Which, of course, required lots of metalwork skills, including drilling and grinding, to make sure the screen fits back nicely.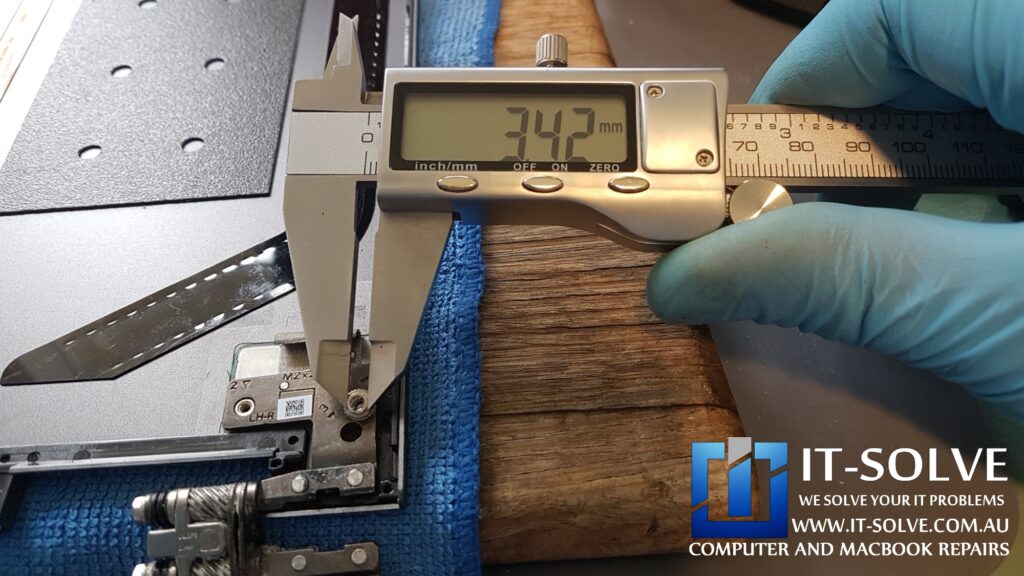 After figuring out the correct size of screws, drills and rivets we got into the job to repair both of the Lenovo Yoga hinges.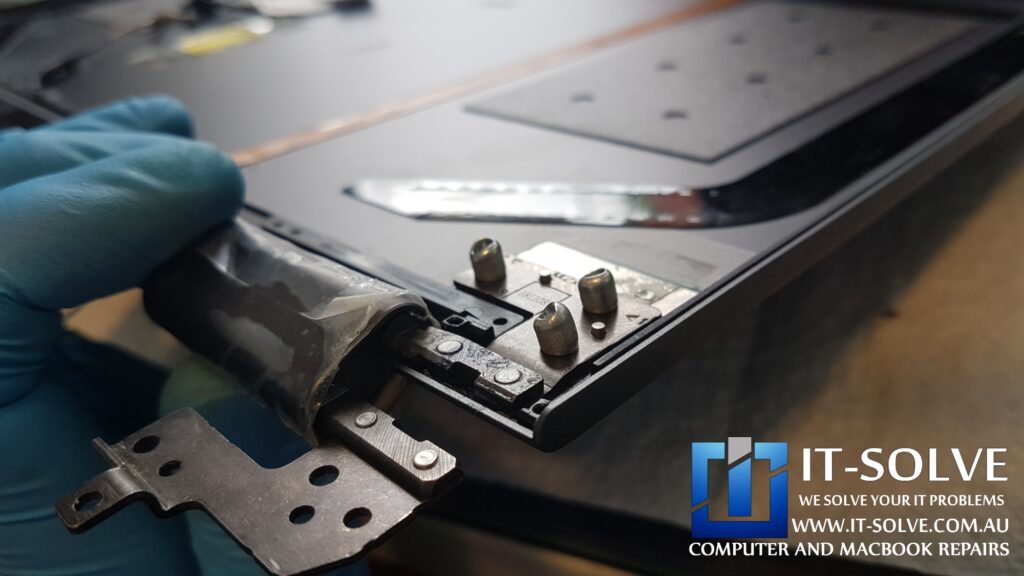 Just drilling and stamping the rivets, of course, was not enough. So we had to also reduce the height of them after installation by using our excellent metalwork skills.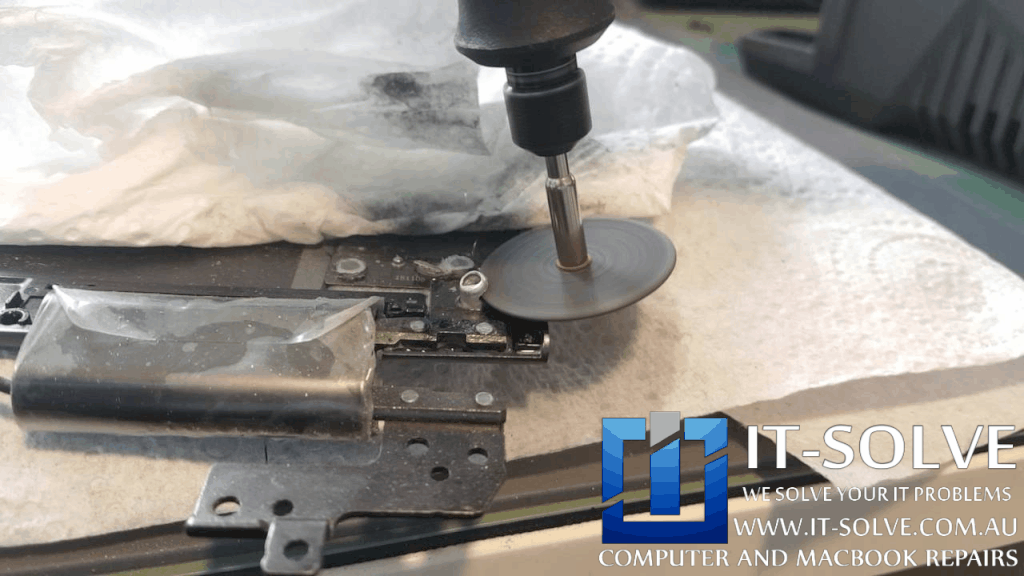 After running a bunch of rivets on both sides of the hinges, we were pretty much ready to assemble the laptop. But first, we had to ensure that a similar issue won't happen again by servicing the laptop.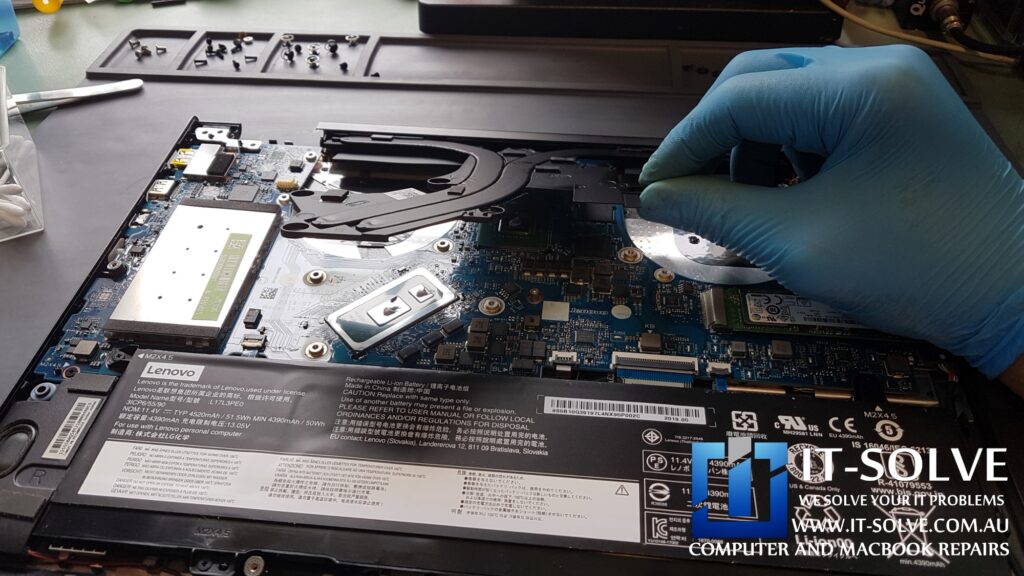 The Result
With successfully repaired hinges and glued screen, this Lenovo Yoga became a tough competitor in the pile of expensive but low quality builds laptops.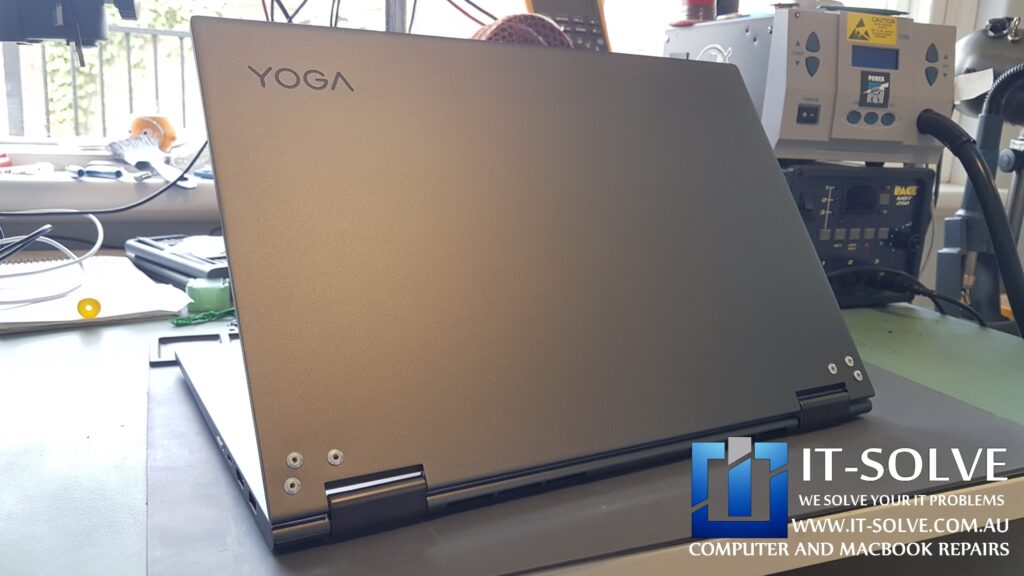 Plus the rivets on the hinges, gives it nice mechanic feel to the aluminum design.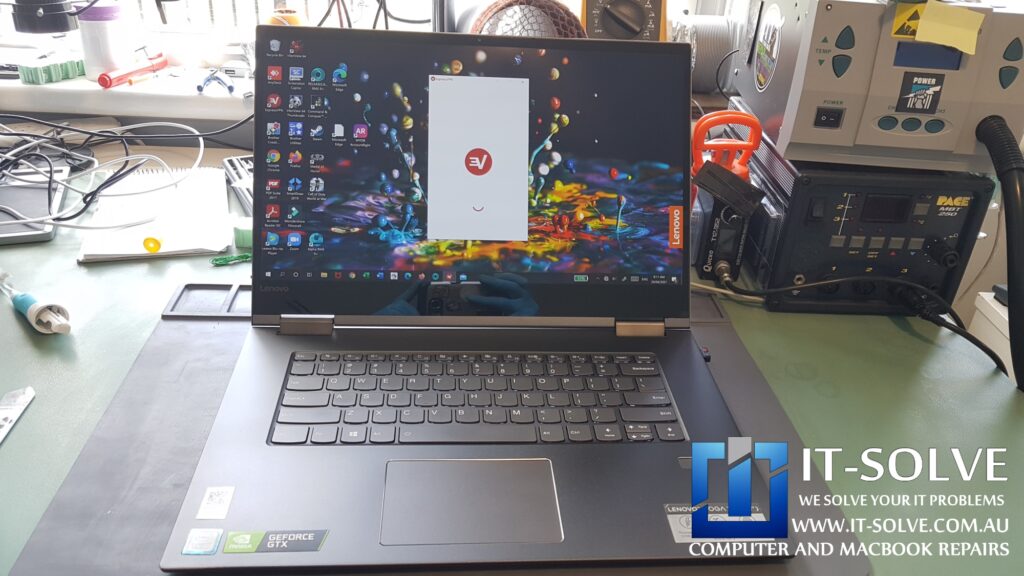 If you have a Laptop or Computer causing troubles and need a Computer Repair Service in Adelaide, give us a call and we will advise for the best scenario to get your Computer Repaired.
We at IT-Solve, specialize in computer and electronics repairs. We will do our best to repair your Computer quickly without involving high costs and long waiting times in repair shops.
Call us now on 0469317177 or drop us an inquiry via
WhatsApp or
Messenger – Our engineers will respond quickly to your inquiry.