This week we had this amazing 15″ Macbook Pro A1990 repair which is not turning on after a water leak in the backpack. The liquid is an unforgivable enemy of electronics. And we tackle these jobs pretty much daily during our Macbook Liquid Damage Repair Service here in Adelaide.
Unfortunately, there is much misinformation regarding questions like "What to do when liquid spills on a Macbook". And this misinformation leads to people letting Macbooks stay with the liquid residue inside for hours or even days. This leads to multiple damaged components on the board itself. If we are replacing motherboards like Apple completely and most repair shops do, it does not matter. However, that is expensive – an average of 13″ Macbook logic board costs above 2000$, while 15″ model costs above 3000$.
To keep the cost low and to preserve customer data, we prefer to repair the logic board. Repair cost is substantially lower than replacement cost in most cases 2 to 4 times cheaper than the replacement cost! However, to increase the success rate of the repair, customer needs to act fast. Every minute counts as the integrated battery circulates electricity within the Macbook even if it doesn't turn on.
Macbook Pro A1990 repair – Diagnostic Process
This was one of those cases where the customer took his time and wondered what to do.
As you can see in the photo above, Macbook refuses to turn on. It doesn't even try to communicate with the charger. This is a clear indication of a short circuit inside of the Macbook. Contrary to the common belief, "Let the MacBook dry for a couple of days, and it will work after that.". This MacBook will become unrepairable longer it stays with the residue and growing corrosion within.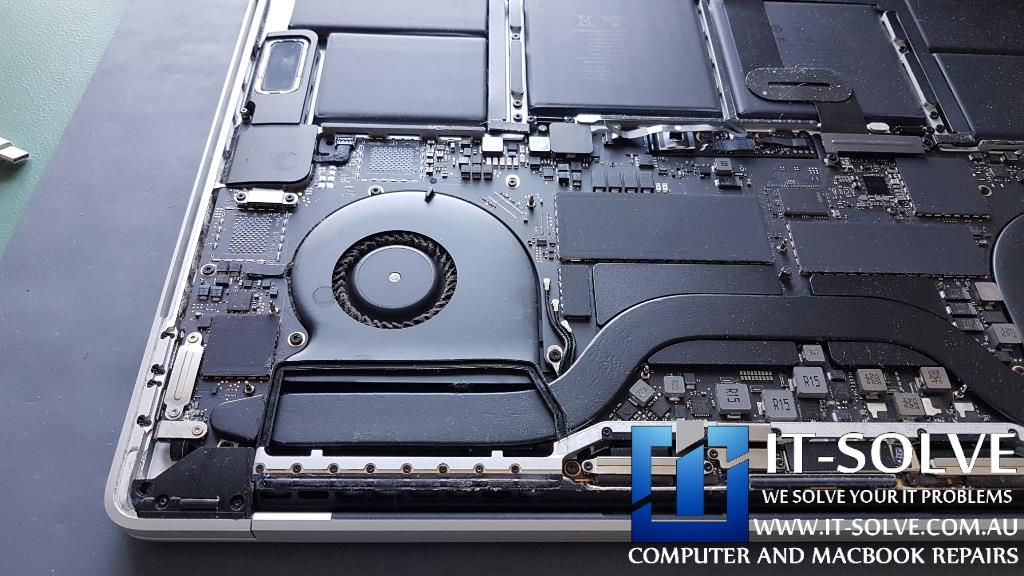 The first step would be to strip down the Macbook to its parts. And remove the corroded logic board from the case. Once taken apart, we can start cleaning the oxidation residue, which creates a short circuit. As well as keeps "eating" through the copper traces.
Macbook Pro A1990 Repair Process
We have started from areas where short and heavy oxidation exists. By removing the short here, we ensure that our electronic measurements won't produce misreadings.
We cleaned the liquid residue from the touchbar connector and eliminated the short in the area. Before moving to the complicated part, we need to ensure the charging ports are healthy and there is no residue.
Macbook Pro 1990 Repair – The complicated bit of the repair
Now we are there, the complicated bit where each chip costs more than a takeaway meal. Where a small mistake will cost frustration and long waiting times to source chips from overseas.
This Macbook comes with four USB C-Type charging ports, where they work in pairs. Pretty much, they take each other out if one is not feeling well. However, the other two pairs constantly check the health of the first pair. If there is an issue, they prefer to stop charging the whole Macbook itself. How convenient right?
If taken to Apple or their "Authorised" repair centre network, it means a logic board replacement. With a cost of 3500$ plus palm rest replacement – due to the liquid residue on the touchbar connector (1800$). It is an immediate write off as the cost of the whole Macbook is slightly above 4000$.
We tend to wonder about Apple's real intentions of going carbon neutral. Rather than building their Macbooks more recyclable so they can repair them rather than throw them away. They prefer to sell more Macbooks and offset the junk generated by disposed of electronics by planting more trees, usually in areas already planted with enough trees – instead of in metropolitan cities.
We detected the short at the PP3V3_UPC_TA/B_LDO lines. This usually means either a faulty filtering capacitor or shorted charging chips is causing the MacBook not to turn on.
Please note: This is not educational material. It is rather a showcase of the services we offer.
Therefore, it should be used as general guidance of what to expect of such repairs.
In case you have a similar device and need the repair, always rely on professionals. These are sensitive electronic devices, and small mistakes may cause you a fortune.
Successful Macbook Pro A1990 Repair
With replaced charging chips and cleaned liquid residue, this liquid damaged Macbook is now repaired and turning on as expected. Hooray!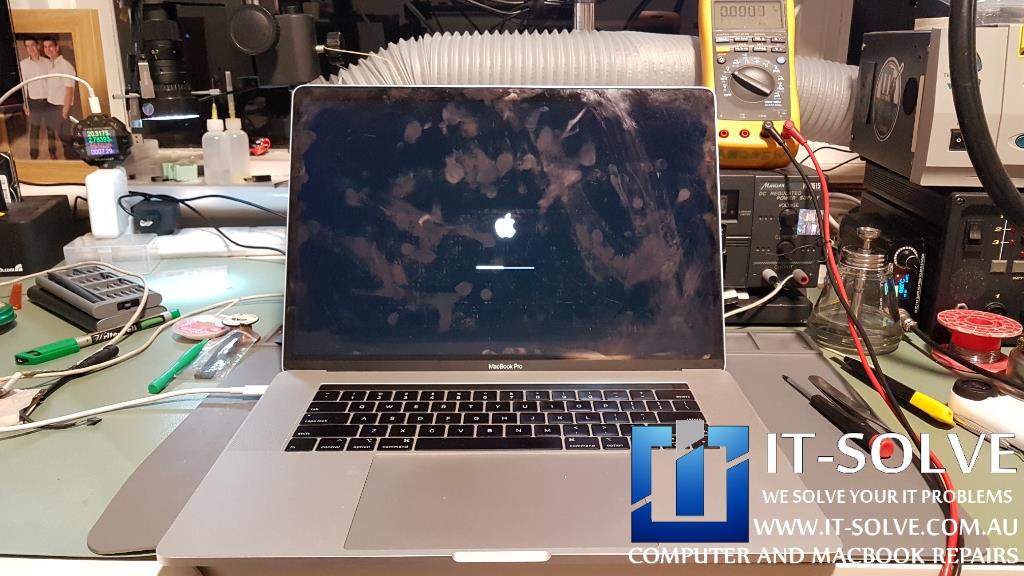 With Macbook pro turning on now, we could test the remaining system, most importantly screen, keyboard, charging, etc.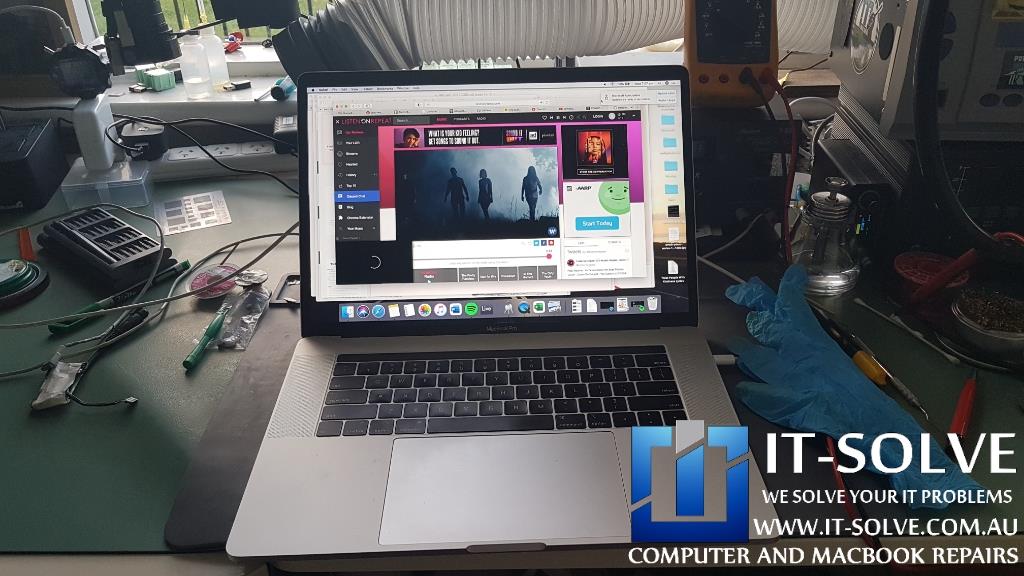 Do you need this Repair in Adelaide?
If your Mac or Macbook is causing trouble and need a Macbook Repair Service in Adelaide, give us a call, and we will advise for the best scenario to get your device repaired.
We at IT-Solve, specialize in computer and electronics repairs. We will do our best to repair your Macbook quickly without involving high costs and long waiting times in repair shops.
Call us now on 0469317177 or drop us an inquiry via

WhatsApp or
Messenger
Our engineers will respond quickly to your question.
Repair before Replacement
We are committed to reducing e-waste in Australia. And the way how we do it is by educating our customers and providing affordable Macbook Repairs.
Although our best intentions and hard work, this is not an easy task. Customers must accept that cost of high-quality electronic repairs, is a third to half of the price of a new device. While we do the repair we target common planned obsolescence design mistakes to ensure the longevity of the laptop usability.
That said, if we buy a new one or write it off via insurance, it does not guarantee that the new one will not meet the same fate as the older one pretty soon.
Quite often, we see accidents reoccurring within less than 6 months gaps. If we can save 1000$ or even 600$ today by repairing our faulty Macbook is great. That's an extra half laptop cost ready to be spent on another one when the time comes.
When that time comes is up to us to buy a new one or keep pushing the one we have, but delaying it by a year or three is always a good starting point and saves another Macbook polluting our planet.