This week we have received a 13″ Macbook Pro 2018 model which won't charge the battery.
The customer used it until the battery drained and subsequently it did not turn on after that.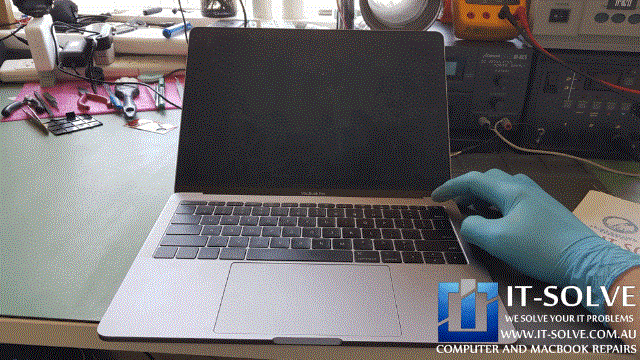 These models have 2 USB-C charging chips, which, if not in sync with each other, disable charge on both of the USB-C ports. Most people think if one port is not working, they can keep using the other port to charge the Macbook. Unfortunately, that is not the vase with new generation Macbooks.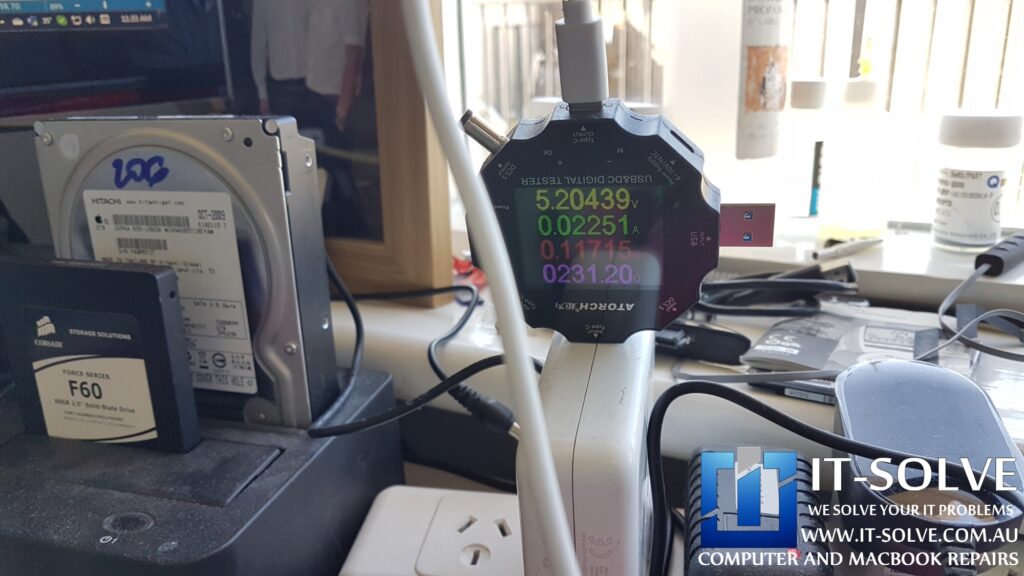 After completing the diagnostic, we have provided clear pricing to the customer and waited for his response.
The repair cost for this 13″ Macbook Pro 2018 model is much lower than a replacement cost of the Macbook itself or the Logic Board part.
Cause – Macbook Pro 2018 repair – won't charge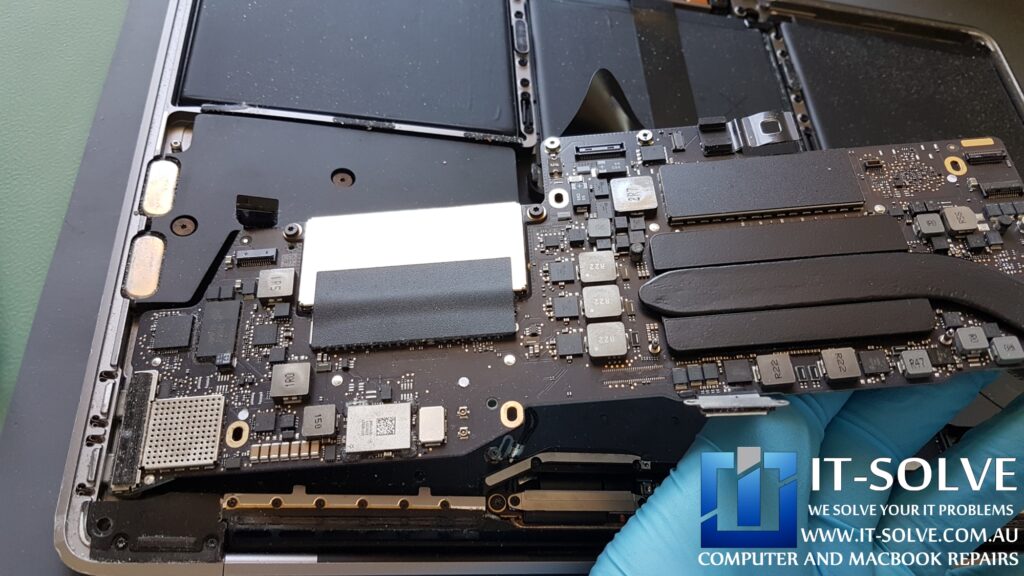 The next step would be to take the Macbook apart and investigate what is happening with the charging chip. And what is causing it to fail to charge or even prevent the turn-on of this Macbook?
By now, we all must be thinking, what has caused it. And answer to that is so tightly connected to the damage.
In this case, we have a faulty charging chip that gets power directly from the charging ports. That said, we need to investigate the ports.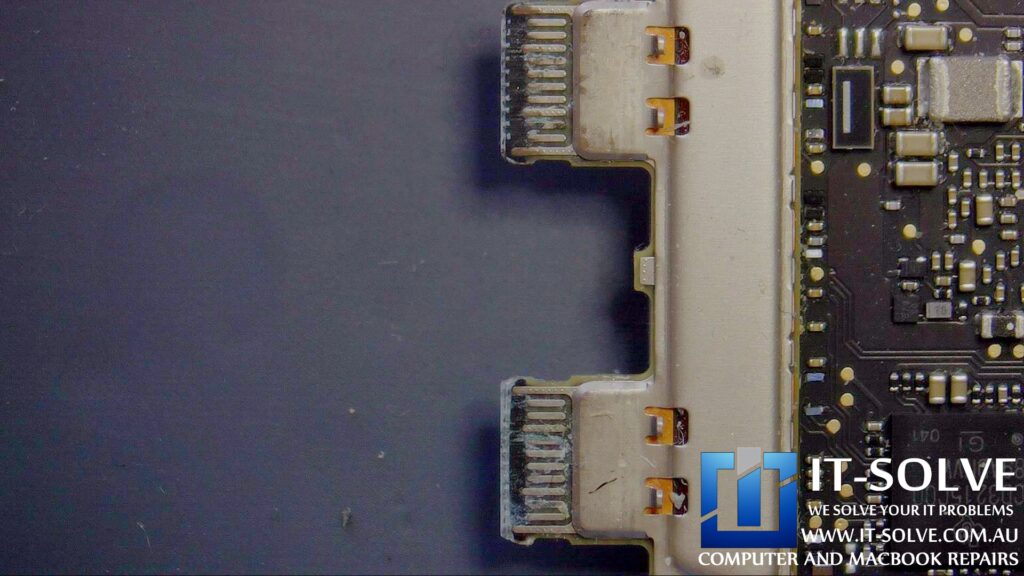 As expected, we found the reason for this failure at the charging ports. We can see in the picture that there must have been water or liquid damage on the charging ports. This either was a wet charging cable or wet hands while carrying the Macbook.
Therefore, the cause for the damage was a liquid altogether on the charging ports. This shows one more time how sensitive these new laptops are to external factors.
Repair of Macbook Pro 2018 repair – won't charge
Above, we have explained what may have caused the issue in the first place, which resulted in our quote for the repair.
The first thing we have measured is the internal resistance of the charging chips. Voila, we spotted an immediate deviation from expected values for this charging chip right here.
Macbook Won't Turn on Repair we offer here in Adelaide includes a couple of simple steps:
Get a Quote for the repair before any work is done, even over the phone.
Free pick up from the client's location in Adelaide. Or alternatively, drop in for a quick check while you wait.
Confirming final cost and "Go" from the client.
Repairing and ensuring everything works as expected.
Returning repaired system back to the client. Or the client can pick it up from our workshop.
We had to remove that faulty charging chip and measure if there is still issues with the expected values.
After we have identified the chip as faulty, the remaining process was quite straightforward. Being a common issue with these models, we stock these chips and can provide a quick turnaround on your Macbook Repair in Adelaide.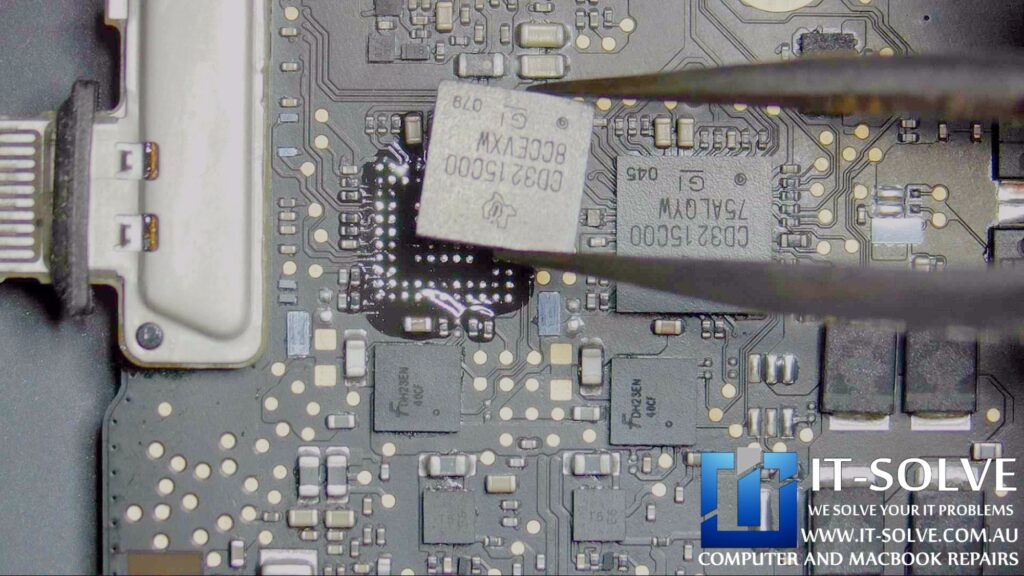 The Result of Macbook Pro 2018 repair – won't charge
With replaced charging chip, now we have a fully functioning and responsive Macbook Pro. This 3000$ Macbook was saved from ending in the bin yard or be parked on a drawer until next spring cleanup. We saved the owner thousands by not having the logic board replaced as quoted by other repair shops. Even falling in Apple's sales pitch and buying a new one.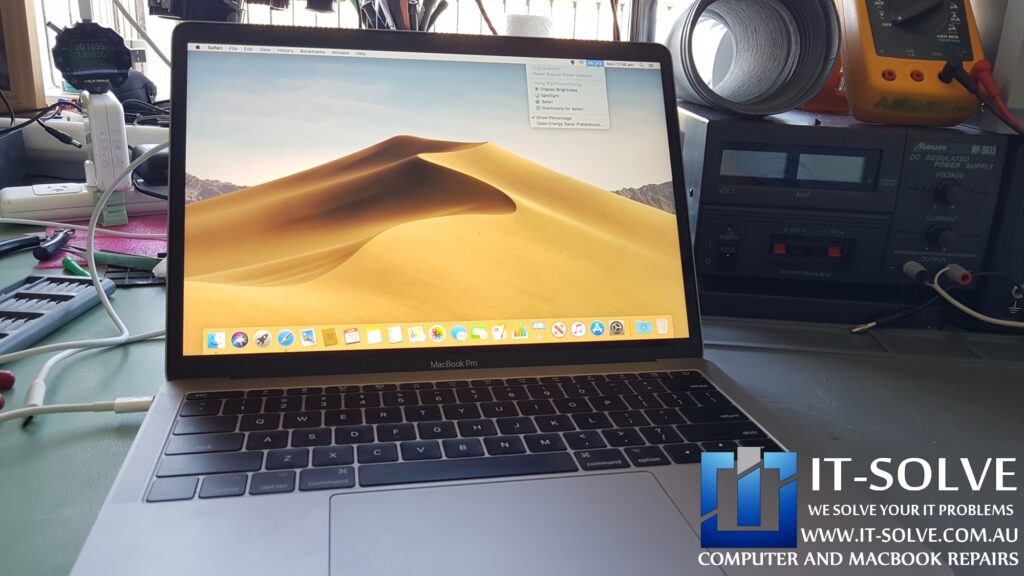 If your Apple Mac or Macbook is causing trouble and need a Macbook Repair Service in Adelaide, give us a call, and we will advise on the best scenario to get your device repaired.
Interstate? Why not Send IT for a Repair. Repairs take under three weeks, including forward and backward postage. Contact us to get an idea of cost and turnarounds.
We at IT-Solve, specialise in Apple Mac and electronics repairs. We will do our best to repair your Mac quickly without involving high costs and long waiting times in repair shops. Our average repair takes under a week!
Call us now on 0469317177 or drop us an inquiry via 

WhatsApp or 
Messenger
Our engineers will respond quickly to your query.
Repaired

, not Replaced!
We are committed to reducing e-waste in Australia. How we do it is by educating our customers on the reparability and longevity of their devices, as well as providing affordable Macbook Repairs here in Adelaide.
Although our best intentions and hard work, this is not an easy task. Customers must accept that cost of high-quality electronic repairs, is between a third and half of the price of a new device. However, with the current trend of planned obsolescence in electronic design, we see more and more Macbooks having shorter lifespans. To tackle that, while we do our repairs we target common planned obsolescence engineering design mistakes to ensure we extend the life expectancy of the Macbooks we repair. Check some of our Macbook Repair Cases to get an idea of the process.
That said, if we buy a new one or write it off via insurance, it does not guarantee that the new one will not meet the same fate as the older one pretty soon.
As matter of fact, quite often we see accidents reoccurring within less than 2-year gaps. If we can save 2000$ or even 1000$ today by repairing our faulty Macbook is brilliant. That's an extra half Macbook cost ready to be spent on another one when the time comes or our need for performance increases.
When that time comes is up to us to buy a new one or keep pushing the one we have, but delaying it by a year or three is always a good starting point and saves another abandoned Macbook from polluting our one and only Planet.