With the drop in the cost of electronics these days, we see more and more people writing off instead of repairing their liquid damage laptops. This was almost the case for this water spilled HP Elitebook Repair. We received it last week in our Adelaide Laptop Repair workshop.
Content Insurance is more like an Afterpay rather than a sustainable process
The customer had insurance on the laptop and was contemplating writing it off or having it repaired. Unfortunately best-kept secret regarding insurance write-offs is this. Insurance basically is like an afterpay or a credit card, where the interest rate is a combination between the excess and increased premiums for each claim.
Let's look at this HP Elitebook x360 1030 as an example, which came with a water spillage and was not turning on. The replacement value of this laptop is of excess of 1,600$, their excess to claim insurance and have 1,600$ paid towards a new laptop was 400$ or 25% of the cost of the laptop – this is the amount they need to pay to the insurance company to have the value of the laptop released as a voucher to buy a new laptop. Keep in mind that some insurance companies only require you to buy the laptop from "approved" particular store chains, where the cost could be up to 20% higher than online stores. Processed claim in return means that the insurance premium will jump up approximately 5-10% for the following years.
Insurance cost breakdown estimation
25% or 400$ paid excess to claim the insurance
5%-10% or 80$-160$ a year in increased premiums
up to 20% or 360$ markup on up/selling a replacement laptop from an "approved" store
Combined all together, the customer will have to pay over 400$ for that year and approx 500$-1000$ in premiums and markups for the 5 years of the expected life of the new laptop. What about if there is another laptop or device you need to claim the insurance on next month? Perhaps a home and content claim such as flood damage or a more expensive gadget?
Or even worse, what if there is another accident on this laptop, and the customer breaks the replaced laptop screen? Then a second claim needs to be raised and the laptop written off again (over 90% of the insurance claims for devices under 3000$ ends up written off and replaced). This would be twice the value of the laptop spent in two claims in under 5 years! What about the environment? None of these devices are recyclable by the manufacturer nor state authorities as there is no value in them. They end up in the environment. Unfortunately, only the purchase owner appreciates these devices as they have spent their hard-earned cash buying them.
This is the reason we are here and do our best to Repair these laptops. Regardless of how hard it gets to repair them, we do our best to keep them out of that grim afterlife. Giving them a second chance to be useful again, also saving the customers half of the cost of the laptop.
Water Spilled HP Elitebook Diagnostic Process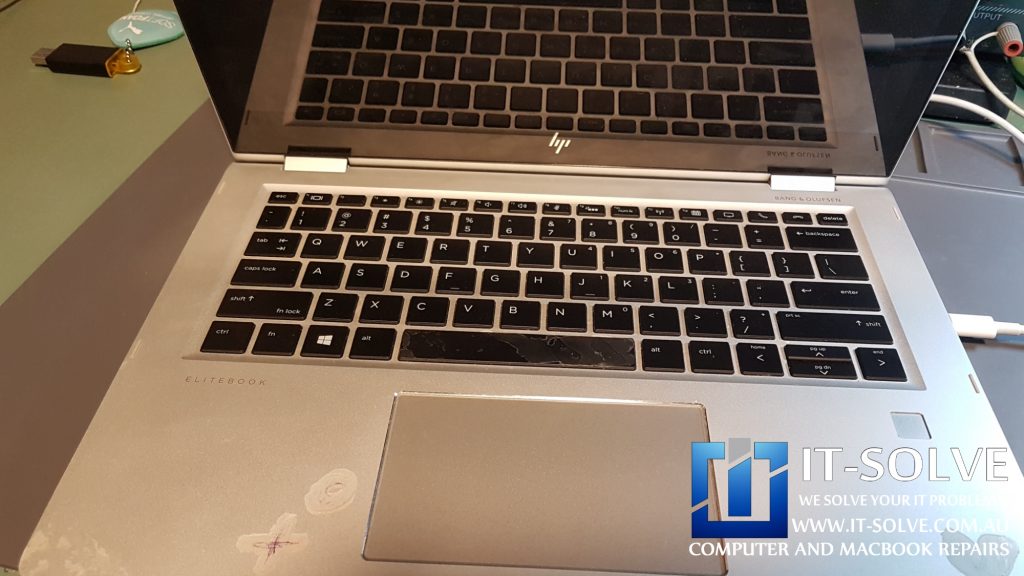 Let's stop rumbling and dig into the repair. We have to put our money where our mouth is and prove that repairing and reusing is better than replacing!
First, we have to look at what is happening and try to turn on the laptop. Once fired up, we could see that the lights are blinking on the keyboard, but the laptop refuses to turn on. Knowing there was a water spillage over the laptop, we were sure that there is something wrong with the electronics inside. Perhaps they are shorting from the water residue.
Giving a quote was straight forward and now the customer is happy to go ahead with the repair, we could take it apart and dive in.
Water Spilled HP Elitebook Repair process
The first step is to ensure there is no short on the oxidated components as multiple areas were impacted by the water spillage.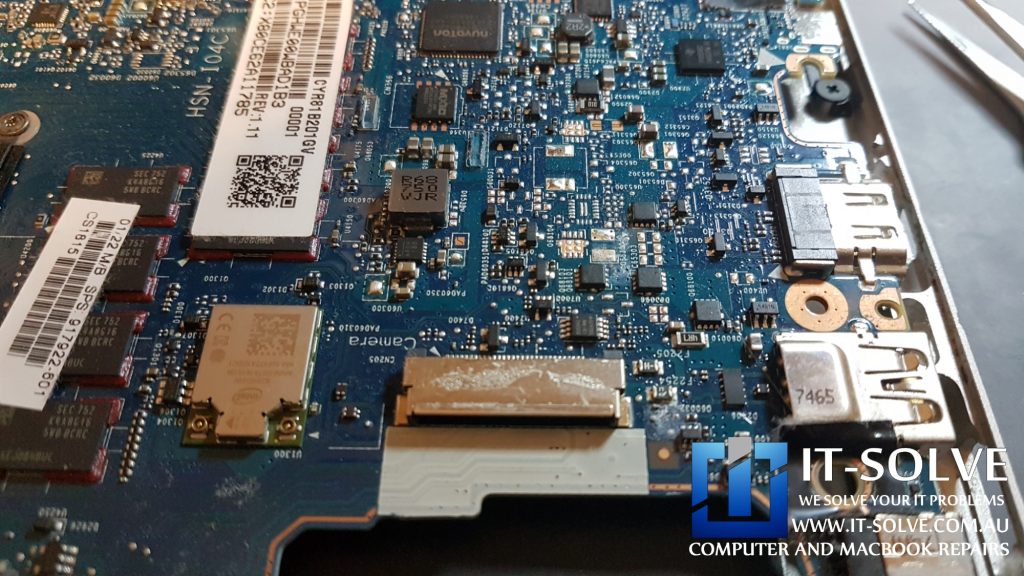 We have a sophisticated equipment workshop with high accuracy microscope, ultrasonic cleaning bath, reflow machine, and tools for micro soldering to achieve high-quality logic boards repairs. With thousands of components in stock, we quickly locate and replace failed components!

IT-Solve
Water spilled on the electronics is not that dangerous usually. However, when it dries out, the leftover residue causes the components to oxidize and eat through the traces. These traces carry important signals, which, when disrupted, does not allow the system to perform well or even turn on.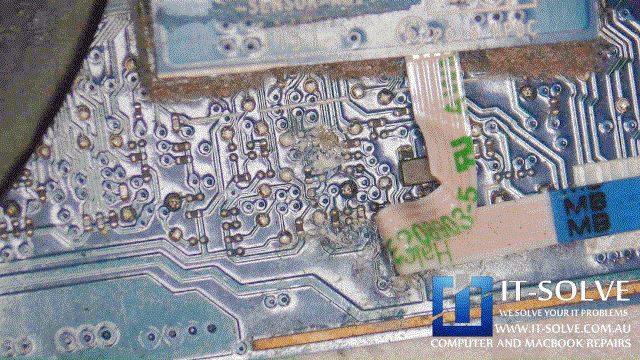 We specialise in electronics, so we Can go through these small components and replace the corroded ones. But, like tartar on a tooth, we need to clear the area before we resolder the replacement components. And pretty much like a dentist, we use dentist pickers to scrape the corroded traces.
We could now solder new components onto the pads with traces and pads cleared of the residue and oxidation. Once all is done, we usually run the board via an ultrasonic cleaner. In this case, we did not need to do that as the damage is caused by water. The water residue is easier to be removed considering we had to treat 3 areas only. We can clean it by hand under a microscope.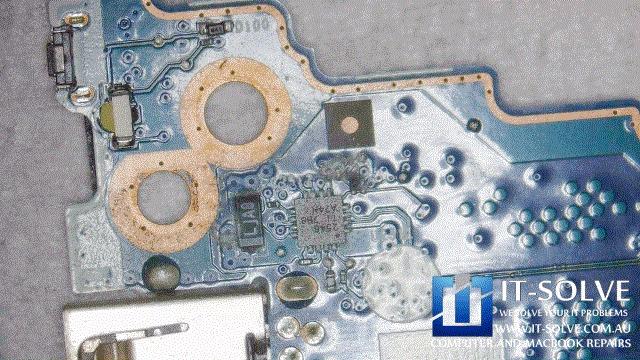 Please note: This is not educational material. It is rather a showcase of the services we offer.
Therefore, it should be used as general guidance on what to expect of such repairs.
In case you have a similar device and need the repair, always rely on professionals. These are sensitive electronic devices, and small mistakes may cause irreversible electronic damage. Which may require whole part replacement for 2 or 3 times the cost.
Successful HP Elitebook spilled water damage repair
Once repaired successfully, we can now assemble this lovely HP Elitebook and run overnight tests on it. This will ensure that the laptop is reliable even when it's under a 12 hr constant load.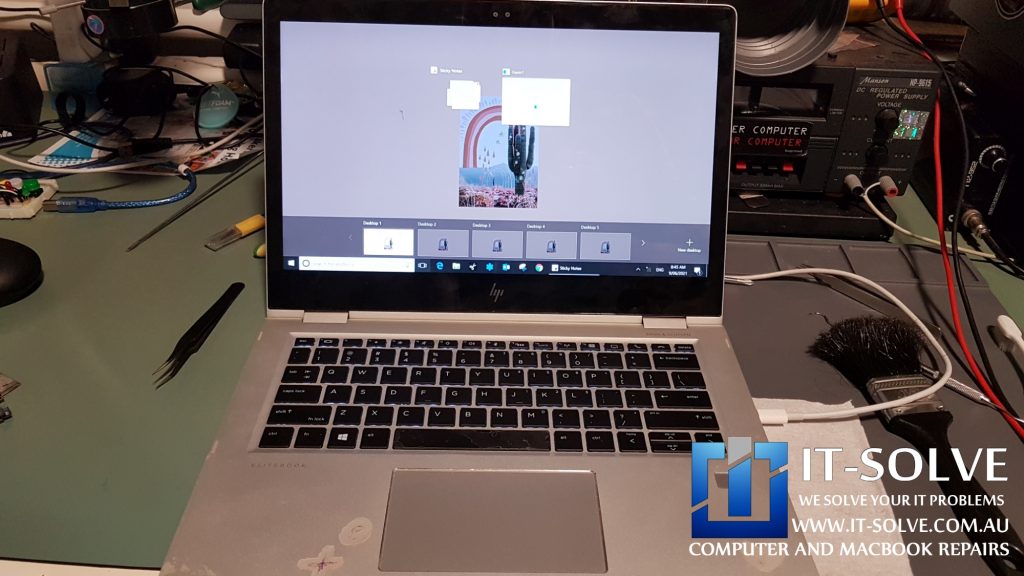 This will give us peace of mind that we tick off another superior quality repair here in our Macbook and laptop repair workshop in Adelaide.
Do you need this Repair in Adelaide?
If your Computer or Laptop is causing trouble and need Laptop Repair Service in Adelaide, give us a call, and we will advise on the best scenario to get your device repaired.
Interstate? Why not Send IT for a Repair. Repairs take under three weeks, including forward and backward postage. Contact us to get an idea of cost and turnarounds.
We at IT-Solve, specialise in Laptop and electronics repairs. We will do our best to repair your Computer quickly without involving high costs and long waiting times in repair shops. Our average repair takes under a week!
Call us now on 0469317177 or drop us an inquiry via 

WhatsApp or 
Messenger
Our engineers will respond quickly to your query.
Repaired

, not Replaced!
We are committed to reducing e-waste in Australia. How we do it is by educating our customers on the repairability and longevity of their devices, as well as providing affordable Laptop Repairs here in Adelaide.
Although our best intentions and hard work, this is not an easy task. Customers must accept that cost of high-quality electronic repairs, is between a third and half of the price of a new device. However, with the current trend of planned obsolescence in electronic design, we see more and more Laptops having shorter lifespans. To tackle that, while we do our repairs we target common planned obsolescence engineering design mistakes to ensure we extend the life expectancy of the Laptops we repair. Check some of our Laptop Repair Cases to get an idea of the process.
That said, if we buy a new one or write it off via insurance, it does not guarantee that the new one will not meet the same fate as the older one pretty soon.
As matter of fact, quite often we see accidents reoccurring within less than 2-year gaps. If we can save 1000$ or even 500$ today by repairing our faulty Laptop is great. That's an extra half Laptop cost ready to be spent on another one when the time comes or our need for performance increases.
When that time comes is up to us to buy a new one or keep pushing the one we have, but delaying it by a year or three is always a good starting point and saves another abandoned Laptop from polluting our one and only Planet.