Let's explain why Battery Service Recommended is a common issue we receive and why the cost of such service is high.
Batteries are Part of the Macbook which used to be easiest to replace. Not only with Macbooks, even with phones. Those days are long gone.
Today's devices are engineered around shorter lifespans and limited (if none) repairability, forcing our hands to buy new when they fail.
Let's not forget the harm we do to the Planet. Especially when we buy a new device rather than recycle the old one. All the precious minerals we extract from the ground to create a Macbook, just to get it replaced with a new one 3 years later. Most of the time we could easily repair them, but that is changing now with the introduction of new thinner and fragile models.
We at IT-Solve are looking for newer ways to keep those devices in circulation. By learning their shortfalls we target engineering mistakes and place long term repair solutions. In most cases, they last longer than a brand new Macbook would.
But it is not an easy task, nor a cheaper one. The current case of this A1990 Macbook Battery Service Recommended Repair for example. The battery is all glued in, and to replace it we need to carefully separate the battery from the palmrest assembly. Otherwise we are risking damaging the battery pouch, which may release toxic fumes or spark a fire.
Macbook Battery Service Recommended Repair Procedure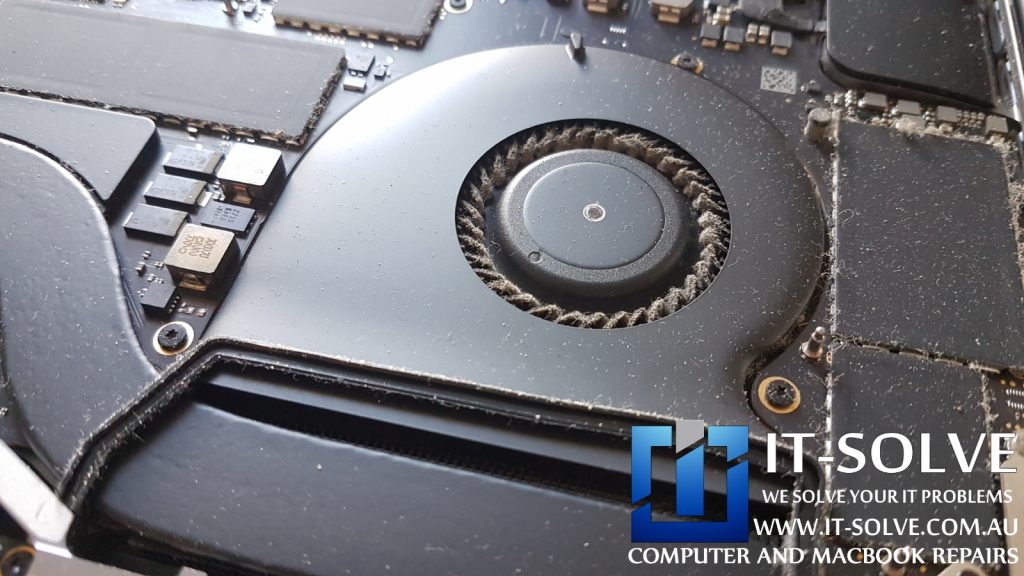 The main reason for this to happen is dust build up inside of the Macbook. It increases the internal temperature by clogging up the air vents and fan.
This in result damages battery cells, designed to work in under 70*C environment.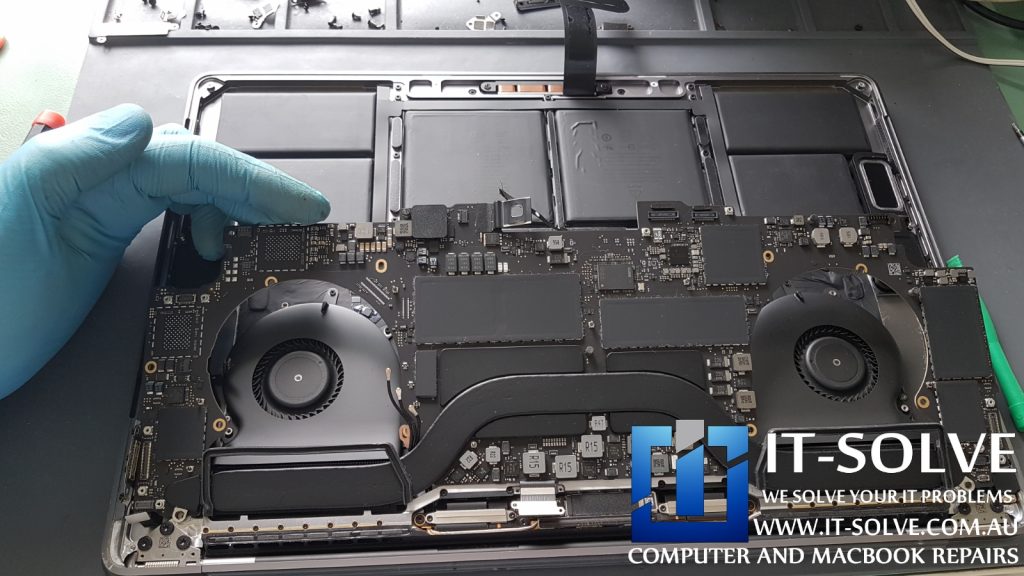 Please note: This is not educational material. It is rather a showcase of the services we offer.
Therefore, it should be used as general guidance on what to expect of such repairs.
In case you have a similar device and need the repair, always rely on professionals. These are sensitive electronic devices, and small mistakes may cause irreversible electronic damage. Which may require whole part replacement for 2 or 3 times the cost.
Safe battery removal requires Macbook disassembly, including the logic board removal. Otherwise, we are risking damaging it.
Unfortunately, these batteries are secured with strong double-sided tape all the way to 2019 models. Where Apple transitioned to pull tabbed stretch release tapes.
To remove such batteries we need to yank them out without damaging the pouch.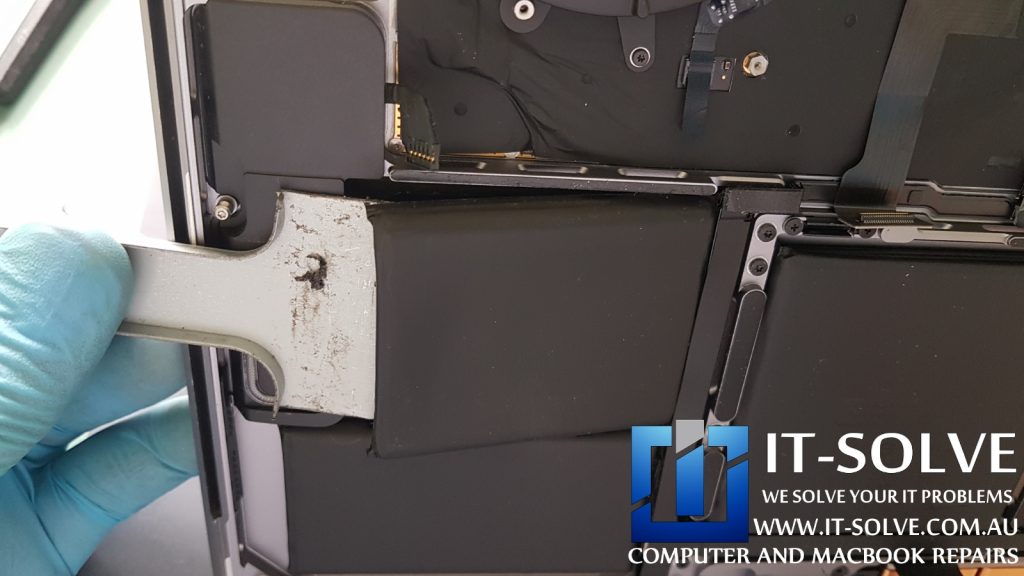 For instance, after we unglue all cells we remove the battery. We also clean the area underneath to get rid of the glue residue.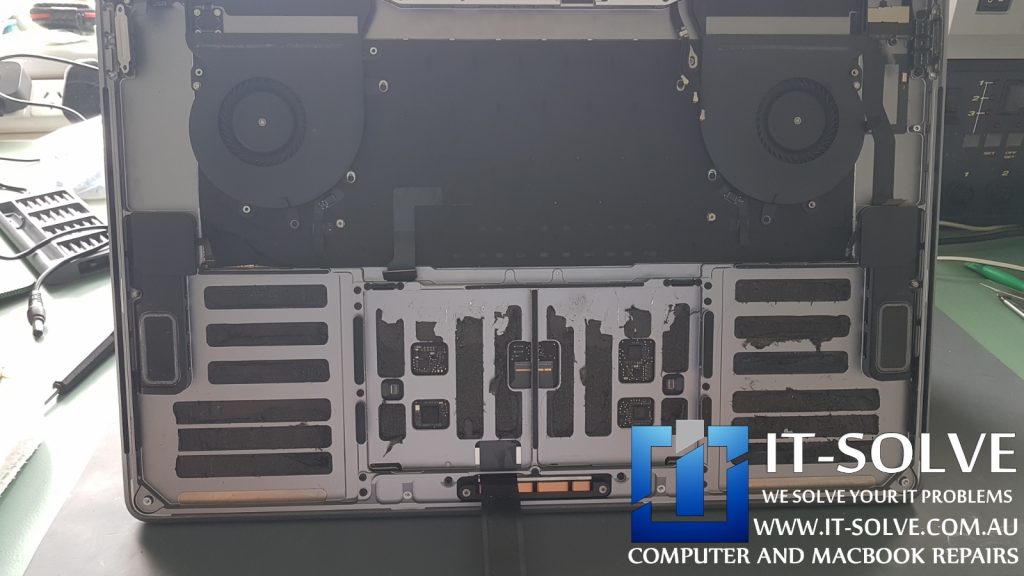 Installing new Battery on Macbook Battery Service Recommended Repair
A clean area ensures good adhesion. Lastly, we glue in a new battery and secure it for safe use.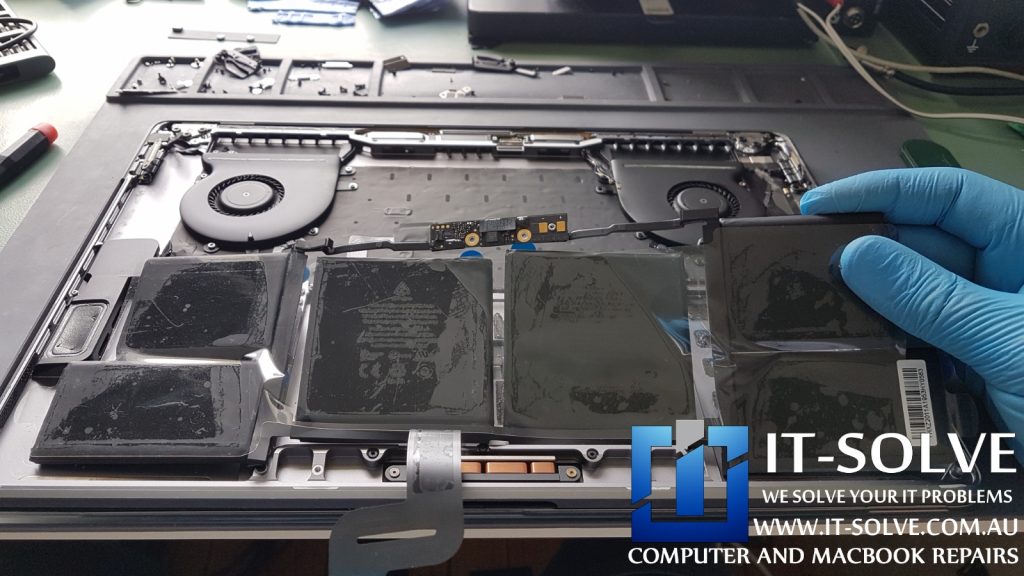 Successful Macbook Battery Service Recommended Repair
With a replaced battery we can run diagnostic and ensure battery longevity and functionality. Let us know if you need Macbook Battery Replacement Service in Adelaide. Or you can read more Battery replacement cases in our Repair Cases Section
If your Apple Mac or Macbook is causing trouble and need a Macbook Repair Service in Adelaide, give us a call, and we will advise on the best scenario to get your device repaired.
Interstate? Why not Send IT for a Repair. Repairs take under three weeks, including forward and backward postage. Contact us to get an idea of cost and turnarounds.
We at IT-Solve, specialise in Apple Mac and electronics repairs. We will do our best to repair your Mac quickly without involving high costs and long waiting times in repair shops. Our average repair takes under a week!
Call us now on 0469317177 or drop us an inquiry via 

WhatsApp or 
Messenger
Our engineers will respond quickly to your query.
Repaired

, not Replaced!
We are committed to reducing e-waste in Australia. How we do it is by educating our customers on the reparability and longevity of their devices, as well as providing affordable Macbook Repairs here in Adelaide.
Although our best intentions and hard work, this is not an easy task. Customers must accept that cost of high-quality electronic repairs, is between a third and half of the price of a new device. However, with the current trend of planned obsolescence in electronic design, we see more and more Macbooks having shorter lifespans. To tackle that, while we do our repairs we target common planned obsolescence engineering design mistakes to ensure we extend the life expectancy of the Macbooks we repair. Check some of our Macbook Repair Cases to get an idea of the process.
That said, if we buy a new one or write it off via insurance, it does not guarantee that the new one will not meet the same fate as the older one pretty soon.
As matter of fact, quite often we see accidents reoccurring within less than 2-year gaps. If we can save 2000$ or even 1000$ today by repairing our faulty Macbook is brilliant. That's an extra half Macbook cost ready to be spent on another one when the time comes or our need for performance increases.
When that time comes is up to us to buy a new one or keep pushing the one we have, but delaying it by a year or three is always a good starting point and saves another abandoned Macbook from polluting our one and only Planet.