This iMac came to us with not loading into the operating system. It would load halfway through and just reboot into an infinite loop.
A common issue we get with these 2011-2012 model iMac showing these symptoms. The main cause is a failing or completely failed graphic card.
Diagnostic of iMac not loading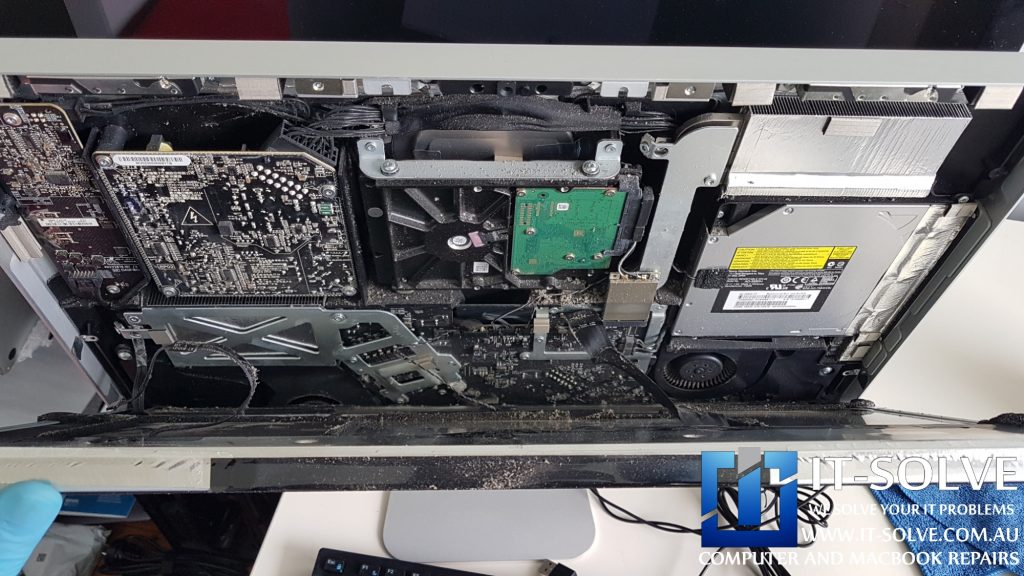 This issue of not loading iMac is happening mainly after heavy overheating over multiple years. Resulting graphic card "slightly desoldering" itself from the board.
A common issue, of these iMacs which we specialise in repairing here in Adelaide
If we look closely at the graphic card with a removed heatsink unit. By removing the heatsink unit, we can see that the thermal compound reached the end of its life. It completely dried up, thus causing heat transmission issues between the graphic chip and heatsink.
Repair of not loading iMac Graphic Card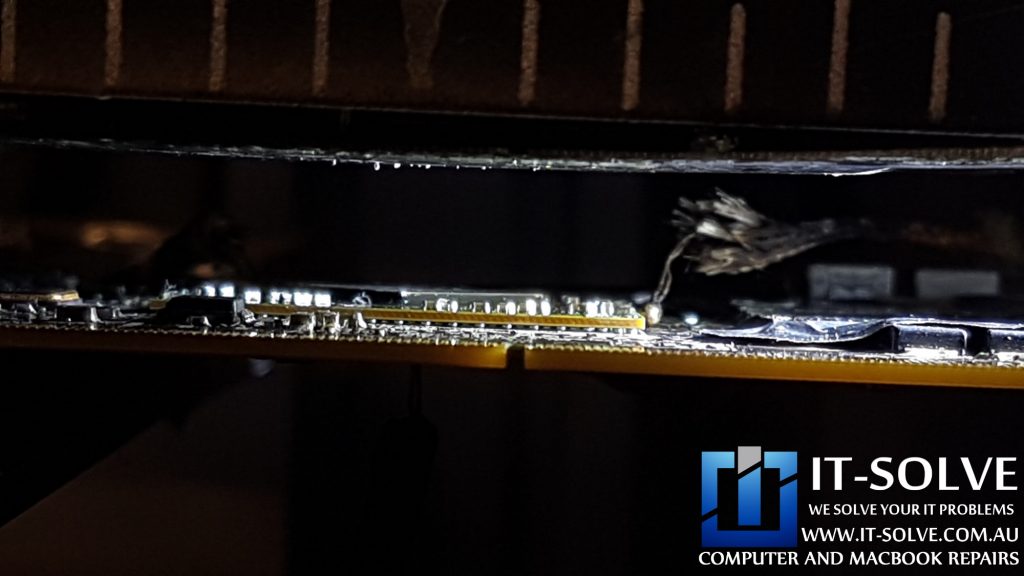 This repair involves a highly concentrated beam of heat that aims to resolder the solder between the chip and its board. This ensures that tp has a good connection with the board and video signals can pass interrupted.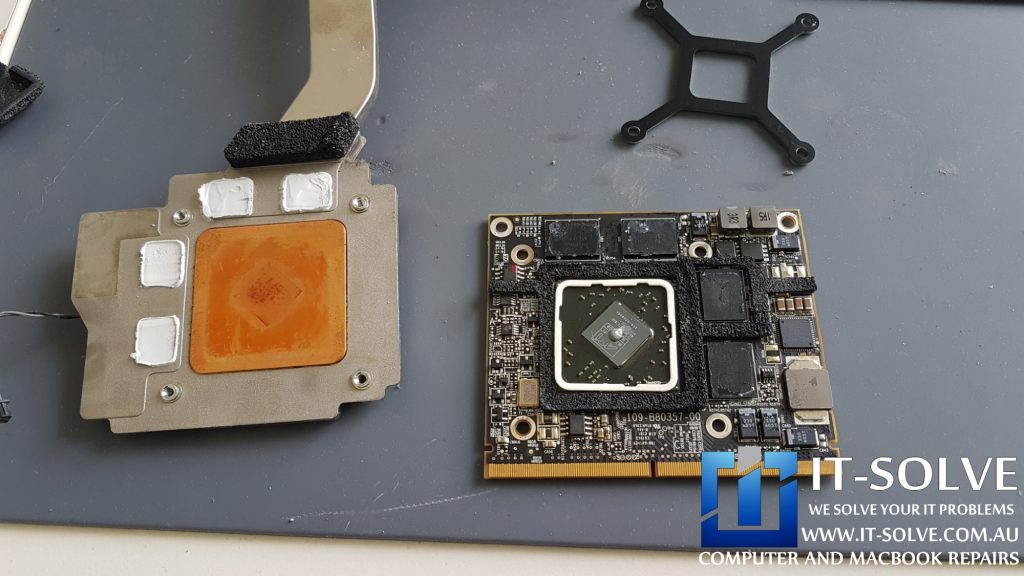 After a reflow, we can apply a fresh thermal compound to the graphic chip to ensure it cools down as expected.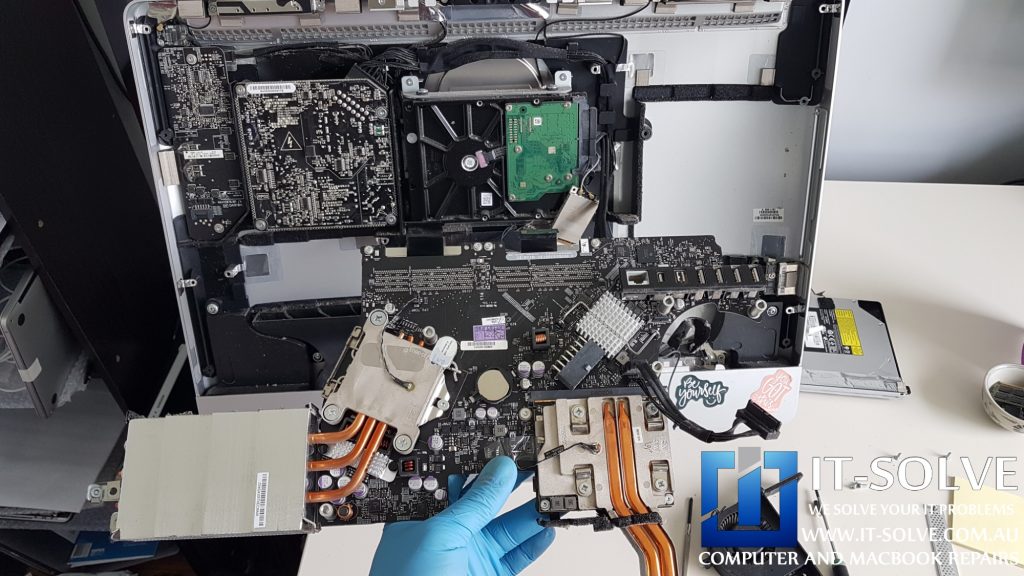 After refitting the graphic card we could test the rest of the system. This is to ensure that we do not serve a surprise of failing another part of the system. The least anyone wants is failing other components of the system once committed to repairing one.
Unfortunately with iMac's of this age, we are always bracing for multiple aged parts.
iMac slow and failing hard drive replacement
Pretty much as expected we also have a failing hard drive, which was reaching the end of its usable life and causing the system to run extremely slow.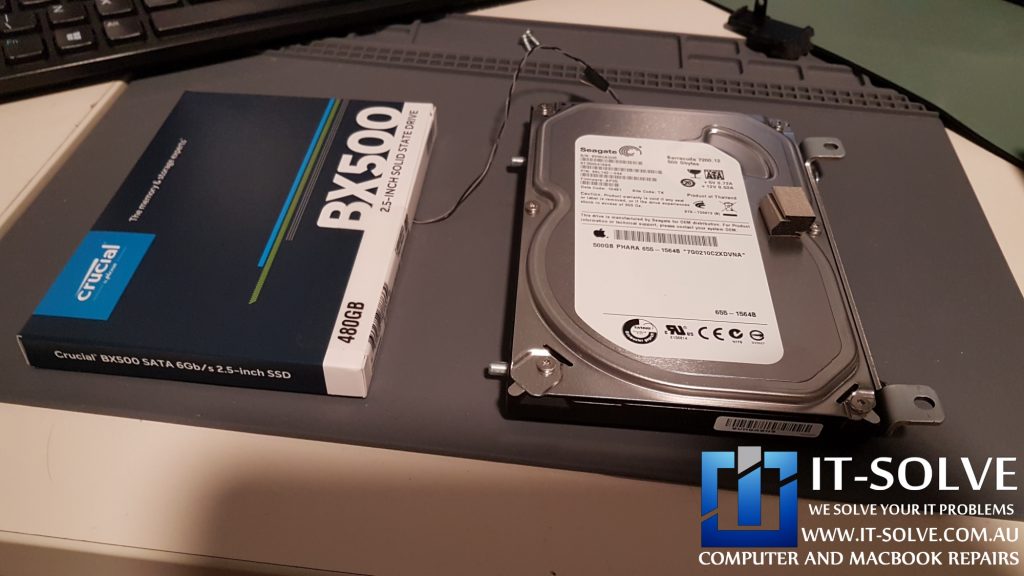 To ensure another 3-5 years life of this amazing machine we offered to the customer to replace the drive with a solid-state drive. These drives are noticeable fast compared to older generation drives. And Micron memory chips in the SSD will ensure the longevity of the drive.
Successful iMac not Loding Repair
Finally we had this amazing iMac reconditioned and ready to be reunited with its owner. We are so happy to see these iMacs in circulation. Such a reliable iMac which indeed challenges new generation Macbooks and iMacs with their longevity and life expectation.
Do you need this Repair in Adelaide?
If your Mac or iMac is causing trouble and need iMac Repair Service in Adelaide, give us a call, and we will advise on the best scenario to get your device repaired.
We at IT-Solve, specialise in iMac and electronics repairs. We will do our best to repair your Apple Mac quickly without involving high costs and long waiting times in repair shops. Our average repair takes under a week!
Call us now on 0469317177 or drop us an inquiry via 

WhatsApp or 
Messenger
Our engineers will respond quickly to your query.
Repaired

, not Replaced!
We are committed to reducing e-waste in Australia. How we do it is by educating our customers on the repairability and longevity of their devices, as well as providing affordable iMac Repairs here in Adelaide.
Although our best intentions and hard work, this is not an easy task. Customers must accept that cost of high-quality electronic repairs, is between a third and half of the price of a new device. However, with the current trend of planned obsolescence in electronic design, we see more and more iMacs having shorter lifespans. To tackle that, while we do our repairs we target common planned obsolescence engineering design mistakes to ensure we extend the life expectancy of the iMacs we repair. Check some of our iMac Repair Cases to get an idea of the process.
That said, if we buy a new one or write it off via insurance, it does not guarantee that the new one will not meet the same fate as the older one pretty soon.
As matter of fact, quite often we see accidents reoccurring within less than 2-year gaps. If we can save 3000$ or even 1000$ today by repairing our faulty iMac is great. That's an extra half iMac cost ready to be spent on another one when the time comes or our need for performance increases.
When that time comes is up to us to buy a new one or keep pushing the one we have, but delaying it by a year or three is always a good starting point and saves another abandoned iMac from polluting our one and only Planet.