These 13″ Macbook Air are amazing laptops. But like all laptops they gather dust and overheat.
Due to the all-around aluminium design, it's hard to feel of it gets hot. And by the time we feel the heat in the middle back area, it's too late.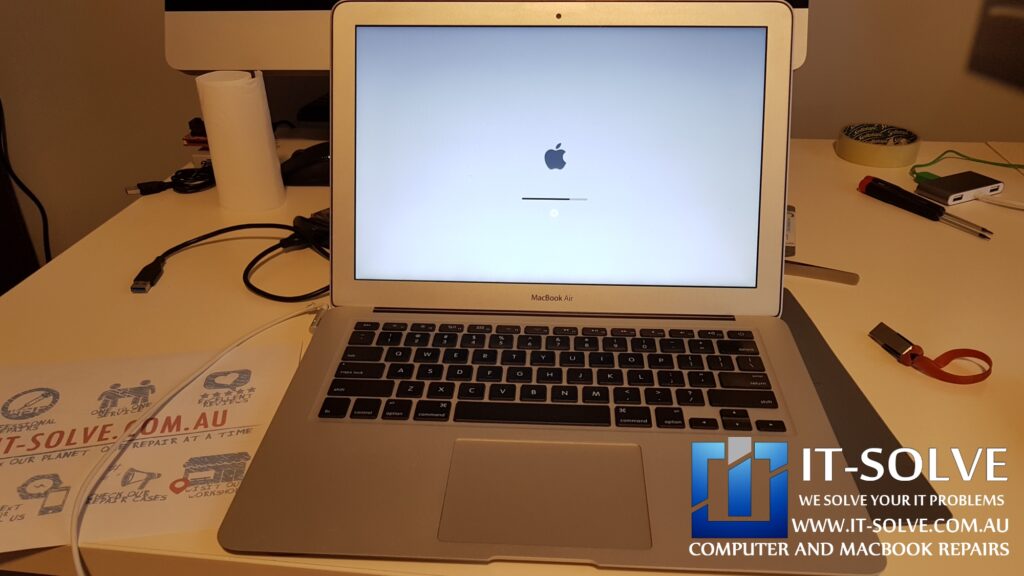 That's what happened to this Macbook Air. It had a failure and got stuck at the loading bar, which just progressed halfway through and won't move afterwards.
Macbook Air Repair Process
We knew that is a storage related issue as we have seen in multiple times in the past. So it was easy to give a cost idea to the customer over the phone.
When the customer arrived, we took the Macbook Air back cover and saw the amount of dust collected inside.
Also, a quick SSD check revealed it was failing SMART tests, although overall SSD health was passing with OK.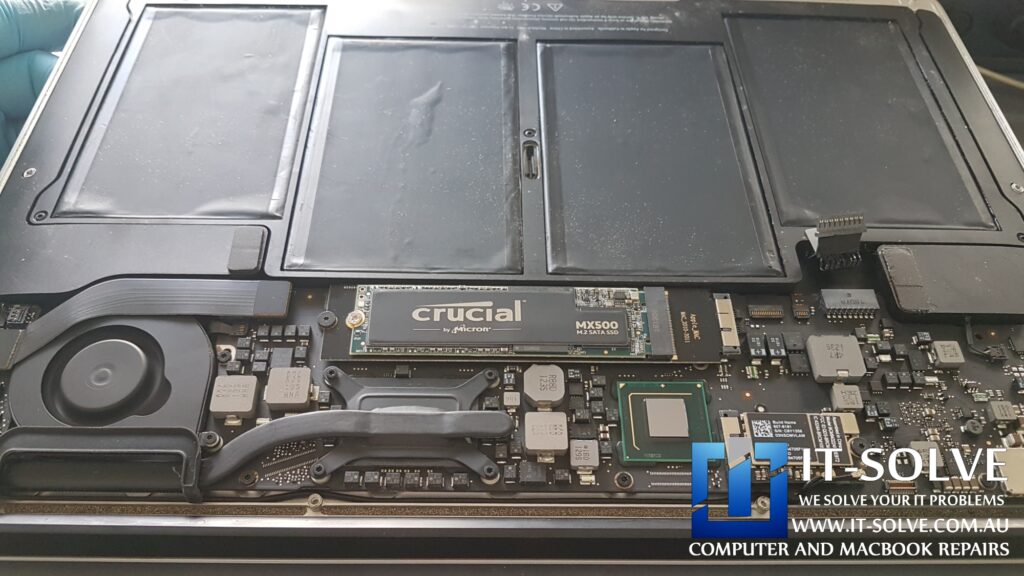 We went ahead and replaced the 128GB Apple SSD with 500GB high quality M2 drive.
Macbook Air Loading Bar Repairs we offer here in Adelaide includes a couple of simple steps:
Get a Quote for the repair before any work is done, even over the phone.
Free pick up from the client's location in Adelaide. Alternatively, drop in for a quick check while you wait.
Confirming final cost and "Go" from the client.
Repairing and ensuring everything works as expected.
Returning repaired system back to the client. Or the client can pick it up from our workshop.
We have sophisticated equipment in our workshop with a high accuracy microscope, ultrasonic cleaning bath, reflow machine, and micro-soldering tools to achieve high-quality logic board repairs. With hundreds of components in stock, we can quickly locate and replace faulty chips, resistors, and capacitors in Macbooks.
Repair Result
With replaced SSD and new operating system installed, this macbook works exceptionally smooth.
Thankfully, the customer didn't wait long before contacting us. That way, the failing SSD drive still had some life on it, allowing us to recover all of the customer data and transfer it over to the new drive.
Would you like to read more about our Macbook Not Loading Repairs? Check out some of our published repair cases.
Do you need Macbook Air Loading Bar Repair in Adelaide?
If your Macbook or iMac is causing trouble and need a Macbook Repair Service in Adelaide, give us a call, and we will advise for the best scenario to get your device repaired.
We at IT-Solve, specialise in computer and electronics repairs. And we will do our best to quickly repair your computer without involving high costs and long waiting times in repair shops.
Call us now on 0469317177 or drop us an inquiry via

WhatsApp or
Messenger – Our engineers will respond quickly to your question.