Often we see Macbook Air water damage repairs coming to our workshop. This was a no different day. We had this Macbook air having water damage spilled straight over the keyboard. As a result, it did not turn on anymore.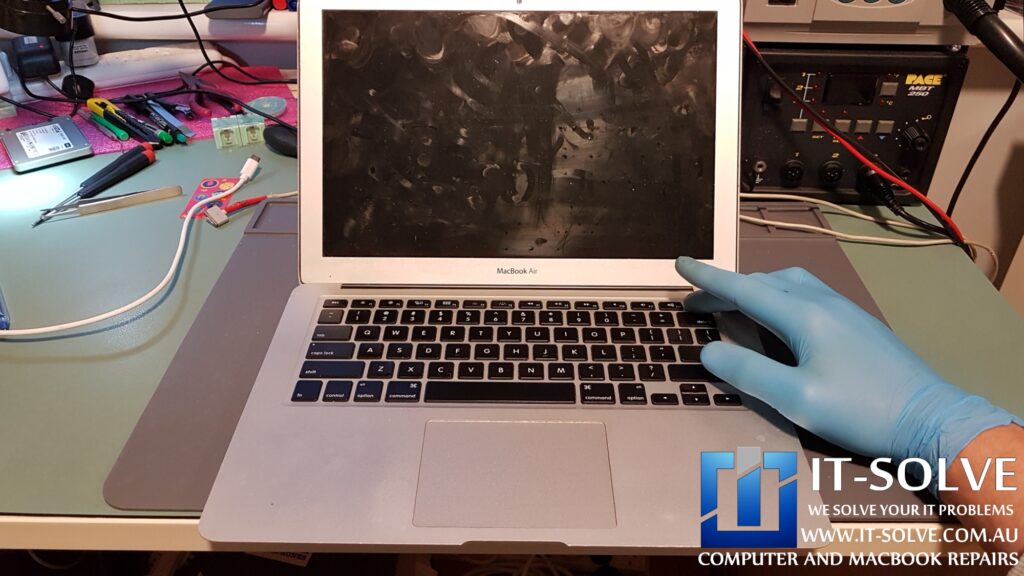 This Macbook was pulling only 0.2A from the power supply which usually means there is something preventing SMC to communicate properly.
We knew there was something on the logic board, which was shorting and preventing the Macbook to turn on. So we took it apart and start investigating.
Macbook Not turning on Cause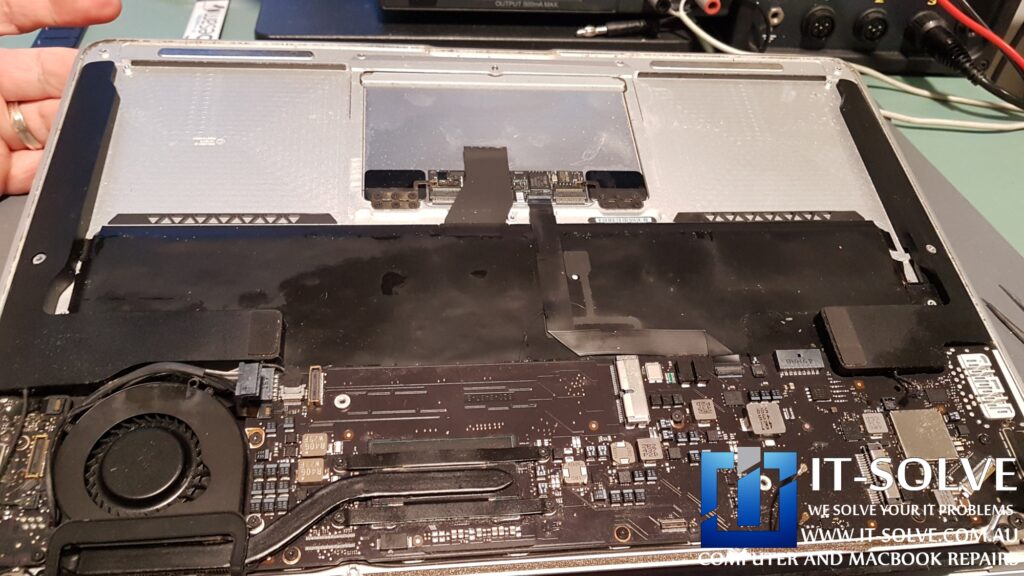 The damage was clear. The customer used some kinda spray in a try to clean the liquid damage, which actually makes our work much harder. Mainly because it wipes all traces of the liquid. Now rather than concentrating on chips or areas which had liquid signs on them, we need to go through every component on the logic board and measure if the voltages are passed as expected.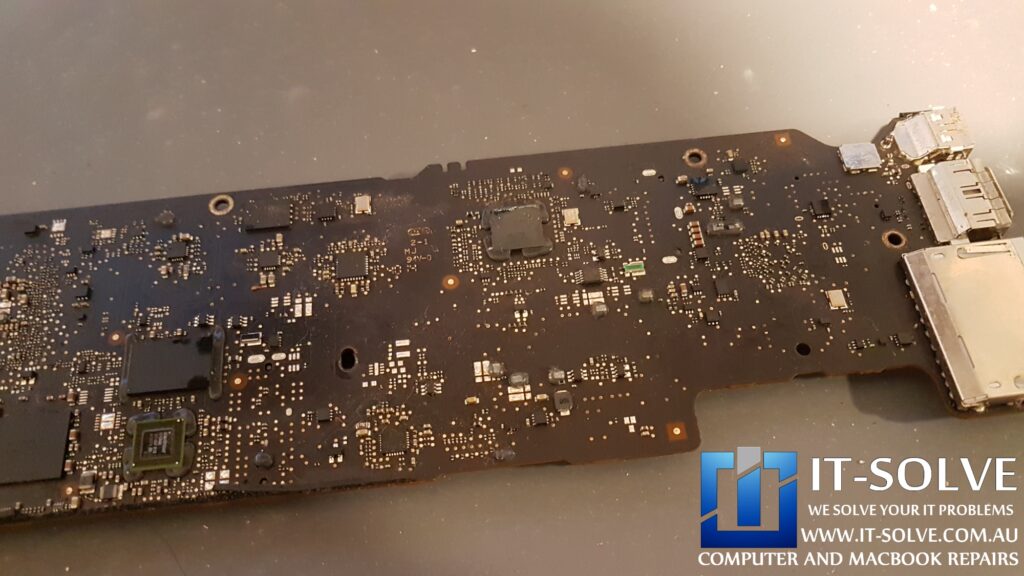 If we looked under an angle, we could see the liquid still present on top of the SMC controller. As we have suspected, it must have gone underneath too.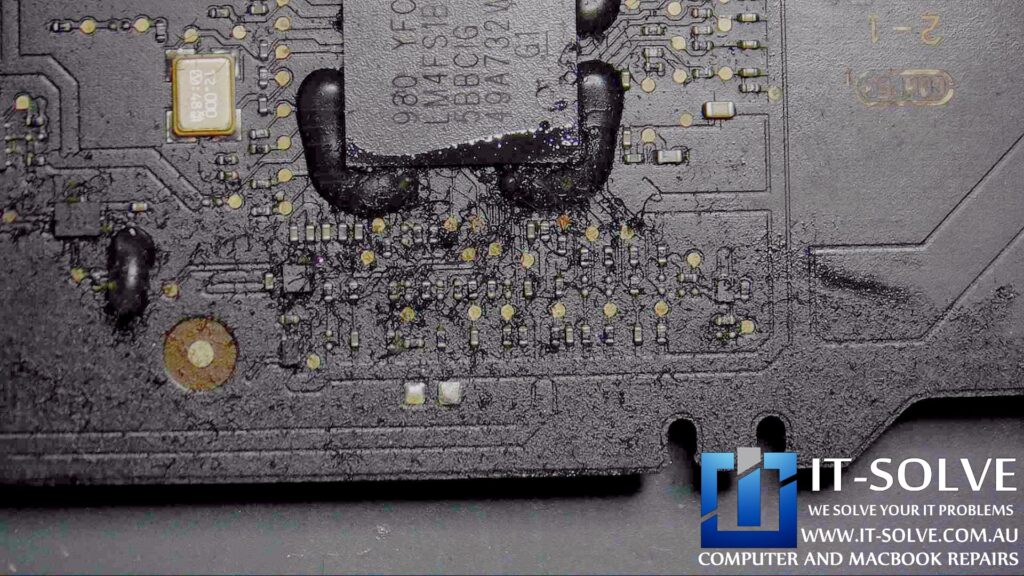 People usually think that if left for a couple of days, water will miraculously evaporate, and Macbook will work as nothing happened to it. This is a myth, unfortunately. Due to the dust collected over the board, when water or any liquid gets spilled over electronics, it creates this muddy texture. This texture lays like a carpet on top of the components and makes a perfect environment for the oxidation process to flourish. On the other hand, oxidation corrodes through the traces and components while electricity passes through it.
Macbook Water Damage Repair Process
We had to replace a voltage regulator which apparently had oxidation and was not functioning correctly.
Macbook Repair we offer here in Adelaide includes a couple of simple steps:
Get a Quote for the repair before any work is done, even over the phone.
Free pick up from the client's location in Adelaide. Or alternatively, drop in for a quick check while you wait.
Confirming final cost and "Go" from the client.
Repairing and ensuring everything works as expected.
Returning repaired system back to the client. Or the client can pick it up from our workshop.
We have sophisticated equipment in our workshop with a high accuracy microscope, ultrasonic cleaning bath, reflow machine, and micro-soldering tools to achieve high-quality logic board repairs. With hundreds of components in stock, we can quickly locate and replace faulty chips, resistors, and capacitors in Macbooks.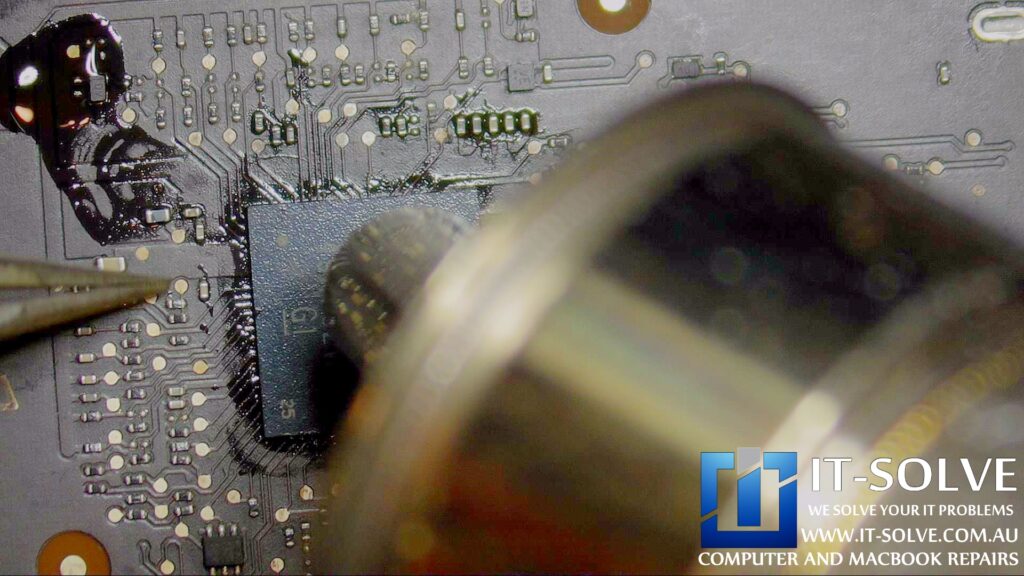 The last step was to remove any oxidation built up under the SMC and ensure it is fresh as a daisy.
The Result of Macbook Air Repair
With a completed repair, we ran essential tests on the Macbook itself to ensure SMC is communicating with all internal devices and sensors.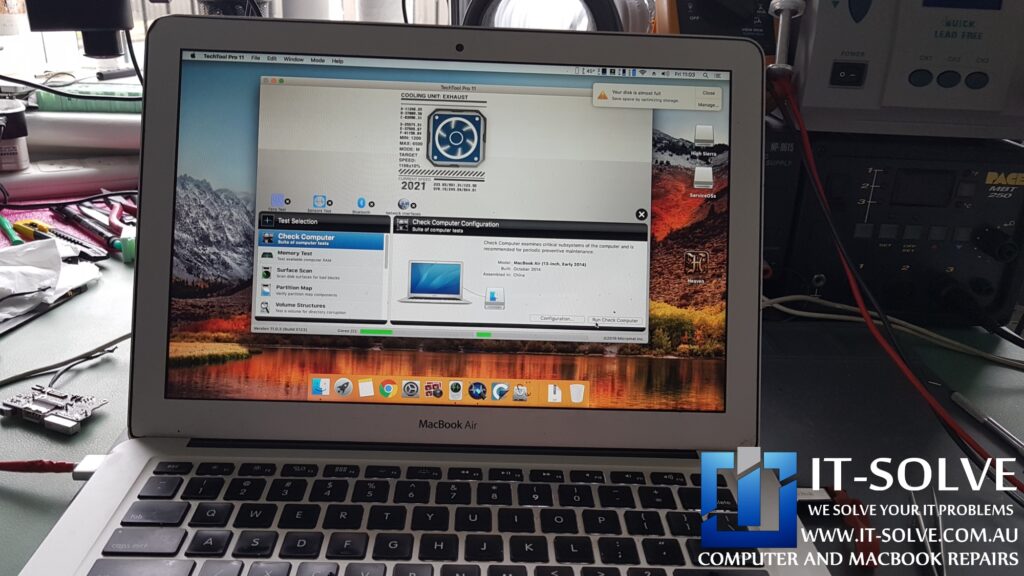 Would you like to read more about our Macbook not turning on Repairs? Check out some of our published repair cases.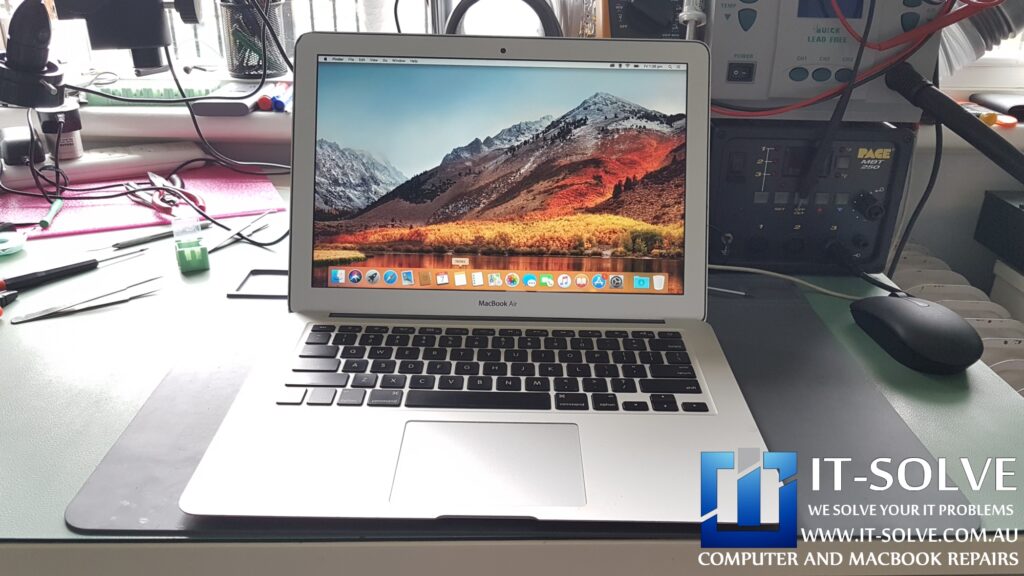 If your Macbook or iMac is causing trouble and need a Macbook Repair Service in Adelaide, give us a call, and we will advise for the best scenario to get your device repaired.
We at IT-Solve, specialise in computer and electronics repairs. And we will do our best to quickly repair your computer without involving high costs and long waiting times in repair shops.
Call us now on 0469317177 or drop us an inquiry via

WhatsApp or
Messenger – Our engineers will respond quickly to your question.