Regularly we get liquid damaged faulty Macbooks needing logic board repairs. Quite often also we receive Macbooks which experienced liquid damaged multiple times through their lifespan. This was one of those cases. We remember clearly when last year we fixed this Macbook Air after spilled beer caused it not to turn on anymore. Now we see it needing Macbook Liquid Damage Repair again after just a year.
Is it worth Repairing Liquid Damaged Macbooks?
Often we hear people trying to replace their faulty Macbooks with a new one. Especially when an accident such as Macbook Liquid Damage occurs, thinking that it is perhaps time to upgrade. Or often, that repair cost will be as expensive as the cost of a new one. However, what we see quite often is that sometimes accidents happen in a row. Additionally, older Macbooks have a higher success repair rate due to the widely available interchangeable parts and modules. With the new trend of slimming down and jam-packing components within, it's much harder and costly to repair new generation Macbooks.
Repairing Liquid Damaged Macbooks is a much better option! In this case, for example, if the customer had bought a new Macbook Air last year instead of repairing it, that would have cost nearly 2000$ then, plus an additional 2000$ now in replacing the recent liquid damage. In comparison, we have repaired it last time for 600$ as it required logic board repair after the liquid damage. However, this time he was much more aware of liquid damage implications and brought it straight after the liquid spillage. That way, we did not have to do logic board repair, as the components were still performing well. Rather we had to clean the board from the liquid residue to prevent future failures. In total, he spends a quarter of that cost over 2 years in Liquid Damage Macbook Repairs. Plus, we had to deal with a less complicated and highly repairable Macbook model.
Macbook Liquid Damage Repair Process
As we have covered so many times in our repair cases, the liquid is the worst thing that can happen to any Macbook. Seen on our sheer amount of documented Macbook Liquid Damage Repair cases. It is the aftermath of the liquid damage we need to worry about. The residue left after the liquid dries the components corrode and lose functionality.
Cleaning the liquid residue on time is crucial. Because like rust, the longer it stays heavier, the damage gets. Unlike rust, though, it doesn't take years to eat through the parts. Depending on the impact area, we have seen a couple of hours being enough to corrode away components and render the Macbook unresponsive.
We completely disassemble the Macbook and remove the logic board for further inspection. Under a microscope, it is more clear where the liquid landed.
Macbook Liquid Damage Repair we offer here in Adelaide includes a couple of simple steps:
Get a Quote for the repair before any work is done, even over the phone.
Free pick up from the client's location in Adelaide. Or alternatively, drop in for a quick check while you wait.
Confirming final cost and "Go" from the client.
Repairing and ensuring everything works as expected.
Returning repaired system back to the client. Or the client can pick it up from our workshop.
We have a sophisticated equipment workshop with high accuracy microscope, ultrasonic cleaning bath, reflow machine and tools for micro soldering to achieve high-quality logic boards repairs. With hundreds of components in stock, we quickly located and replaced the faulty resistors and capacitors in the area.
Successful Macbook Liquid Damage Repair again
After cleaning every bit of residue on the logic board and on each part of the system, we can now rest assured that this Macbook will not fail.
Due to a small area affected by liquid damage, we didn't need to run the whole board via an ultrasonic cleaner. Instead, we managed to clean the residue of the affected area only. We also checked the consistency of the capacitors' solder joints, and they looked fine.
Would you like to read more about our Macbook Liquid Damage Repairs? Then, check out some of our published repair cases.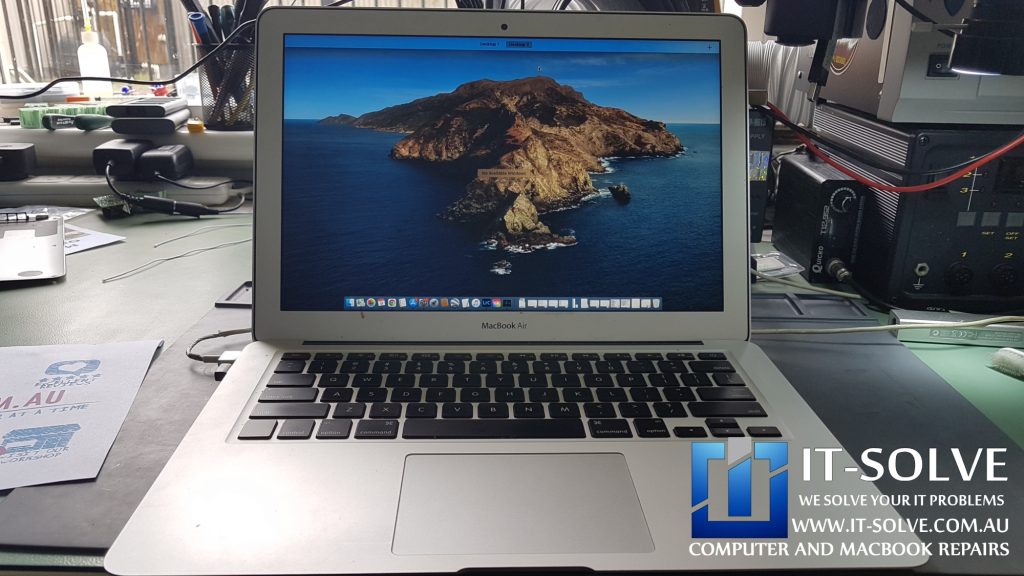 If your Macbook or iMac is causing trouble and need a Macbook Repair Service in Adelaide, give us a call, and we will advise for the best scenario to get your device repaired.
We at IT-Solve, specialise in computer and electronics repairs. And we will do our best to quickly repair your computer without involving high costs and long waiting times in repair shops.
Call us now on 0469317177 or drop us an inquiry via

WhatsApp or
Messenger – Our engineers will respond quickly to your question.