Another liquid damaged Macbook for keyboard replacement we have received this week was this A1534 Macbook.
The customer tried to clean the keyboard by spraying a cleaner on the keyboard and wiping it off. But these new butterfly design keyboards are so thin and fragile, that a little drop of water is enough to render some keys unuseful.
You can read more about the issues people are facing with these new keyboards here – https://www.cnet.com/news/apple-redesigns-keyboard-in-new-macbook-pro-update-and-promises-quick-repairs-on-sticky-keys/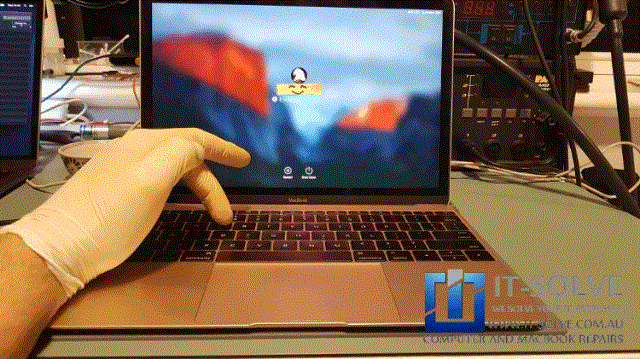 We wanted to see how intense the damage is, so we took it apart and start inspecting it.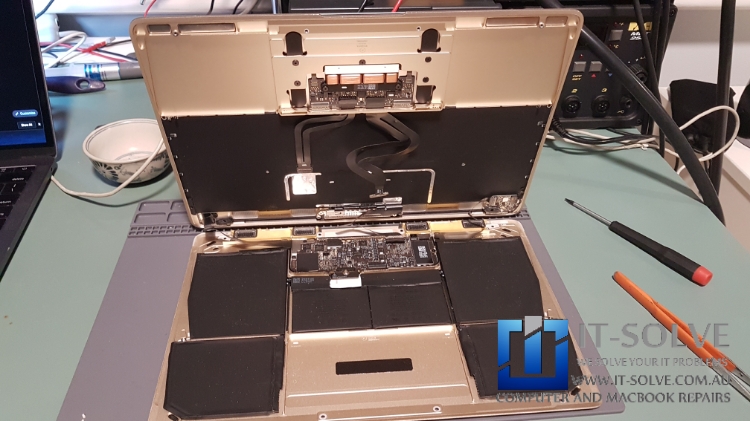 Apparently, the keyboard's backlight cover did excellent work in stopping the liquid from entering the electronics inside. There was no liquid inside the machine.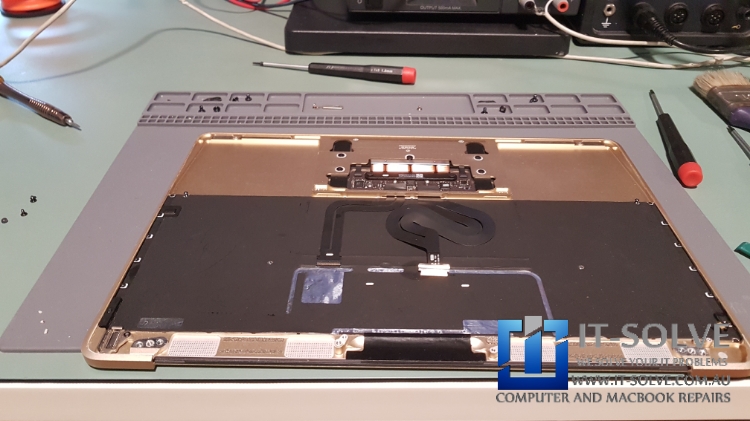 This Macbook had keyboard damage and some keys were not functioning as a result.
Macbook Keyboard Replacement Process
We dig into the problem head on – the keyboard. We had to replace it, so we start removing the failed keyboard out of the case,
Removing this keyboard is much easier than pre-2016 Macbooks. Although it requires 3 types of screwdrivers, which is typical for Apple.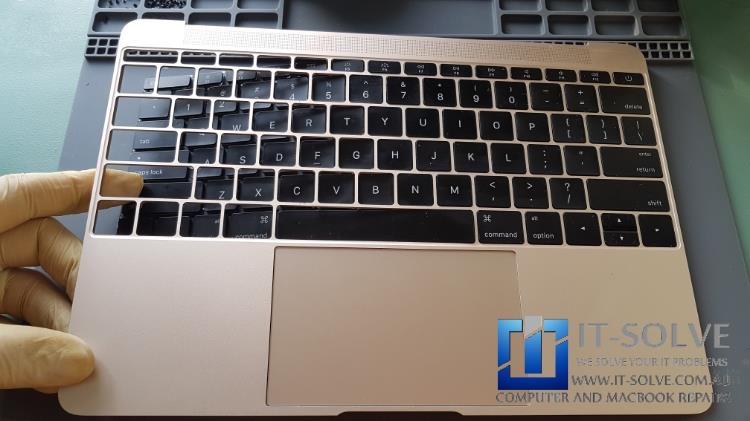 Once the keyboard is removed, we could install the new keyboard on this Macbook.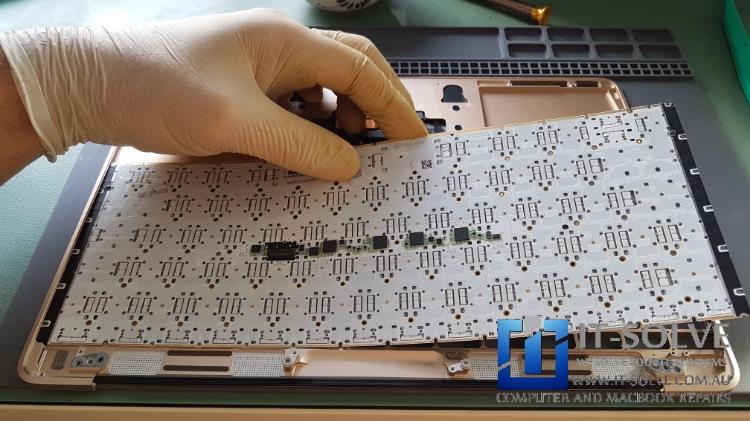 Macbook Keyboard Replacement we offer here in Adelaide includes a couple of simple steps:
Get a Quote for the repair before any work is done, even over the phone.
Free pick up from the client's location in Adelaide. Or alternatively, drop in for a quick check while you wait.
Confirming final cost and "Go" from the client.
Repairing and ensuring everything works as expected.
Returning repaired system back to the client. Or the client can pick it up from our workshop.
Successful Macbook Keyboard Replacement
With fitted new keyboard Macbook
Would you like to read more about our Macbook Keyboard Replacement repairs? Check out some of our published repair cases.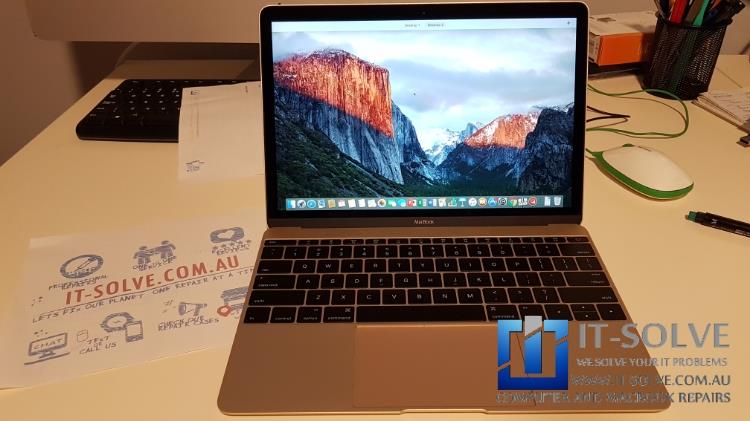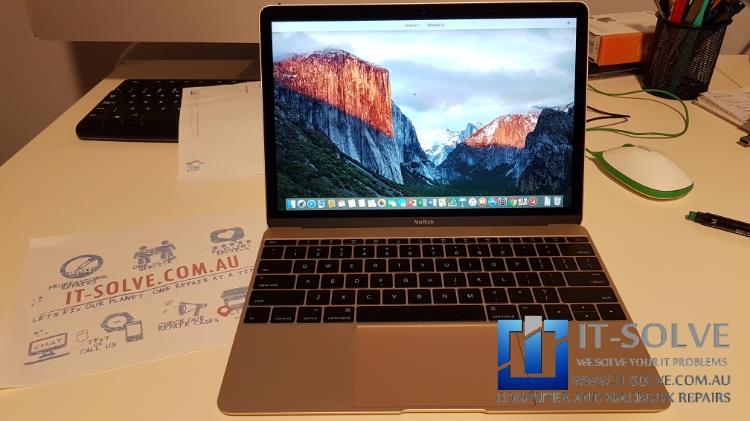 If your Apple Mac or Macbook is causing trouble and need a Macbook Repair Service in Adelaide, give us a call, and we will advise on the best scenario to get your device repaired.
Interstate? Why not Send IT for a Repair. Repairs take under three weeks, including forward and backward postage. Contact us to get an idea of cost and turnarounds.
We at IT-Solve, specialise in Apple Mac and electronics repairs. We will do our best to repair your Mac quickly without involving high costs and long waiting times in repair shops. Our average repair takes under a week!
Call us now on 0469317177 or drop us an inquiry via 

WhatsApp or 
Messenger
Our engineers will respond quickly to your query.
Repaired

, not Replaced!
We are committed to reducing e-waste in Australia. How we do it is by educating our customers on the reparability and longevity of their devices, as well as providing affordable Macbook Repairs here in Adelaide.
Although our best intentions and hard work, this is not an easy task. Customers must accept that cost of high-quality electronic repairs, is between a third and half of the price of a new device. However, with the current trend of planned obsolescence in electronic design, we see more and more Macbooks having shorter lifespans. To tackle that, while we do our repairs we target common planned obsolescence engineering design mistakes to ensure we extend the life expectancy of the Macbooks we repair. Check some of our Macbook Repair Cases to get an idea of the process.
That said, if we buy a new one or write it off via insurance, it does not guarantee that the new one will not meet the same fate as the older one pretty soon.
As matter of fact, quite often we see accidents reoccurring within less than 2-year gaps. If we can save 2000$ or even 1000$ today by repairing our faulty Macbook is brilliant. That's an extra half Macbook cost ready to be spent on another one when the time comes or our need for performance increases.
When that time comes is up to us to buy a new one or keep pushing the one we have, but delaying it by a year or three is always a good starting point and saves another abandoned Macbook from polluting our one and only Planet.