Recently we got an iMac for a Repair with Loading Problems. A common repair even with this 2019 iMac which is less than 3 years old.
This iMac works very slow with constant annoying colourful spinning wheels displayed on the screen. Especially when under some intensive work.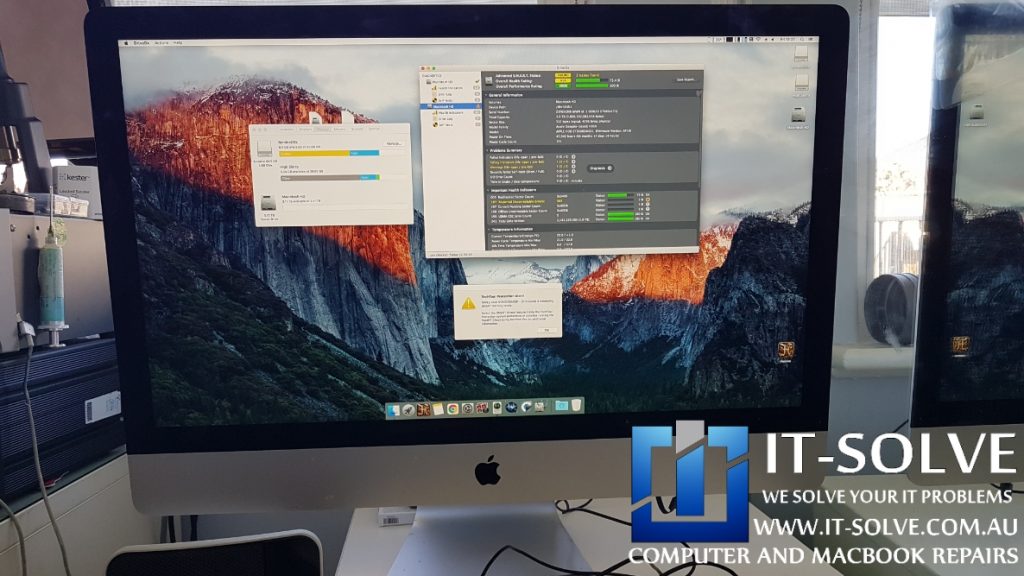 iMac repair with loading problems – Diagnostic Process
Diagnostic on this problem is pretty straightforward. We load into our service system and check the SMART status of the hard drive. This model comes with two drives in fact – a small 32GB, 64GB or 128GB SSD used as a cache addition to the mechanical 1TB HDD. This SSD is not big enough to keep a whole operating system and user data. Hence it is combines two drives, therefore comes the name Fusion Drive.
iMac repair with loading problems – Reason to Fail
Unlike other repair shops, all of our repairs here in our Adelaide Laptop and Macbook Repair Workshop are targeting eliminating the root cause of the failure. This way we can educate the customer on what has happened and caused the failure. Aiming to educate our customers on the pitfalls of these systems and ensuring they get most life as possible from them.
In this iMac case, the reason why the spinning wheel and slow speed happened is that the hard drive failed. It failed because the system must have been constantly overheating. This could be caused by a lack of regular servicing or unnecessary pressure on the system such as long hours of video transcoding, gaming, etc. All are causing excessive heat emission and fan usage which pulls more dust within.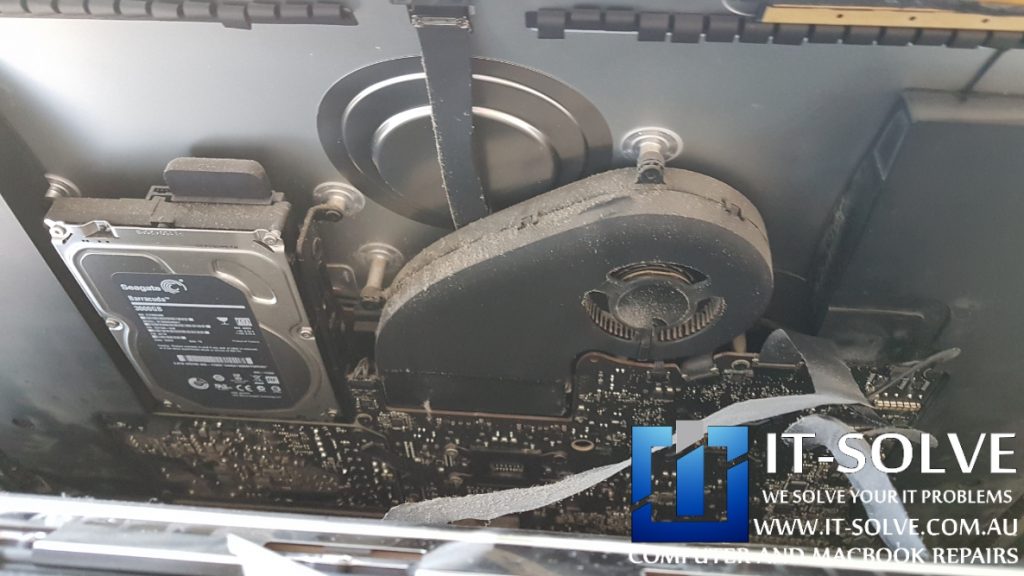 iMac Repair with Loading Problems – Repair Process
When cut through the glued screen, we can see the excessive amount of dust collected within. This causes the hard drive into a hot air bubble.
Due to this iMac having two drive compartments, we can upgrade both of them. This customer is using the iMac for video editing and storage, which requires lots of storage. At the same time, video editing requires a fast cache drive too. This means that we need to add an SSD drive with an operating system and applications into it. While keeping the mechanical drive as the second drive. Mechanical drives are still much more affordable than Solid State Drives especially for sizes above 1TB.
To ensure correctly serviced, also to upgrade the SSD storage and second hard drive we strip the iMac apart.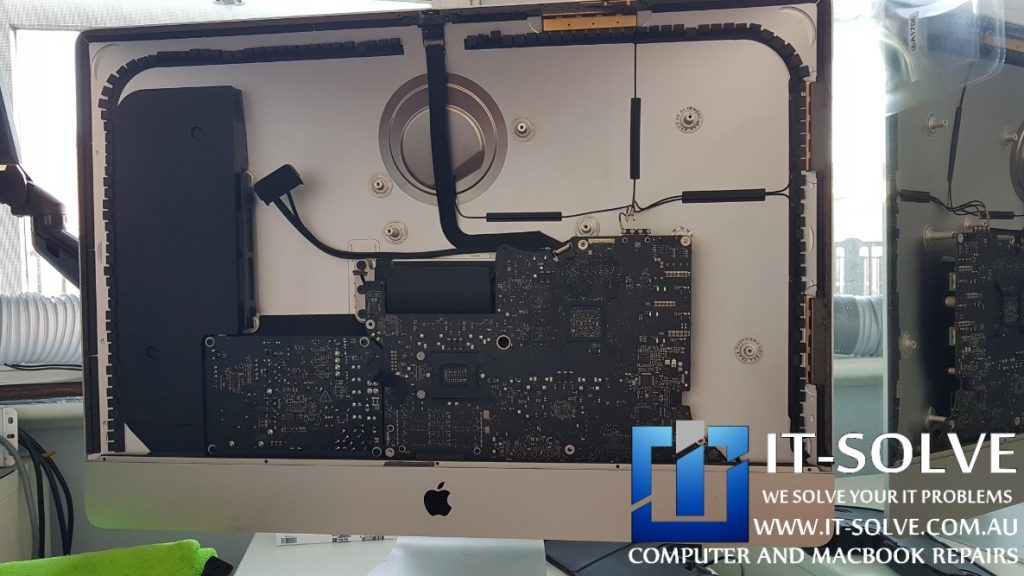 Quite often collected dust causes iMac Repair with Loading Problems as we have mentioned earlier in the repair case. And to add to that we need to point out some changes in the new Macbook and iMac designs which causes even 3-year-old Mac's to fail faster than their predecessors.
To please our eyes, Apple is manufacturing new Macs to be thinner and lighter. Although we do not carry often these iMacs we have no choice but to buy them like this. The downside of thinner and lighter Mac is they get stuffed up faster and overheat. Also, break quicker when a slight impact occurs.
iMac Upgrades we offer here in Adelaide includes a couple of simple steps:
Get a Quote for the repair before any work is done, even over the phone.
Free pick up from the client's location in Adelaide. Or alternatively, drop in for a quick check while you wait.
Confirming final cost and "Go" from the client.
Repairing and ensuring everything works as expected.
Returning repaired system back to the client. Or the client can pick it up from our workshop.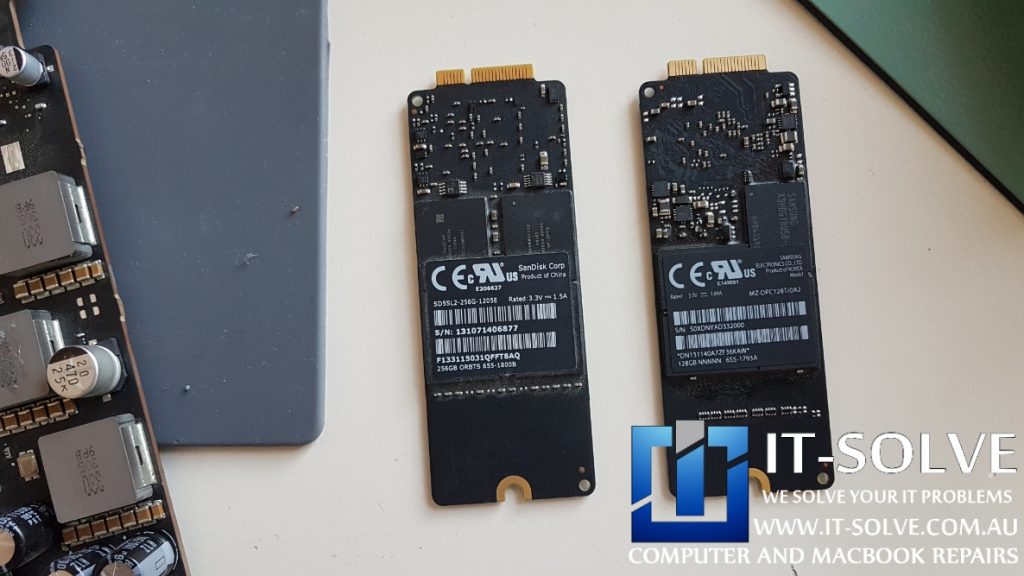 Knowing that customers are using the iMac mainly with Adobe Suite, we recommend installing 256GB SSD instead of 500GB or 1Tb one. This drastically reduced the upgrade cost. Also allowed us to expand secondary storage to a whopping 4TB!
Please note: This is not educational material. It is rather a showcase of the services we offer.
Therefore, it should be used as general guidance on what to expect of such repairs.
In case you have a similar device and need the repair, always rely on professionals. These are sensitive electronic devices, and small mistakes may cause irreversible electronic damage. Which may require whole part replacement for 2 or 3 times the cost.
Successful iMac Repair with Loading Problems
After replacing both of the storage drives on this iMac, we are ready to glue in the screen and install a fresh operating system onto the SSD. This was we have 256GB OS drive where customer can install Abobe Suite as well as 4TB secondary storage where projects can be saved once completed.
Would you like to read more about our Mac Upgrades? Check out some of our published repair cases.
Do you need this Repair in Adelaide?
If your Mac or iMac is causing trouble and need iMac Repair Service in Adelaide, give us a call, and we will advise for the best scenario to get your device repaired.
We at IT-Solve, specialise in iMac and electronics repairs. We will do our best to repair your Apple Mac quickly without involving high costs and long waiting times in repair shops. Our average repair takes under a week!
Call us now on 0469317177 or drop us an inquiry via 

WhatsApp or 
Messenger
Our engineers will respond quickly to your query.
Repaired

, not Replaced!
We are committed to reducing e-waste in Australia. How we do it is by educating our customers in the repairability and longevity of their devices, as well as providing affordable iMac Repairs here in Adelaide.
Although our best intentions and hard work, this is not an easy task. Customers must accept that cost of high-quality electronic repairs, is between a third and half of the price of a new device. However, with the current trend of planned obsolescence in electronic design, we see more and more iMacs having shorter lifespans. To tackle that, while we do our repairs we target common planned obsolescence engineering design mistakes to ensure we extend the life expectancy of the iMacs we repair. Check some of our iMac Repair Cases to get an idea of the process.
That said, if we buy a new one or write it off via insurance, it does not guarantee that the new one will not meet the same fate as the older one pretty soon.
As matter of fact, quite often we see accidents reoccurring within less than 2-year gaps. If we can save 3000$ or even 1000$ today by repairing our faulty iMac is great. That's an extra half iMac cost ready to be spent on another one when the time comes or our need for performance increases.
When that time comes is up to us to buy a new one or keep pushing the one we have, but delaying it by a year or three is always a good starting point and saves another abandoned iMac polluting our one and only Planet.