This week we got a macbook Air which is charging but not turning on for a repair. It is an interesting case, hence we documented it.
The customer spilled some liquid over the Macbook. Although it was working initially, it completely stopped turning on afterwards.
From our experience, the first couple of hours are critical. To have a successful Macbook liquid damage repair, we need to treat the area ASAP.
Is it worth Repairing Liquid Damaged Macbooks?
Often we hear people being advised to replace their faulty Macbooks with a new one. Especially when an accident such as Macbook Liquid Damage occurs, thinking that it is perhaps it's time for an upgrade. Or often, that repair cost will be as expensive as the cost of a new one. However, what we see quite often is that sometimes accidents reoccur. Additionally, older Macbooks have a higher success repair rate due to the widely available interchangeable parts and modules. With the new trend of slimming down and jam-packing components within, it's much harder and costly to repair new generation Macbooks. Not to mention that if the newer Macbook does not turn on anymore due to any reason, there is no way data can be recovered. Unfortunately, that's something that our customers learns the hard way, instead of being told at the Apple checkout.
Repairing Liquid Damaged Macbooks is a much better option! Here is why – in this example for instance, if the customer had bought a new Macbook Air last year instead of repairing it, that would have cost him nearly 1800$ then, plus an additional 1800$ this time for another one after the second time liquid damage. In comparison, we have repaired it last time for 600$ as it required a logic board repair after the liquid damage. However, this time he was much more aware of liquid damage implications and brought it straight after the liquid spillage occurred. Instead of waiting and pondering on it. That way, we did not have to do logic board repair, as the components were still performing well. Rather we had to clean the board from the liquid residue to prevent future failures. In total, he spends a quarter of that cost over 2 years in Liquid Damage Macbook Repairs compared to the 2 new ones he would waste. Plus, we had to deal with a less complicated and highly repairable Macbook model. Not to mention he saved 2 Macbooks ending in the landfill!
Provent over and over again with the abundance of Macbook repair cases we get. It is important to remove liquid residue and corrosion from the board within the first 24 hours. The longer it stays, like a plague on teeth, the more damage it does.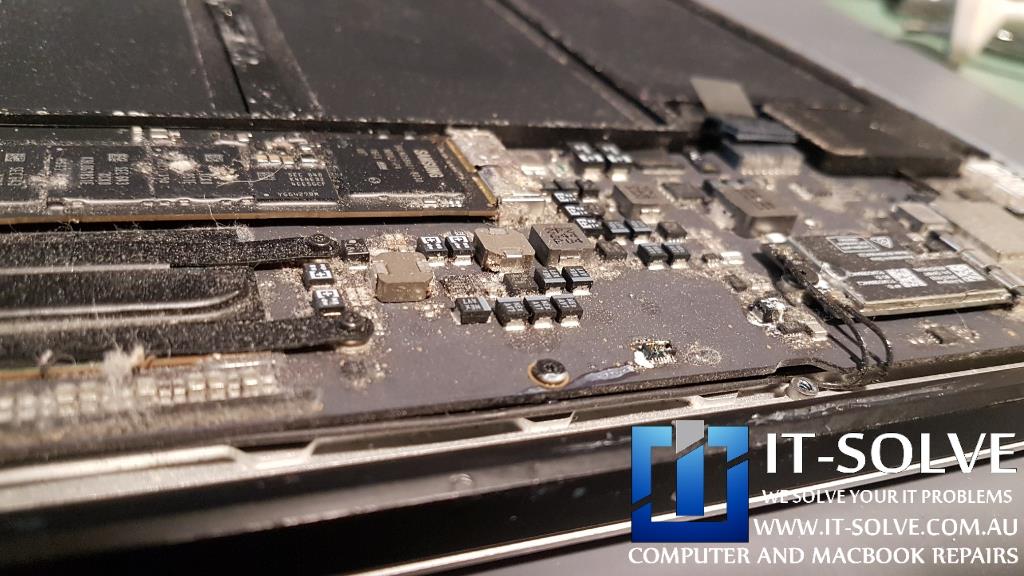 Macbook Air Charging but not turning on repair process
The repair procedure consists of two phases, cleaning oxidation spots and replacing any failing components. We iterate each phase on each impacted area and measure for faulty components as we go. Have a look at the short slide we put together of the process.
Macbook & Laptop Repair in Adelaide include a couple of simple steps:
Quote for the repair before any work is done, online or over the phone.
Free pick up in Adelaide for eligible repairs. Alternatively, book an appointment to drop in for a quick assessment while you wait if happy with the received cost idea.
Have a look in front of the customer and confirm the repair cost while the assessment is done.
Diagnostic while repairing the equipment. This involves part testing/replacing and component repairing as we progress through the repair.
If the repair cost has to change, we confirm with the client and give an option to cancel the repair if exceeds the customer's budget. Diagnostic fees apply!
Repairing the device within the initially agreed or approved amended cost and ensuring everything works as expected. Plus 30 Days warranty and support.
Returning repaired system back, or pick it up from our workshop at the pre-arranged time.
After going through each impacted area we run the whole board via an ultrasonic cleaner. This is to ensure no organic materials or liquid residue is left on the board itself.
We have a sophisticated equipment workshop with high accuracy microscope, ultrasonic cleaning bath, reflow machine, and tools for micro soldering to achieve high-quality logic boards repairs. With thousands of components in stock, we quickly locate and replace failed components!

IT-Solve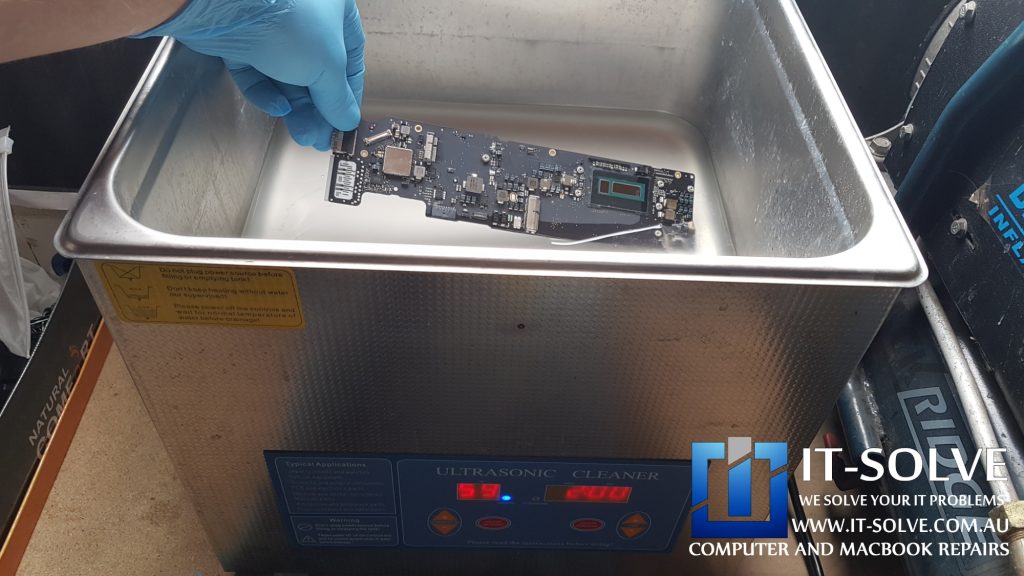 Please note: This is not educational material. It is rather a showcase of the services we offer.
Therefore, it should be used as general guidance on what to expect of such repairs.
In case you have a similar device and need the repair, always rely on professionals. These are sensitive electronic devices, and small mistakes may cause irreversible electronic damage. Which may require whole part replacement for 2 or 3 times the cost.
Successful Macbook Air Charging but not turning on repair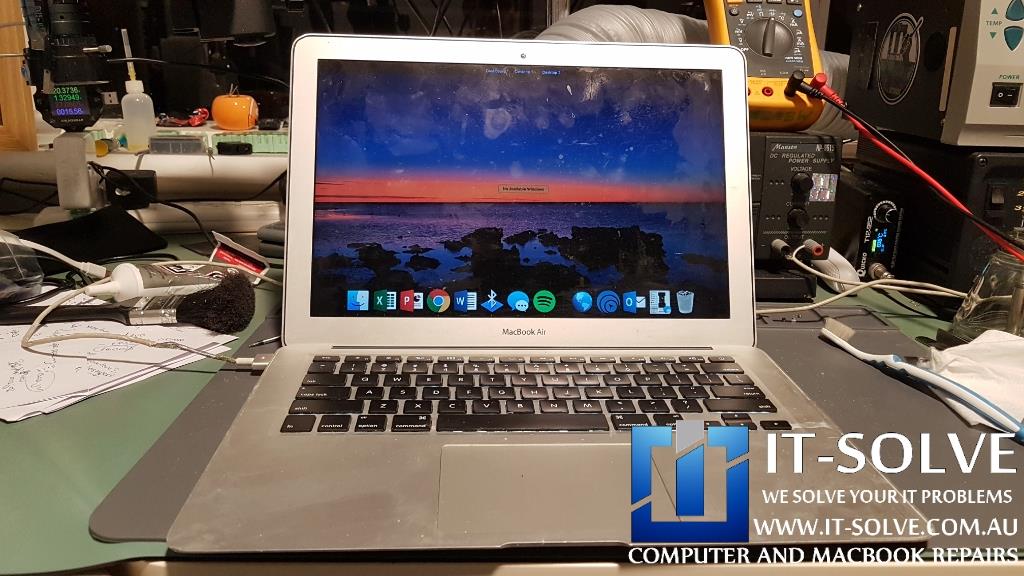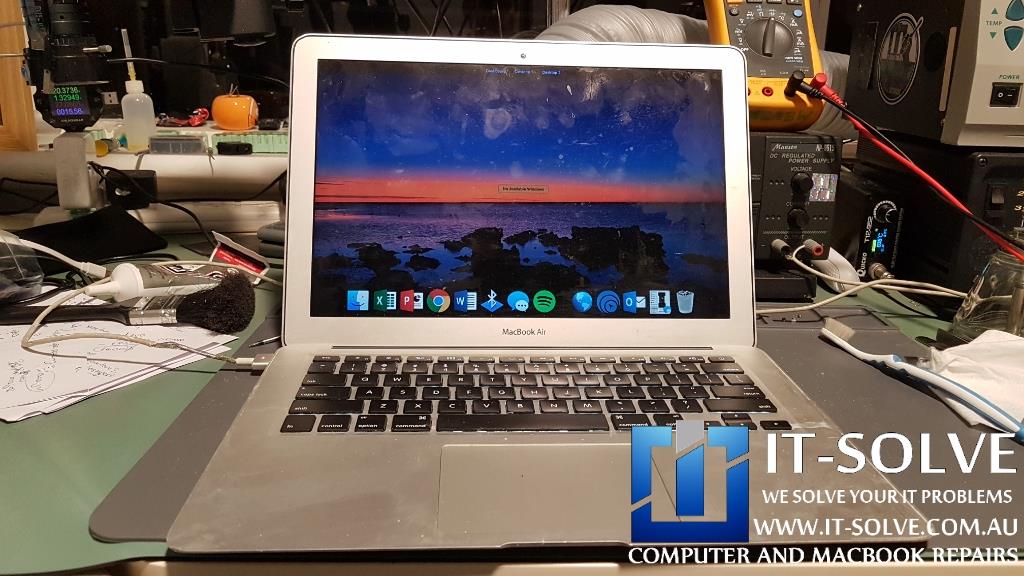 Once we completely repair the Macbook and test its functionality we run overnight tests, which ensures the stability of the Macbook on heavy constant load.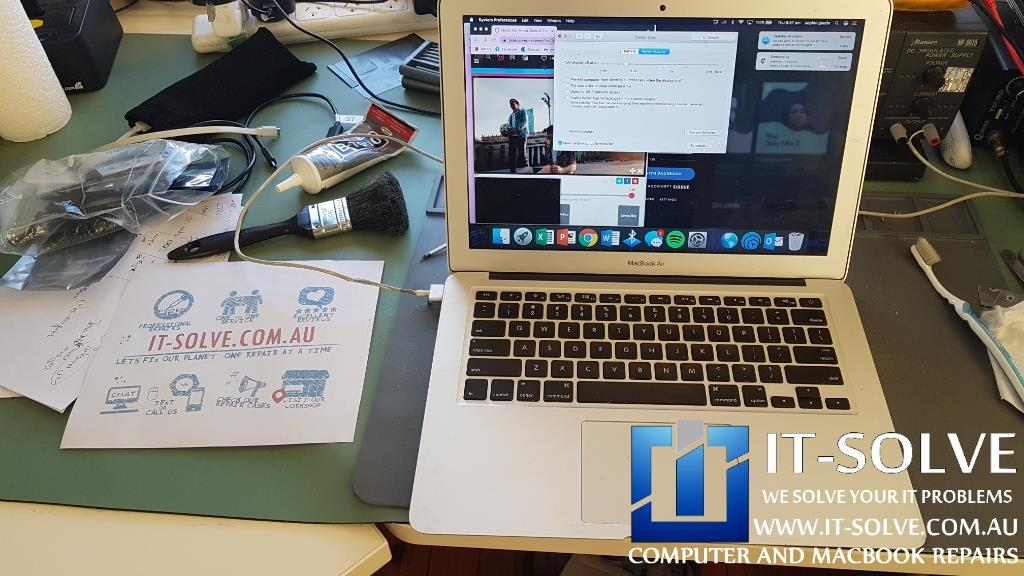 If your Apple Mac or Macbook is causing trouble and need a Macbook Repair Service in Adelaide, give us a call, and we will advise on the best scenario to get your device repaired.
Interstate? Why not Send IT for a Repair. Repairs take under three weeks, including forward and backward postage. Contact us to get an idea of cost and turnarounds.
We at IT-Solve, specialise in Apple Mac and electronics repairs. We will do our best to repair your Mac quickly without involving high costs and long waiting times in repair shops. Our average repair takes under a week!
Call us now on 0469317177 or drop us an inquiry via 

WhatsApp or 
Messenger
Our engineers will respond quickly to your query.
Repaired

, not Replaced!
We are committed to reducing e-waste in Australia. How we do it is by educating our customers on the reparability and longevity of their devices, as well as providing affordable Macbook Repairs here in Adelaide.
Although our best intentions and hard work, this is not an easy task. Customers must accept that cost of high-quality electronic repairs, is between a third and half of the price of a new device. However, with the current trend of planned obsolescence in electronic design, we see more and more Macbooks having shorter lifespans. To tackle that, while we do our repairs we target common planned obsolescence engineering design mistakes to ensure we extend the life expectancy of the Macbooks we repair. Check some of our Macbook Repair Cases to get an idea of the process.
That said, if we buy a new one or write it off via insurance, it does not guarantee that the new one will not meet the same fate as the older one pretty soon.
As matter of fact, quite often we see accidents reoccurring within less than 2-year gaps. If we can save 2000$ or even 1000$ today by repairing our faulty Macbook is brilliant. That's an extra half Macbook cost ready to be spent on another one when the time comes or our need for performance increases.
When that time comes is up to us to buy a new one or keep pushing the one we have, but delaying it by a year or three is always a good starting point and saves another abandoned Macbook from polluting our one and only Planet.