A1707 Macbook Pro Screen Replacement in Adelaide
This week, we received a Macbook Pro for a screen replacement from a customer who suddenly got a black screen on her Macbook one morning. Although Macbooks comes with an aluminium frame for extra durability, any pressure on top or around the cover will damage the screen.
We have organised quick pick up of the Macbook after hours, saving her a trip across the city and absence from work.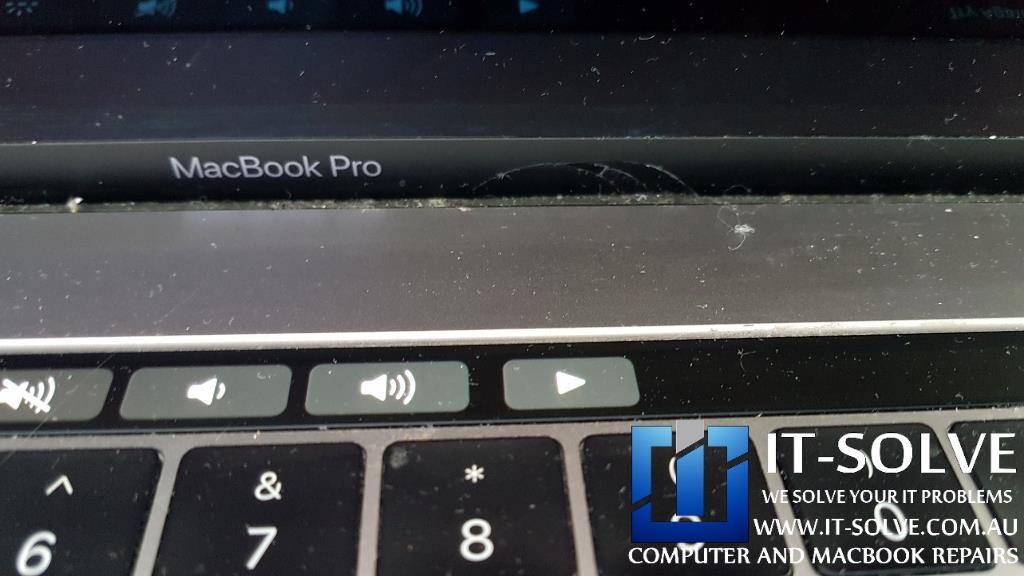 When it arrived in our workshop, it was clear that the screen had to be replaced. These screens are not designed for repair, unfortunately. The whole top case assembly with the screen itself requires replacing.
We quickly placed an order with our Apple parts supplier and were ensured that we would have it within a week.
After a discussion with the client, we realised that she needed some of her assignments from the Macbook to continue her work. So we managed to extract and email her the documents, which gave us time to wait for the screen delivery.
Macbook Pro Screen Replacement Process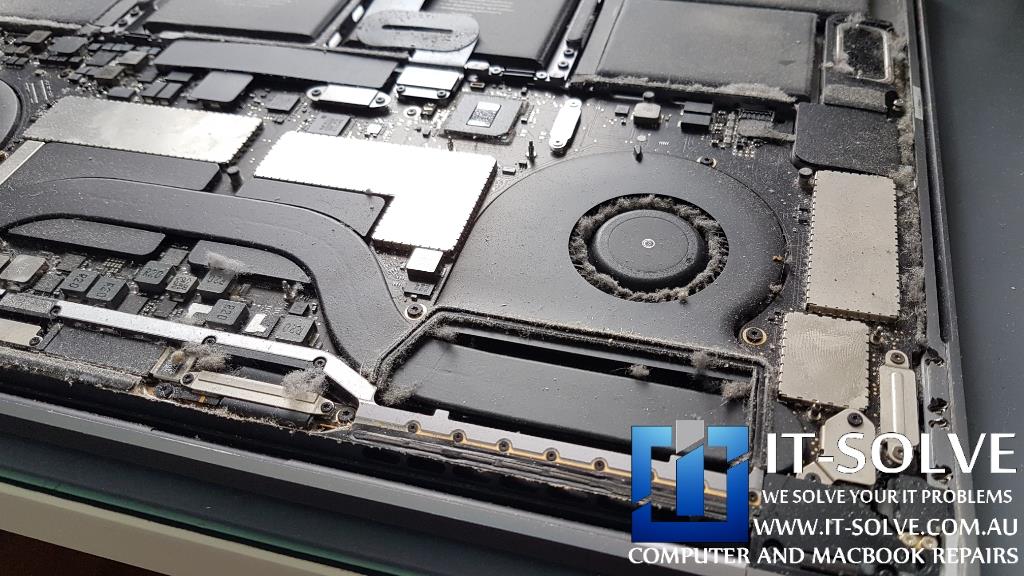 Fitting the screen was a routine task, which we completed quickly. This new Macbooks requires multiple types of screwdrivers varying from Pentalobe to Torx 4. Additionally, thin flex cables are fragile and, together, susceptible to ESD electronics. Any mishandling may result in a damaged motherboard.
Additionally to the screen replacement, we have also noticed lots of dust accumulated within the system. If not cleaned regularly, this is the main reason why most 15″ MacBook comes to us with Graphic Related issues, like these here or Macbook Battery issues.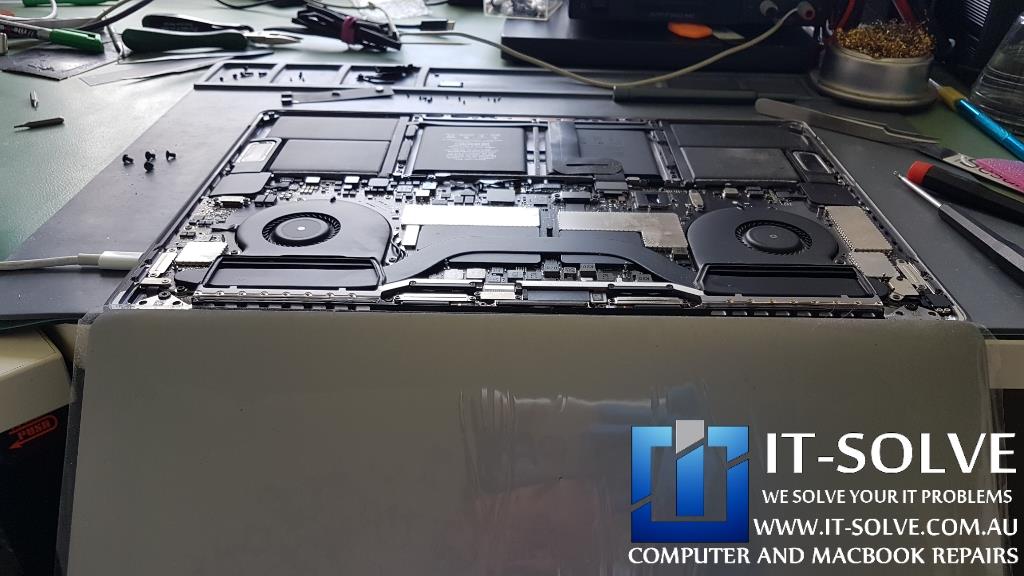 Please note: This is not educational material. It is rather a showcase of the services we offer.
Therefore, it should be used as general guidance on what to expect of such repairs.
In case you have a similar device and need the repair, always rely on professionals. These are sensitive electronic devices, and small mistakes may cause irreversible electronic damage. Which may require whole part replacement for 2 or 3 times the cost.
We serviced the Macbook firstly. It was dusty as a dirt track road. Then we fitted the replacement screen and tested it to ensure it is fully compatible.
Successful Macbook Pro Screen Replacement
That said, we can proceed and show a picture of the final result of the replaced screen on this amazing piece of equipment.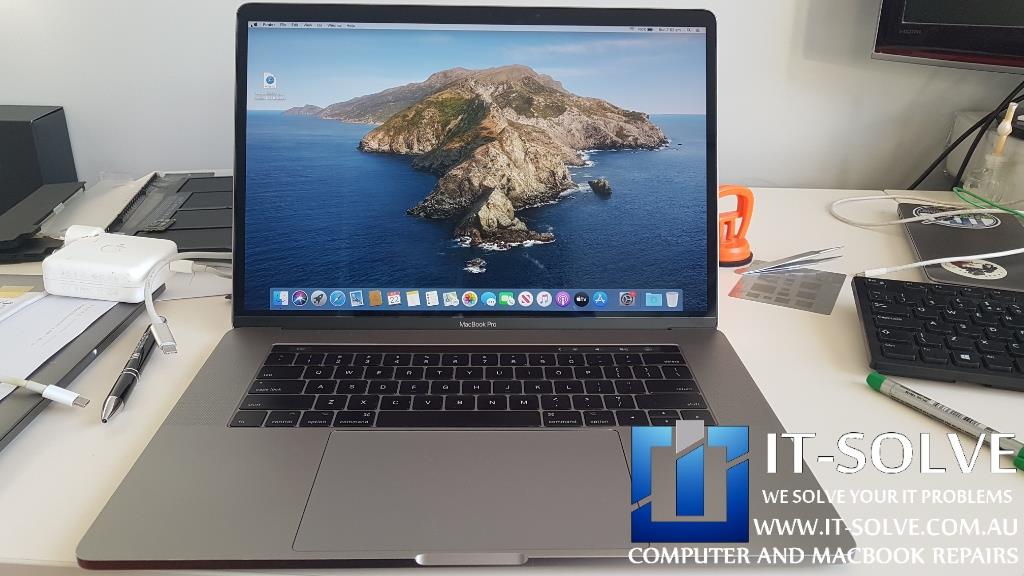 If your Apple Mac or Macbook is causing trouble and need a Macbook Repair Service in Adelaide, give us a call, and we will advise on the best scenario to get your device repaired.
Interstate? Why not Send IT for a Repair. Repairs take under three weeks, including forward and backward postage. Contact us to get an idea of cost and turnarounds.
We at IT-Solve, specialise in Apple Mac and electronics repairs. We will do our best to repair your Mac quickly without involving high costs and long waiting times in repair shops. Our average repair takes under a week!
Call us now on 0469317177 or drop us an inquiry via 

WhatsApp or 
Messenger
Our engineers will respond quickly to your query.
Repaired

, not Replaced!
We are committed to reducing e-waste in Australia. How we do it is by educating our customers on the reparability and longevity of their devices, as well as providing affordable Macbook Repairs here in Adelaide.
Although our best intentions and hard work, this is not an easy task. Customers must accept that cost of high-quality electronic repairs, is between a third and half of the price of a new device. However, with the current trend of planned obsolescence in electronic design, we see more and more Macbooks having shorter lifespans. To tackle that, while we do our repairs we target common planned obsolescence engineering design mistakes to ensure we extend the life expectancy of the Macbooks we repair. Check some of our Macbook Repair Cases to get an idea of the process.
That said, if we buy a new one or write it off via insurance, it does not guarantee that the new one will not meet the same fate as the older one pretty soon.
As matter of fact, quite often we see accidents reoccurring within less than 2-year gaps. If we can save 2000$ or even 1000$ today by repairing our faulty Macbook is brilliant. That's an extra half Macbook cost ready to be spent on another one when the time comes or our need for performance increases.
When that time comes is up to us to buy a new one or keep pushing the one we have, but delaying it by a year or three is always a good starting point and saves another abandoned Macbook from polluting our one and only Planet.