Often we receive Macbooks failing due to overheating; this was one of those cases. However, what we were about to witness was one of those rare cases where almost every component on this Macbook failed.
Even after so many failed components and quite a bill, the customer still wanted to have it repaired, as he knew that almost 10 years in operation on probably one of the harshest Australian places., this Macbook did not skip a beat.

Check out this insightful article of how harsh it can get out there – http://2livethedream.com/index.php/archives/3057?lang=en. Now imagine these laptop stuffed with dust and fluff, trying to cool themselves down from > 90*C.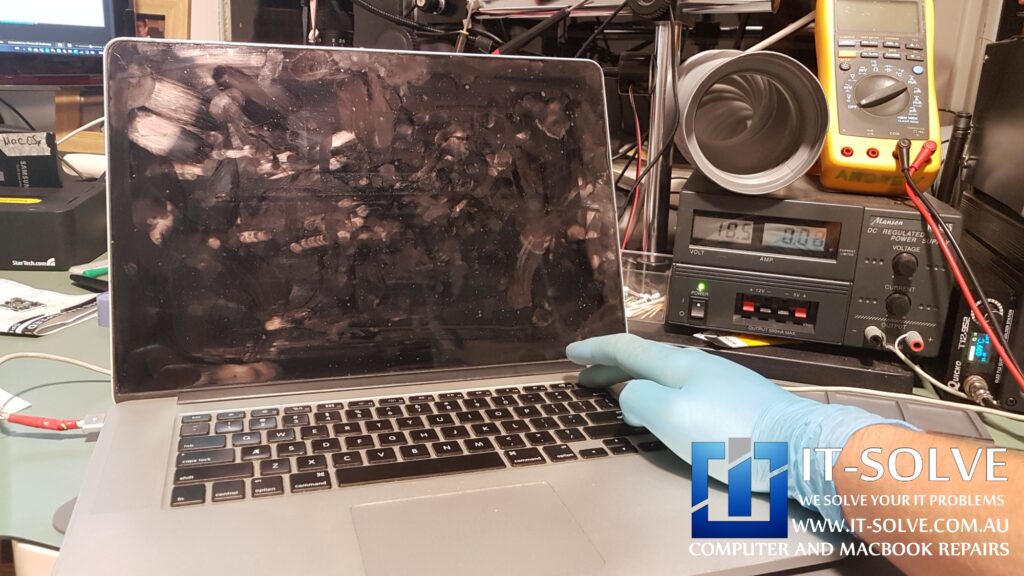 It looked a lot like a graphic card failure, as these Macbooks come with a dedicated graphics card. It is very easy to overheat the graphic card. Which in most cases allows the system to turn on and in some cases chime. However, the screen may either show some kind of distortion or no picture at all. We have covered it in our Macbook Graphics Repairs section multiple times, as well as in our iMac Graphics Repair section. It is the same issue happening across all computers and brands.
We could not run many tests as the system was unresponsive, also unlike most of the repair shops around we do not diagnose all components first, then do repairs. We do it backwards, by providing the customer with an option after each step to either continue to repair or cancel the repair. This way, we let the customer decide when to pull out and burry the laptop and when it is still cost-effective to repair it. Check out our simple customer service infographic here.
Macbook Pro Retina turns on with black screen Repair Process
By now most likely you wonder how we repair this without actually testing every bit of hardware, we use the elimination process as most of the time we need all components to interact with each other so we can test them.
That said, first, we started with the GPU issue. We know itis a graphics problem, also it was clear it was overheating heavily, based on the dust inside. Which by the way was already cleaned when the customer took it apart before he rushed to us.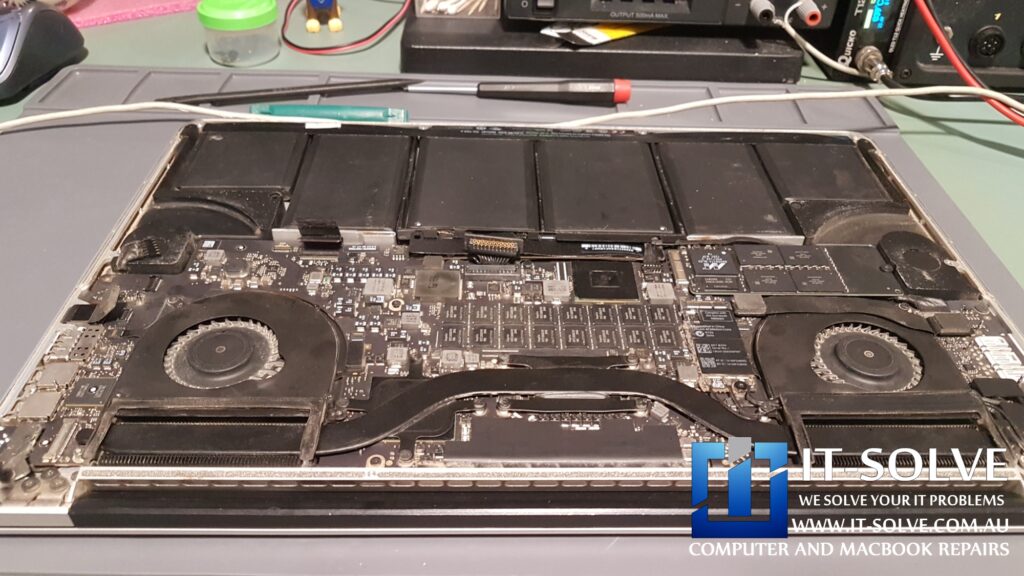 After lifting the heatsink, we could see how the thermal compound has seized and was not transmitting heat correctly to the radiators. Hence causing heat congestion on top of the chips. Check our great article of heat dispense on Macbook Retina if not serviced regularly.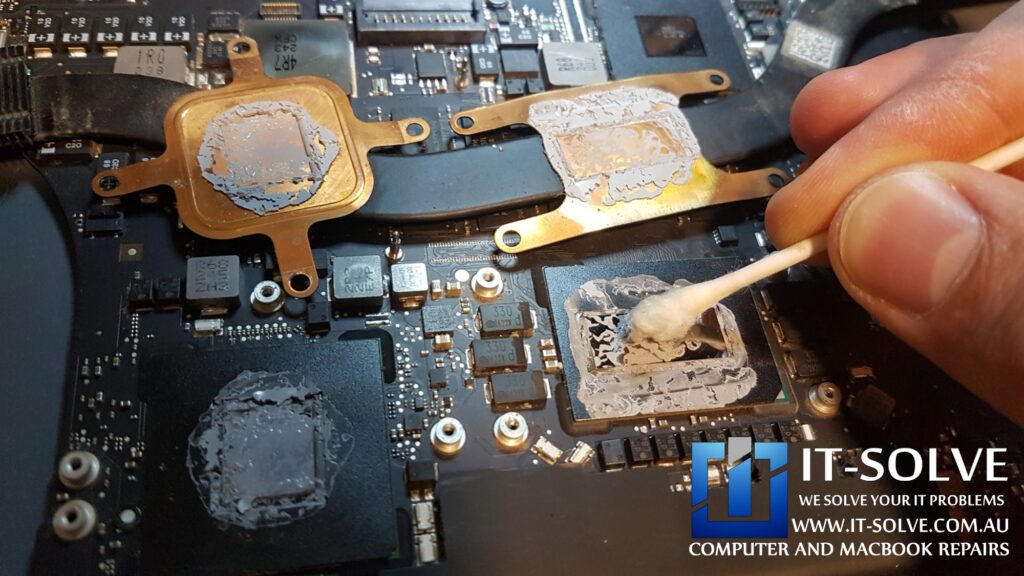 After gentle cleaning and preparation, we placed the board into our reflow machine and let it do its magic.
We have mastered this, as it was and kept to be a common issue of failing graphic chips over the past 10 years.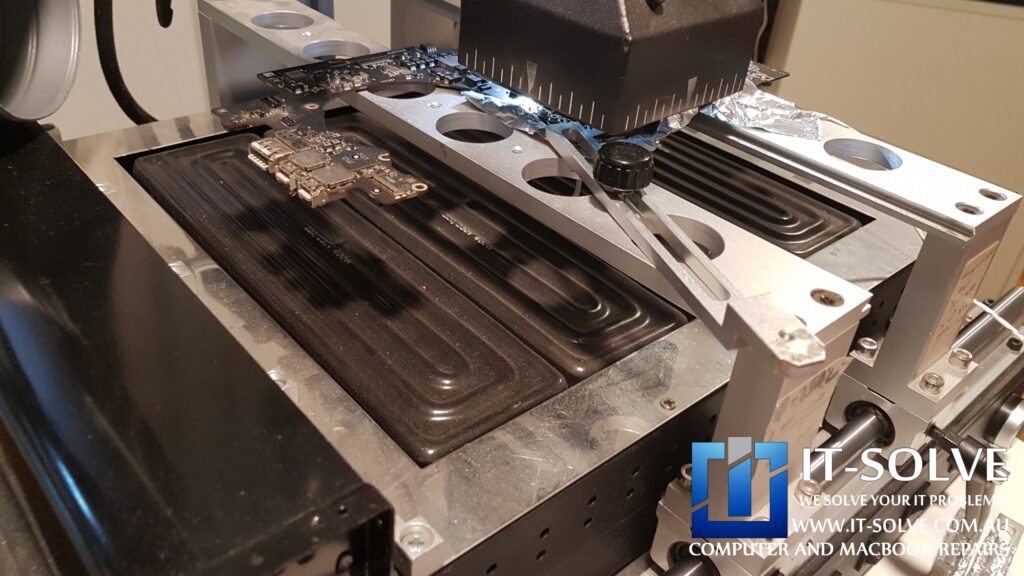 After the reflow macbook turned on and start being responsive, now we could run some tests to ensure repair stability and catch if there were any other failed parts within.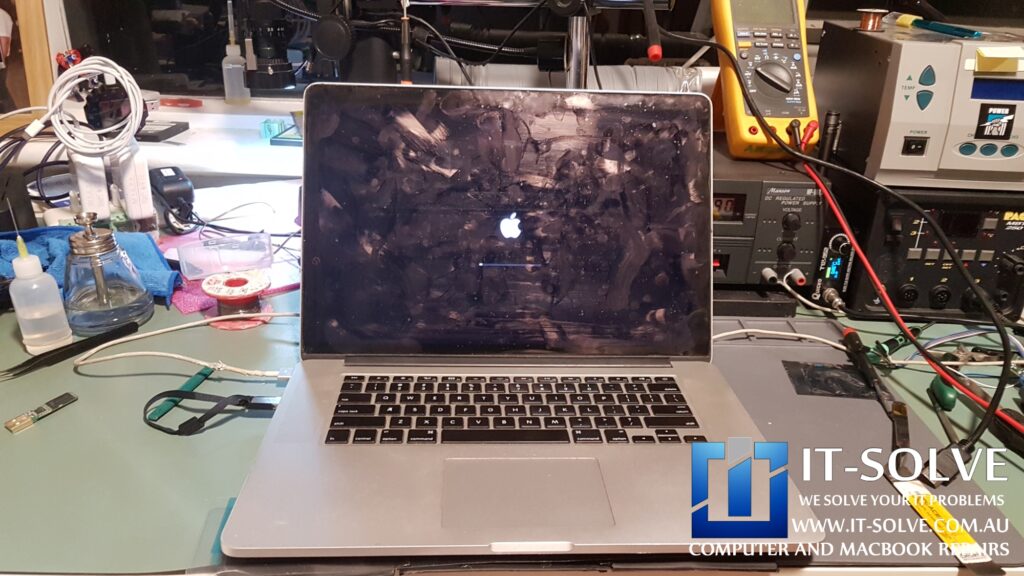 We spun up our testing system and test suite and started testing and poking around. This was when we discovered that the SSD has failed, causing loss of customers data. As well as battery not reporting good health. Those required us to communicate it back to the customer and amend the initial quote we gave.
Most likely, you wonder – "Why you have not tested the battery and SSD initially?"
Well, this being Macbook Pro Retina Mid 2012, SSD connector and SSD onboard is a type of SSD which was produced only for 2012 Macbook Retina and some 2012 Macbook Air. Hence we do not have a testing system nor a compatible SSD adapter to test it correctly. As mentioned above, we do repairs differently here.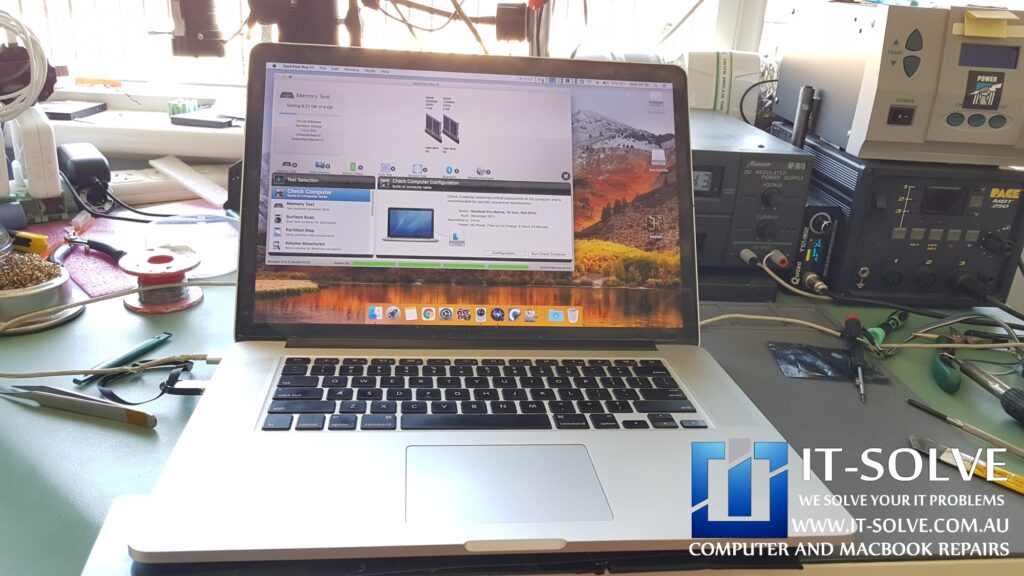 Macbook Repair we offer here in Adelaide includes a couple of simple steps:
Get a Quote for the repair before any work is done, even over the phone.
Free pick up from the client's location in Adelaide. Or alternatively, drop in for a quick check while you wait.
Confirming final cost and "Go" from the client.
Repairing and ensuring everything works as expected.
Returning repaired system back to the client. Or the client can pick it up from our workshop.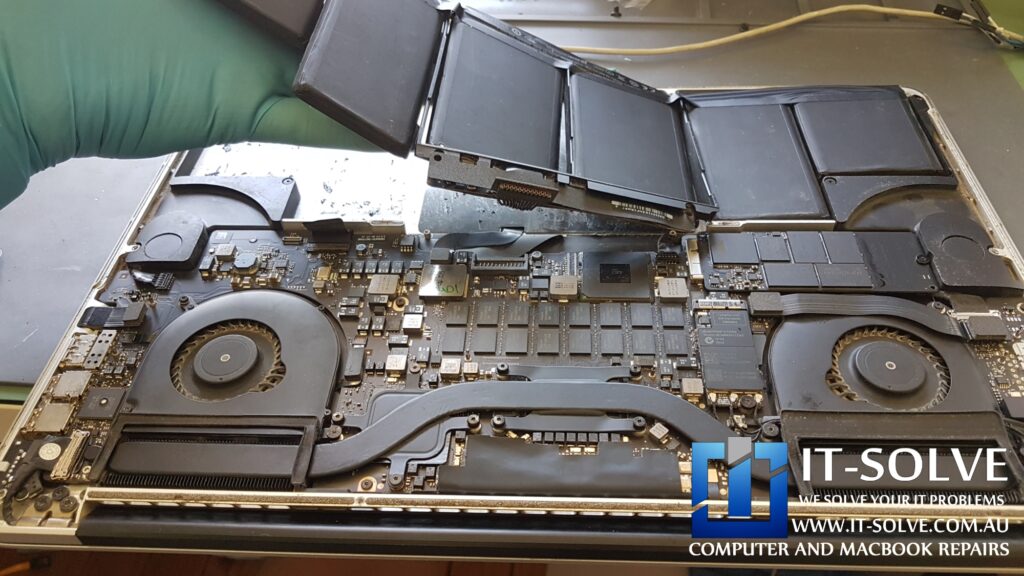 Battery and SSD replacement pretty much is a norm here, so we quickly replaced them.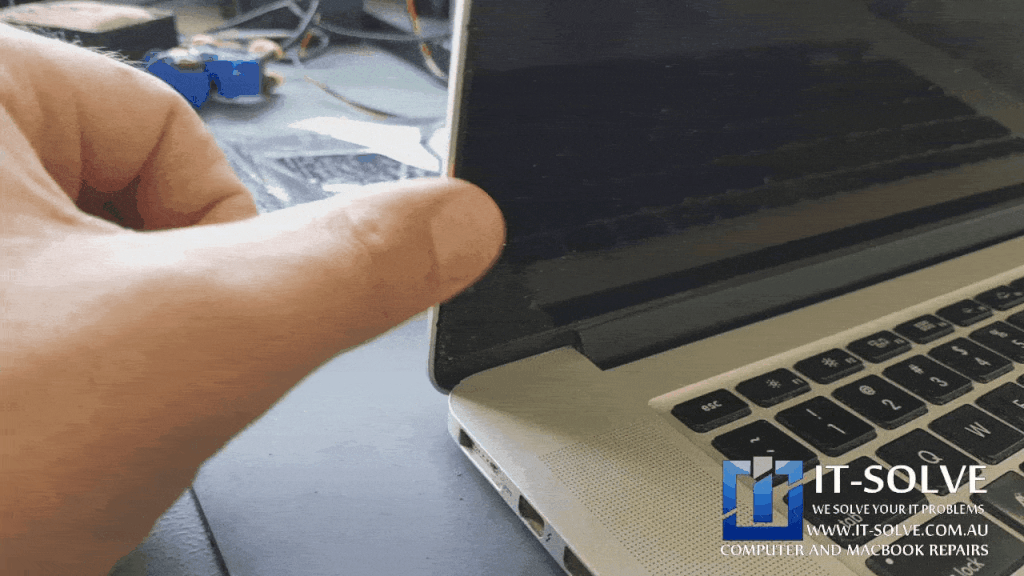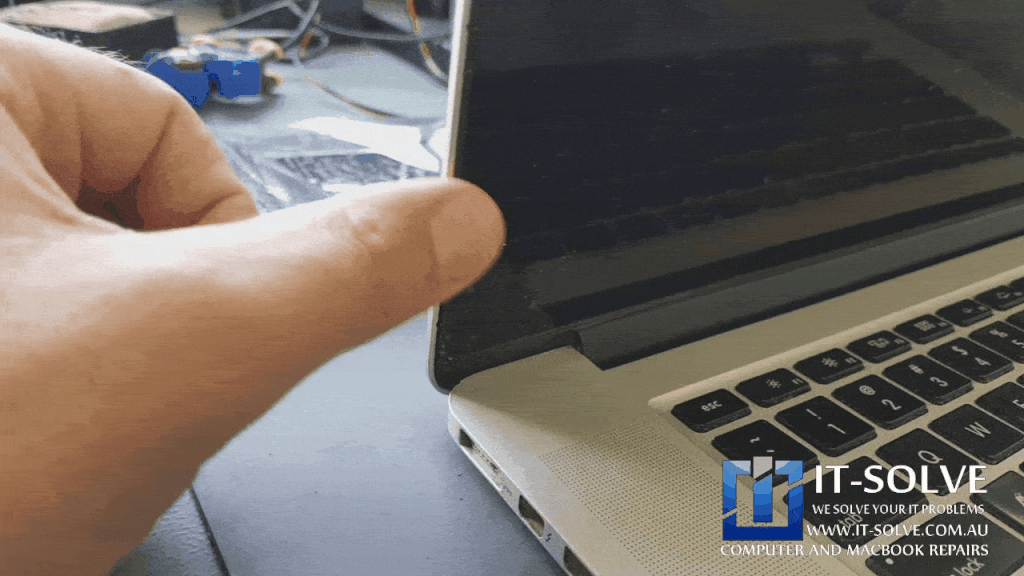 While we were assembling the Macbook, we have noticed that the Macbook hinges became loose. We could not leave them like this, and it would have damaged the screen. Knowing this model, screen replacement by its own would have cost more than all repairs done so far combined.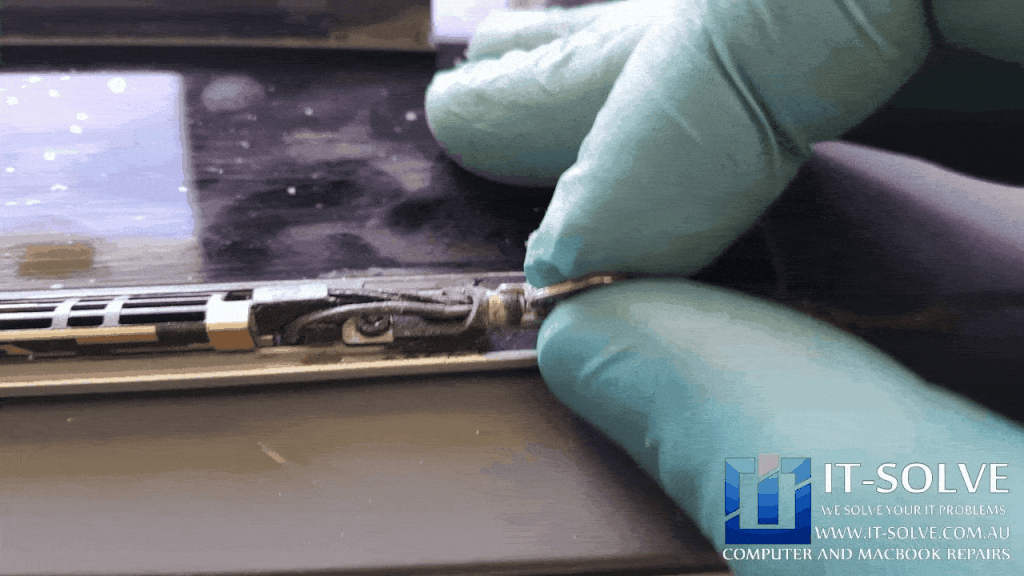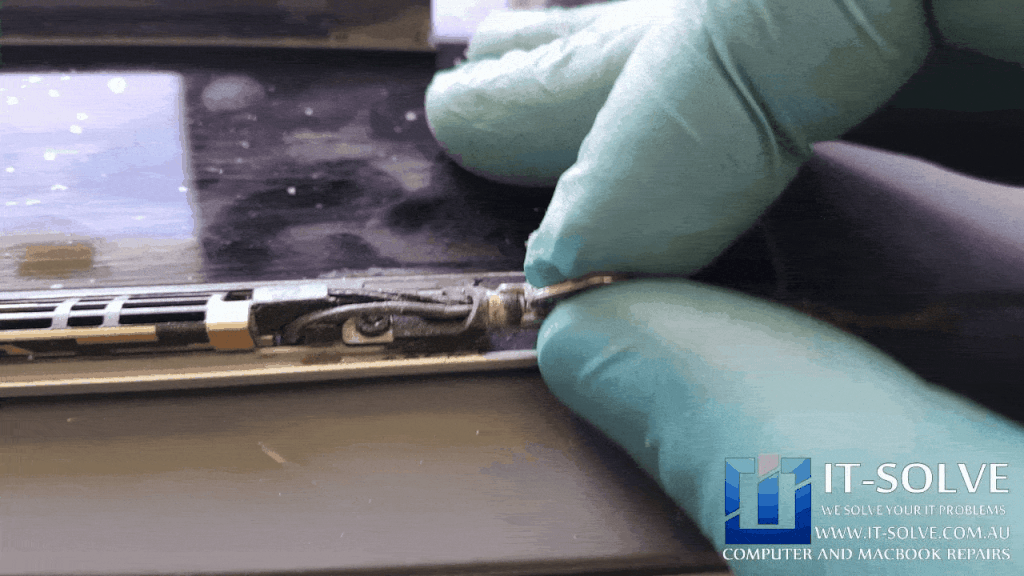 We took apart the hinge assembly and tightened the loose screws, while we were there we also applied some oil on the hinges to go for another couple of years with no trouble.
You can see how after oiling and tightening up the hinges, the screen assembly is much stable.
The Result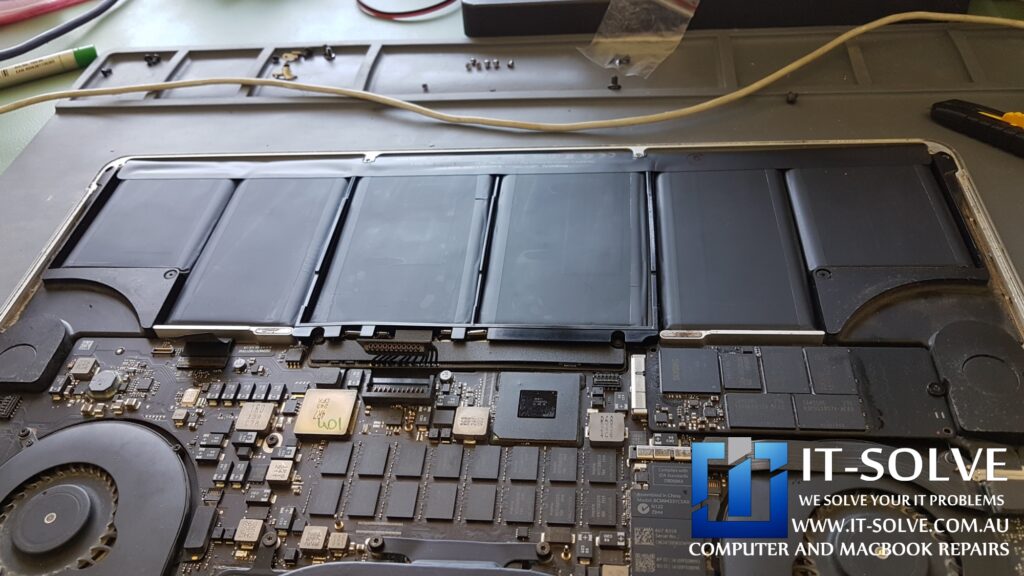 After successfully repairing its logic board, this Macbook is turning on now and working as expected. It is unbelievable how overseen overheating can bring this great machine to its knees. We salute the owner for deciding to have it repaired and not falling on the trap of buying these new low-quality Macbooks, which often come with a lifespan of no more than 2 years.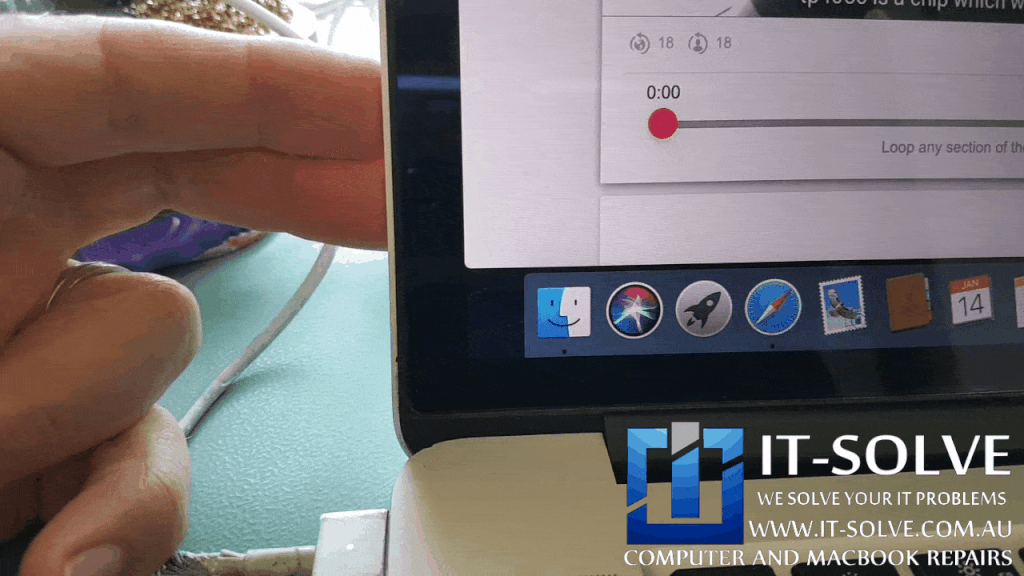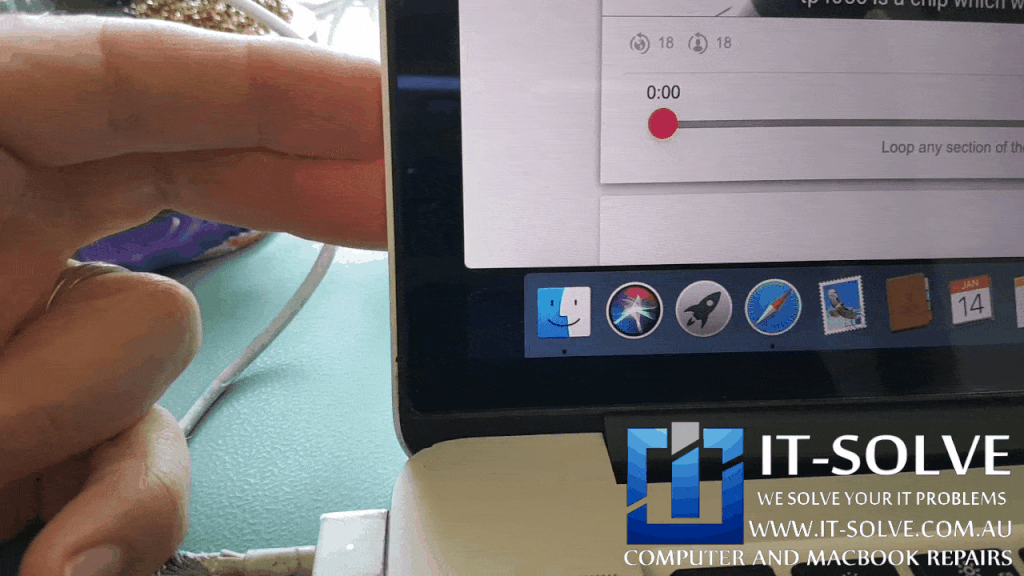 Would you like to read more about our Macbook Graphics Repairs? Check out some of our published repair cases.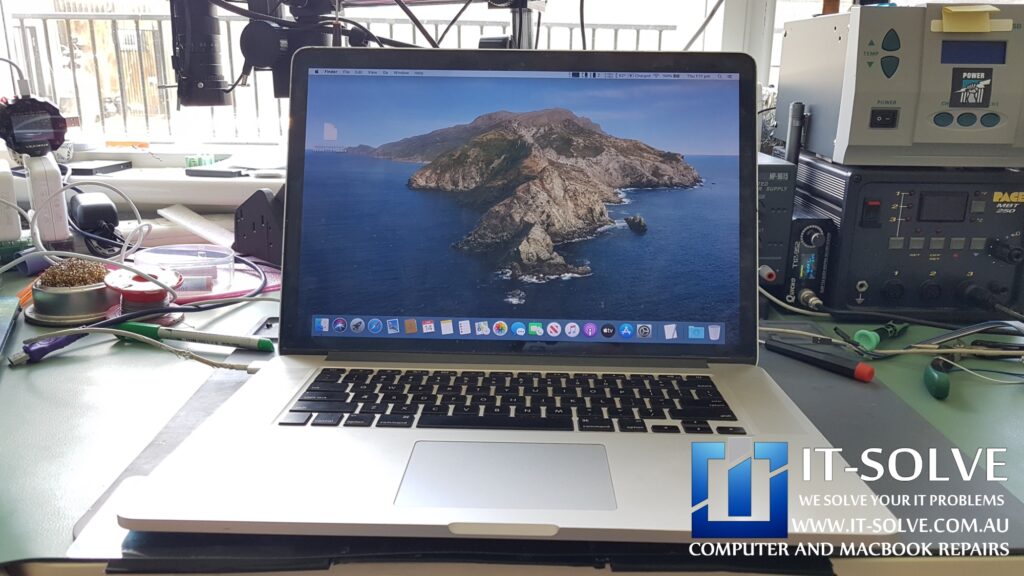 If your Apple Mac or Macbook is causing trouble and need a Macbook Repair Service in Adelaide, give us a call, and we will advise on the best scenario to get your device repaired.
Interstate? Why not Send IT for a Repair. Repairs take under three weeks, including forward and backward postage. Contact us to get an idea of cost and turnarounds.
We at IT-Solve, specialise in Apple Mac and electronics repairs. We will do our best to repair your Mac quickly without involving high costs and long waiting times in repair shops. Our average repair takes under a week!
Call us now on 0469317177 or drop us an inquiry via 

WhatsApp or 
Messenger
Our engineers will respond quickly to your query.
Repaired

, not Replaced!
We are committed to reducing e-waste in Australia. How we do it is by educating our customers on the reparability and longevity of their devices, as well as providing affordable Macbook Repairs here in Adelaide.
Although our best intentions and hard work, this is not an easy task. Customers must accept that cost of high-quality electronic repairs, is between a third and half of the price of a new device. However, with the current trend of planned obsolescence in electronic design, we see more and more Macbooks having shorter lifespans. To tackle that, while we do our repairs we target common planned obsolescence engineering design mistakes to ensure we extend the life expectancy of the Macbooks we repair. Check some of our Macbook Repair Cases to get an idea of the process.
That said, if we buy a new one or write it off via insurance, it does not guarantee that the new one will not meet the same fate as the older one pretty soon.
As matter of fact, quite often we see accidents reoccurring within less than 2-year gaps. If we can save 2000$ or even 1000$ today by repairing our faulty Macbook is brilliant. That's an extra half Macbook cost ready to be spent on another one when the time comes or our need for performance increases.
When that time comes is up to us to buy a new one or keep pushing the one we have, but delaying it by a year or three is always a good starting point and saves another abandoned Macbook from polluting our one and only Planet.